Nisai Virtual Academy in Stockton-on-Tees has achieved IQM Centre of Excellence status.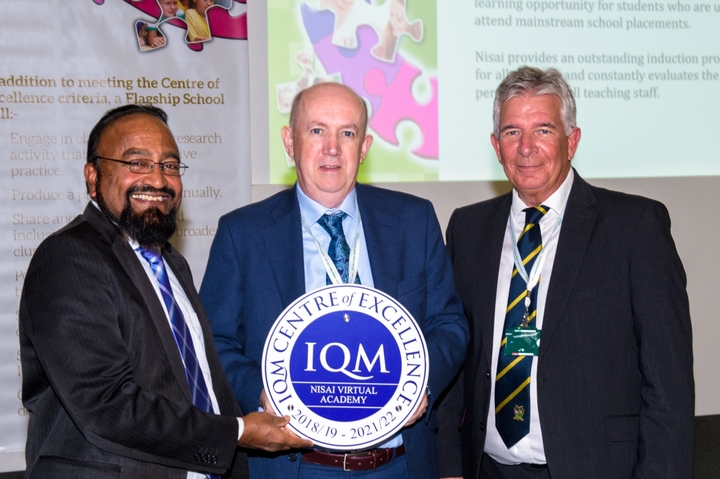 Engaging and Inclusive
Nisai Virtual Academy is unique in its approach to providing a truly engaging and inclusive teaching and learning opportunity for students who are unable to attend mainstream school placements. The self-evaluation document gives a clear and comprehensive explanation of the varying provisions delivered by Nisai. The Academy in Stockton-on-Tees, located on the second floor of a modern office development business park, delivers "blended" academic courses to students (ages 9-19, 25 of whom have an EHCP). The lessons are delivered to students mostly in their own homes, via the internet and virtual classrooms. The Nisai Learning Hub located in Nottingham was inspected by Ofsted in April 2018 and received an overall judgement of Good, with Outstanding noted in the effectiveness of leadership and management plus personal development behaviour and welfare. From my experience of my visit to the Stockton provision, in my opinion, I would confidently say the following comments also apply to the Virtual Learning Academy:
• Senior leaders continuously improve the school's innovative and successful curriculum. The curriculum enables pupils to make strong progress from their starting points.
• Online learning makes a strong positive contribution to pupils' learning. Learning activities are interesting and relevant to pupils' experiences and needs.
• Leaders and staff have developed very effective arrangements for the assessment of pupils' progress.
• The proprietor and senior leaders evaluate the school's work rigorously and plan for continuous improvement.
• Senior leaders evaluate regularly the quality of teaching, learning and pupils' outcomes.
Strong Relationships with Students
The Virtual Academy always ensures they have a direct contact name for all Local Authorities and have recently appointed an ex Special Educational Needs Coordinator on the sales team to assist in any dialogue with Local Authorities. The Academy is currently working with 100+ schools. Students attending Nisai Virtual Academy remain on the roll of their "home: school." Many of the teaching staff begin at graduate status and over 2-3 years acquire qualified teacher status. This is an interesting concept in ensuring a strong relationship with students who can be or already are disaffected by a traditional approach to education provision. This is an interesting comparison to an IQM mainstream secondary school which is currently working with "Coach Bright".
Coach Bright
"Coach Bright Secondary Programme supports Year 7-13 pupils by giving them the chance to work with a university student or senior pupil in school. They focus on one GCSE or A-Level subject that they'd like to improve in. University students coach individual pupils for one hour a week over the course of a term in school, helping them become independent and resilient learners. In the short term, this means improving their grades, their confidence and their independence." (www. coachbright.org).
An Outstanding Induction Programme
There is strong evidence from the Virtual Academy and the work of Coach Bright in promoting the specialist subject graduates to form strong and meaningful relationships with students. The Academy has accurate data to confirm the progress and improved engagement of their students being taught by specialist graduates and qualified teachers. The skills and techniques necessary for online teaching are obviously different to the mainstream classroom. Nisai provides an outstanding induction programme for all teachers and constantly evaluates the performance of all teaching staff. Nisai is also beginning to use video analysis for teachers to self-evaluate their own performances. All lessons are recorded for revision/reinforcement requirements which means they are readily available for teaching staff to record/track and review all delivered lessons.
Highly Engaging Lesson Format
I was able to sit in and observe a lesson being taught to a group of students online. The lesson format was highly engaging with the teacher displaying high levels of empathy towards all students and specialist knowledge. In-depth student tracking and baseline assessment ensures a thorough knowledge of all the students (including Personal Well-Being Plans [PWP]), groups are ability based and the online nature of the teaching and learning allows for verbal communication, private and public texting.
Strong Emphasis on Teacher Questioning
Using two screens (one for lesson notes and one for communication with the group) the teacher spends time on an introduction to all students, a reminder of the previous lesson and notes attendance. There is a strong emphasis on teacher questioning for understanding and extending student vocabulary.
All Lessons are Recorded and Tracked
Throughout the lesson the teacher is also recording (on screen) student responses and levels of understanding. All of the lesson is recorded and tracked. Students joining the lesson late are given the opportunity to view the PowerPoint and notes on completion of the lesson.
Teachers' Skills
It is perhaps worth noting the skills displayed by the teacher during the 30 min lesson:
• IT competency.
• Listening skills (no visuals available).
• Questioning to extend knowledge and depth of understanding.
• High level of subject knowledge.
• Empathy towards the needs and abilities of students.
• Observational skills to interpret information generated on screen.
• Voice control.
• Persistence.
• Take up or Thinking time.
• Timed reminders to allow students to plan and develop organisational skills.
• Recognition, reward and praise.
• Help offered to those experiencing difficulty but with a clear focus of developing independent learning skills.
Student Pathways are High on the Agenda
The Senior Leaders recognise the problems associated with online learning regarding catchment areas, community and communication. To this end outreach workers are being recruited with responsibility for 2-3 students who are out of home and are working in alternative provisions (Libraries etc). Student pathways are always high on the agenda in discussions with parents and students, Nisai is a Gatsby compliant provider, fulfilling all 8 elements of the DfE Gatsby benchmarks:
• A stable careers programme.
• Learning from career and labour market information.
• Addressing the needs of each pupil.
• Linking curriculum learning to careers.
• Encounters with employers and employees.
• Experiences of workplaces.
• Encounters with further and higher education.
• Personal guidance.
A Bespoke Operating System
Nisai is highly progressive and continually strives to utilise the most appropriate approaches and interventions in support of all learners. The Nisai Development Team have developed a bespoke operating system to accurately suit the needs of the Academy: NISIMS. In addition, following an investigation in to sourcing an effective baseline assessment tool linked to profile assessment and goal setting, they have recently purchased PAGS (Profile and Goal Setting Assessments). "PAGS has been developed for children and young adults between the ages of 5 and 25 who have a mild/moderate learning difficulties, autism, social communication difficulty, pervasive developmental disorder (PDD); conduct disorder, attachment disorder, global developmental delay or mental health difficulties. It is a unique framework based on the concept that children and young people should be assessed developmentally so that it is possible to look at the areas of skill deficit they have as a result of either their schooling or their autism/learning support needs. It is a skills-based assessment, looking at functional areas so that the child is supported in life. PAGS promotes a 'can do' approach, recognises the uniqueness of each learner and provides the goal setting information for personalised learning progress."
Supporting Reading and Spelling
"Units of Sound" has also been purchased, a programme specifically designed for online use: "Units of sound supports both reading and spelling, then building to include memory and dictation skills." The programme is used in over 400 schools throughout the UK.
Reflective Teacher Approach
Nisai have developed their own "In-house" inspection regime to ensure the quality and consistency of teaching and learning. A key element of this is the "Reflective Teacher" approach and the use of video analysis.
Inclusion is Central to all Interventions
It is completely apparent from all aspects of the Virtual Academy that Inclusion is central to all interventions. Staff work tirelessly to provide every possible opportunity for students to engage in positive learning and their meticulous tracking and assessment processes confirm the high levels of success of the approaches. Staff retention is particularly good and all staff buy into the Inclusive ethos which senior leaders see as the main driver for the company.
Sources of Evidence
The hard data, positive conversations and feedback from all stakeholders confirms my belief that The Nisai Virtual Academy meets all the criteria of an IQM Inclusive School and that the Academy should receive the Inclusive School Award and be reassessed in three years.
Dedication, Commitment and Expertise of the Staff
I would like to thank all the staff at the Academy who welcomed me and spent time explaining the systems and interventions. It was a pleasure to have had the opportunity to experience the dedication, commitment and expertise of the staff, who collectively provide an exciting and effective provision giving all students involved the opportunity to succeed in education and to prepare for adulthood.
Find out more about the IQM Inclusive School Award
If your school is interested in obtaining the IQM Inclusive School Award or you wish to talk to a member of the IQM team please telephone:
028 7127 7857 (9.00 am to 5.00 pm)
or email: info@iqmaward.com for further details.
Want more information on the IQM Award? Click here to request your free IQM information pack.