Newton Farm Nursery, Infant & Junior School in Harrow, achieves the Inclusion Quality Mark's Inclusive School Award for the sixth time.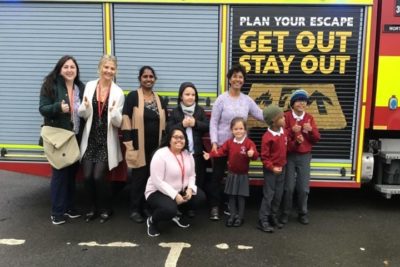 Context
The day started with a meeting with the Headteacher and with a new Parent Governor who was shadowing for the day. The Head wanted to go through the context of the school; There was a very detailed PowerPoint provided that included a lot of detail and a lot of data. He used this as his aide memoire as we talked. The school is founded on three Pillars: Rights Respecting, Philosophy for Children and Growth Mindset. These influence all their school policies and their curriculum. The school is multi-cultural, multi-religious and multi-lingual and 97% of pupils have English as a second language. The deprivation level is not high. Around 10% of pupils receive Free School Meals and the Pupil Premium figure is 12%. The additional 2% are children who are Looked After Children and there are nine currently included in the school. Although the FSM numbers are low, it should be noted that this figure has doubled since the Covid 19 pandemic kicked in. The school is massively oversubscribed, and the school attracts many parents with children with SEN needs. There are currently sixty members of staff that include six who are employed through an agency. The agency staff were largely LSAs who had been employed to cover children with EHCPs and the funding was not yet secure and the school wanted to ensure they were the right fit for the school and for the child they would support. However, I was assured that these LSAs were fully employed throughout the lockdowns and had, or are about to, become permanent members of staff.
Google Classroom already before the Lockdown
The Headteacher was very proud of the fact that they had been able to teach online from day one of the first lockdown and had gone on to refine their remote learning offer as they went through the year and went into the most recent lockdown where many lessons were live. Google Classroom was set up early on (before the pandemic) and children had logins and staff have had training on using Google Classroom. However, they did not imagine that they would be teaching full time using this platform quite so soon. Teachers have risen to the challenge and developed their pedagogy to ensure they reached as many children as possible. They really enjoyed having to be creative in finding different ways to get their message across. The children engaged well in the whole process and were fully supported by their parents.
The Community Supports the School
It is apparent that the parents and the community are aspirational and they are very supportive of the school.  They have amazing communication between home and school.  Thankfully, they have had no bubbles burst over the last year and so there has not been too much disruption to learning.
Tracking Performance
The school track pupils very carefully and the latest data shows that pupils are performing in a very similar way that they were doing in previous years. All categories of children have achieved significantly above national. Disadvantaged children massively outperform others in terms of progress but not in terms of attainment. Support from home is a key part of this success as is the good motivation of pupils and of course, excellent teaching. The school has been growing from one to two forms of entry and they are now almost full.   The school is spacious and well organised and the playgrounds are carefully planned to provide exciting spaces for children to learn and play. The feeling of openness and space is supported by a large area of open space (a big park outside the school grounds).
The School Has A Great Relationship With Many Authorities
The school has a good relationship with the Local Authority and with many other organisations and agencies. Collaboration with others is integral to the way they work. The school hosts the Borough EYFS conference and supports schools undertaking the new EYFS framework. They joined with other schools to develop the EYFS curriculum and other curriculum developments. They also participate in the NQT programme in the Local Authority. There is a School Improvement Partner (SIP) who is an experienced local Headteacher. Traditionally the school has a low mobility rate, but this has changed recently as local families moved out of the area for various reasons. There are three schools nearby that are similar to Newton Farm and they all compete for pupils. The Local Authority predicts falling numbers in the near future but fortunately, Newton Farm is currently full in Nursery and has a waiting list in all year groups. However, they are keeping a close eye on future demographic changes. Breakfast Club and after school care is up and running again and are well attended.
Appointment of A New SENCO
The new SENCO has only been in the post since September was previously a Year 6 teacher and is doing the SENCO qualification this year. She has always had an interest in SEN and suffers from dyslexia herself. The school has made appropriate adjustments for her so she can carry out her role effectively. The SENCO is also the DSL. There are currently eleven pupils with EHCPs (or are in the middle of applying for one) and there are others who are being assessed in Early Years. There is also a SEN Register and teachers can access information about children in their class on the register from a SEND folder on the hard drive. This also includes individual targets. Quality First Teaching is a priority as teachers are responsible for meeting the needs of SEN pupils in their classrooms and QFT is the way to achieve this. The SENCO told me that staff have had training on this even through lockdown. There are nine LSAs and every class has a Teaching Assistant. Appraisal systems are in place for all support staff. The Safeguarding Team consists of the SENCO, the Deputy Head and Assistant Head and the Headteacher. Training is provided for all staff every year with updates every term. The DSL and team have had Level 3 training and there is a safeguarding governor. The Business Manager is responsible for keeping the Central Record. The Safeguarding Team meet weekly to discuss any ongoing cases or possible referrals. The school uses MyConcern to record safeguarding concerns and details. The safeguarding governor meets regularly with the DSL and all governors have had safeguarding training. The safeguarding policy is reviewed annually.
Year Groups are Involved in The Curriculum
Year group teams developed the curriculum content and pedagogy. They set out the skills, objectives and they devise topics and units, where teachers personalise the plans and they have the freedom to make changes. The year teams can also choose the texts they use and this allows them to diversify the curriculum and use the local area and resources. Subject Leads are well supported and when a new lead is appointed, they are put in a team with an experienced subject lead to help guide their work. Even though being a subject lead attracts no additional pay and only a little additional time, it is a well sought-after role. It is seen as career development. They are also having support with their leadership development. The teachers I met and the Deputy Head and Assistant Head explained that Professional Learning and CPD is planned and delivered in a variety of ways including staff meetings, after school sessions and INSET days. They also use training portals and websites that were particularly popular during lockdown. Google forms are used to record any training they have been on. There is an agreed budget for CPD. The senior team also benefit from leadership development and training. Teachers told me that the position of subject leader is sought after because the position enables them to get a whole view. There is a range of research-based activity and they are put in different groups to discuss initiatives and innovation and research focused on children's learning. They relay their findings back to colleagues and the senior team.
Teachers Continually Improve
When asked what the school did to help them to continue to improve their practice in the classroom,the teachers said this was done in a variety of ways including having the opportunity to record themselves teaching and watching it back. This allows them to reflect on what is happening in the classroom. Teaching live lessons also allowed them to drop in on other lessons (with permission from the teacher). They work with a partner teacher and plan together and share ideas and strategies. They also partner with other schools for moderation and other CPD opportunities. Although teachers do a lot to meet the needs of all children in their classroom, they were unsure about what Quality First Teaching was. This was advised as something that needs to be revisited by the SENCO and the staff training programme. Staff did say that the SENCO is always available for advice in meeting the needs of identified children.
Working in Partnership
A group of Teaching and Learning Support Assistants were asked about the way they work in partnership with teachers. They said that the teacher takes the lead and usually asks them to provide resources for individual children. The relationship is due to good communication and teachers appreciate what they do. They said they are a close-knit team in the different phases and they share resources across the school. The LSAs often takes a group or individual out of class to work with them in a corridor or intervention room. Teachers often assign their TA to a table and they then take responsibility for that group in that activity. There is a constant conversation between the teachers and TAs and LSAs.
Key Priorities
Pastoral care and wellbeing are a key priority and behaviour are good throughout the school. The Head and Deputy and SENCO was asked to discuss the strategies used to establish the Behaviour Policy. It is based mostly on house-points made possible by the revamped House system. The Houses are named after young people who have got through difficult situations and challenges and who used growth mindset to get where they wanted to get to. Points are awarded for demonstrating growth mindsets and the three pillars.
Behaviour Plans
There are a small number of children who have behaviour issues and there is an individual behaviour plan for each one of these. It depends on the child. P4C (one of the three Pillars) breeds respect. Every class develops their own behaviour charter with their teacher. No adult in the school ignores incidents of poor behaviour. The senior team discuss any particular child that is causing concern at their weekly meeting. If the poor behaviour is happening frequently or if there is a change of behaviour, they look at it more closely and try to come up with solutions. If the teacher cannot sort the behaviour, they find out what the problem is and put in some additional pastoral support. Mighty Minds (an intervention) is delivered by LSAs and is a bespoke experience for the individual child. The LSAs who deliver the programme described in detail how it works and supports identified children.
Exploring the 3 Pillars
Pupil Progress meetings are used to discuss any concern and they talk through what needs to happen. Restorative approaches are used to resolve relationship issues and arguments. The pupils and staff are reminded of the P4C rules to use when they are discussing the issues and this usually diffuses the situation. The school will always follow up on any allegation of bullying. Mighty Minds are social skills' groups delivered by trained LSAs and are good for exploring the 3 Pillars. The team of three or four identify children who need more emotional support. Children involved in these groups are tracked to see how they are progressing.
Staff Wellbeing Feedback
There is a weekly staff wellbeing questionnaire and survey. The questions are determined by the situation. There was a staff group established called the 'Warriors not Worriers' and organises social events within the grounds. In terms of staff wellbeing, the senior team and staff said that teamwork is the most important thing. Collegiality and collaboration and working together are really important. There is an open-door policy and staff can have access to the SLT very easily. There is also a "Hands up for Colleagues" process where staff can give a special mention to their colleagues. The Marking Policy has recently been reviewed and staff worked collaboratively to create it. Similarly, the reporting system is being looked at to make sure it is not adding too much to teacher workload.
Great Relationship with Parents
The relationship with parents is very good and there are lots of ways for them to contact staff. In addition, there is a Parent Forum that meets three times a year to discuss different aspects of school policy and developments. There are various Pupil Voice groups so children can have their say. Playground Buddies are one way the children are supported in the playground.
Getting Back To Normal
Some of the pupils who were able to tell me about their school experience; they were really pleased to be back in school although they quite enjoyed working from home. They missed their friends and their teachers. One pupil told me that when she was in lockdown at home, she never went out not even to a park or the shops. She said she was too worried about catching Covid to go out but is now less worried since she has been back at school.
Children Are Always Included
The children spoke about how they managed to get along with their friends when they returned to school. They said the teachers helped them to sort things out when there was an argument. They said one of the best things about the school was that no matter how good you are or how bad you are, the teacher finds a way to include you and if you are sad the teachers help. They really liked the equipment and facilities the school had and they were really happy that pupils were always treated fairly and equally. They loved the music assemblies and the fact that you could learn an instrument and science experiments. By coincidence, it was STEM week when I visited and the children were very excited about the activities they were doing on this. Art was also a popular subject. One of the things they really miss during the Covid restrictions is the Playtime Pals where Year 5 children befriend the younger ones who are left on their own in the playground. This has not happened because of the bubbles, as it meant different classes and year groups cannot mix.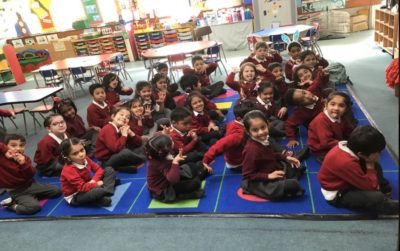 Parents Are Very Happy
After meeting with some parents who told me how happy they were with the school and they felt really well supported during lockdown. They said the online learning was really good. They also appreciated the Help Desk that they could contact when they had problems with the equipment or the work. They said the school have an open-door policy and teachers are always available if they have a concern. They told me that the school had supported them as parents as well as their children during lockdown and this was much appreciated. One of the parents told me she volunteered in the school and although she was not sure how many volunteers there are, she also has safeguarding training and has a DBS. The school may need to develop a policy for volunteers and outline what their induction and training would be. Another parent told us that her child is adopted and has had a lot of issues and she has missed a lot of her schooling. She was not catching up and really appreciates the time and effort the school put in to get her to the stage she is at. The school also supported her and her partner as parents.
Governors View
Finally, after meeting with the Chair of Governors and two new Governors who were having an away day in school as part of their training and accountability roles, it was made aware that there was a Governor with responsibility for safeguarding and SEND and the Board is clerked by a professional clerk from the Local Authority. The Governors are skilled and are very aware of the inclusive ethos and policy and practice. We talked about wellbeing and particularly about the wellbeing of the Headteacher (for which the Governors are responsible). We also had a general discussion about the way the Governors operated during lockdown and in general. It was clear that they are an effective group who are an asset to the school.
Find out more about the IQM Inclusive School Award
If your school is interested in obtaining the IQM Inclusive School Award or you wish to talk to a member of the IQM team please telephone:
028 7127 7857 (9.00 am to 5.00 pm)

or email: info@iqmaward.com for further details.
Want more information on the IQM Award? Click here to request your free IQM information pack