New York Primary in North Shields, Tyne & Wear has achieved IQM Flagship School status.

Context of the School
New York Primary School comprises a larger than average sized, two-form entry, primary school with 350 children. Children start in their two-year old provision, and currently there are 18 full-time teachers and 14 teaching assistants. 40% of pupils are Pupil Premium, and 91% are White British. The extended school provision includes a Breakfast Club which commences from 8:00 a.m. and is free to all who attend. At the last Ofsted (2013) the school continued to be graded "Outstanding" in all areas.
"The children make rapid and sustained progress from their often very low starting points." [Ofsted 2013].
Levels of Inclusive Practice Continue to Grow
The levels of inclusive practice have continued to grow such that it has continued to share exemplary practice, so the school has now requested to be assessed for Flagship status.
"All things are possible; just look inside yourself and believe."
This is the statement which meets you at New York Primary School, and it pervades throughout. It is one which sums up this positive school and its ethos. New York Primary School is a place where you often hear "we are always up for a challenge". As a result, New York Primary is not known for taking the easy option.
Inspirational Work
Inspirational work, teaching, pedagogy and curriculum accurately matches the needs of pupils exceptionally well, with the curriculum being rich in its provision and breadth of opportunity. School leaders drive the school forwards with a passion, and over the last few years this has resulted in the school becoming a key player within the North Shields Collaborative Teaching School Alliance. This has allowed New York Primary to share its experiences and inclusive ideologies with numerous other schools and trainee teachers.
Making Excellent Progress
Children of all backgrounds and starting points, including those with complex learning and developmental needs, make excellent progress. From low starting points, swift progress continues throughout the school resulting in attainment which is well above national average (2017 data) by the end of Year 6. Additional funding for disadvantaged groups is well targeted and monitored, resulting in little or no gaps. Pupils with additional needs or English as an additional language, achieve highly as their needs are exceptionally well understood by all staff throughout the school.
Two-Year-Old Provision
Since the closure of the local Children's Centre, the school has offered two-year-old provision for sixteen children. These children show very limited social interaction, and it is followed up with a 30-hour Nursery offer. There is such a stark contrast when you move through to the Reception classes which are a buzz of conversation between children, of social engagement, and excitement. The proactive engagement of the school with such children and their families is the thing which makes the difference here, indeed, New York Primary is "up for the challenge" and does not shy away from it.
A Systematic Approach to Inclusion
New York Primary has a planned and systematic approach to inclusion. Having analysed in detail the needs of its groups (children, adults, staff, etc), it coherently and robustly plans a programme which will deliver. Skills and CPD are a key focus for driving this forward and in ensuring that everyone can do their job well in order to fully meet the inclusive needs.
Supportive Parents
Parents strongly support the school and its achievements and are actively engaged in it through the "Meet the Teacher Day", parents' evenings (where children proudly demonstrate their learning to their parents via the SeeSaw App), STEM challenge days and after school clubs, breakfast club, and numerous letters and newsletters throughout the year. Parents also appreciate the free breakfast club which is available to all children from well before the start of the school day. This well-attended activity, enables the children to enter the learning day in a calm manner, appropriately fed and prepared, and to undertake a range of stimulating tasks whilst socialising with their friends and staff.
A Passionate STEM Co-ordinator
The STEM Co-Ordinator is passionate in her leadership of STEM, such that it is integral in developing strong and lasting partnerships with parents. From the innovative "Invention Shed" on the playground, through to the STEM after school clubs, Science 4 Families, and Engineering 4 Families programs where parents/carers are actively encouraged to join their children during such sessions, results in a strong bond between home and school.
Working Closely with Parents
The school works hard to reduce parental fears and anxieties over becoming involved in school life, and work undertaken with parents during such sessions creates positive relationships, such that if a difficult conversation needs to be held, it is always done in a supportive and productive manner.
Parents Feel Part of the School
Whilst touring the school, a conversation with a parent volunteer demonstrated how strongly they feel part of the school when she made sure I knew just what a difference this vibrant place makes to her children, and to her.
"My daughter has come on leaps and bounds since being here. Seeing her work makes us incredibly proud of what she has achieved"
– the parents are certainly the school's greatest advocates.
Pupils are Grateful for the Support They Receive
"Teachers always help us to be our best",
this is what greeted me at our children's conversation. One child who openly admitted to "being a bit of a handful", talked passionately of how he was now quite different. Staff had helped him to understand where things had been "going wrong", provided strategies such as behaviour charts, positive rewards, and a "grumpometer" which had really made the difference in identifying potential difficulties quickly. As he summed up: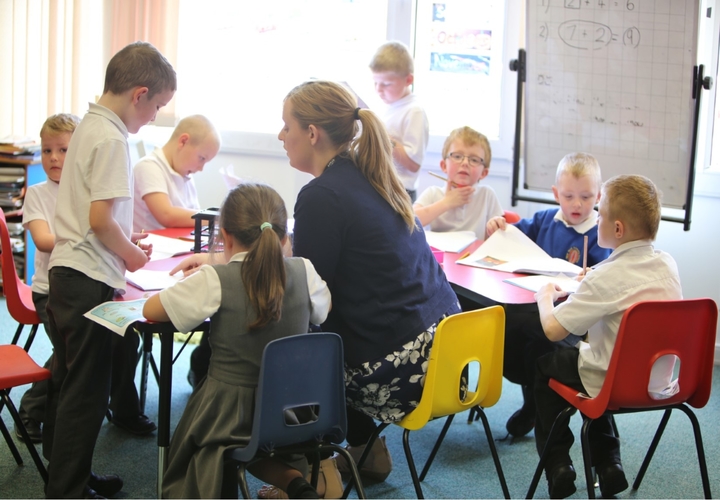 "I used to be difficult, but now I have the confidence, and the strategies, to regulate my own behaviours".
I particularly liked the way he chose the word "confidence" ahead of "strategies".
Inclusive Forethought
A further example of inclusive forethought is the creation of the "The Nook" ("Calm Space"), which the child can access as needed. Children with behavioural challenges can access this calming environment as part of the curriculum, or by their own choice, when they find behavioural situations challenging or just need a bit of space. Used as part of the child's own responsibility for managing their own behaviours, this is a very successful area and its use will continue to grow as it develops.
Learning is Important to the Children
Learning, and doing well, is important to the children of New York Primary. They expect to be challenged in their learning, to work hard, and they appreciate the breadth of opportunity available. They spoke passionately about the Personalised Learning Zone (PLZ) activities where children can participate in each week which offer a wide range of learning opportunities across the school, with different class members, and with different teachers to what they would usually have. This is further enhanced by the wide range of extra-curricular activities which include circuits, football, netball, fun fitness clubs, proggy and sewing craft, the playzone, ICT, STEM, board games, film club, modelling and "Go Noodle" club. There is something for everyone. As one child said, "We never leave anyone out".
Taking on Responsibility
Children are encouraged to take on responsibility throughout the school and further afield. The school council is democratically elected, and new council members are inducted by the current school council. This is a practical child-focused adaptation of what happens when new adults join the staff – they are appointed, then are effectively inducted into the highly inclusive ways of New York Primary School.
Pupil Voice
The children know how the school runs and their role within it. They value their school council roles and take great pride in wearing their badges but have a clear understanding that there is no guarantee of election, this is a true democracy. They spoke eloquently about changes they have made, through consultation with the classes, within the school to support learning, for example, outdoor reading areas for break and lesson times, which they had been directly involved with setting up, and in developing responsibility areas such as collecting registers, organising water bottles and in lunchtime reading activities.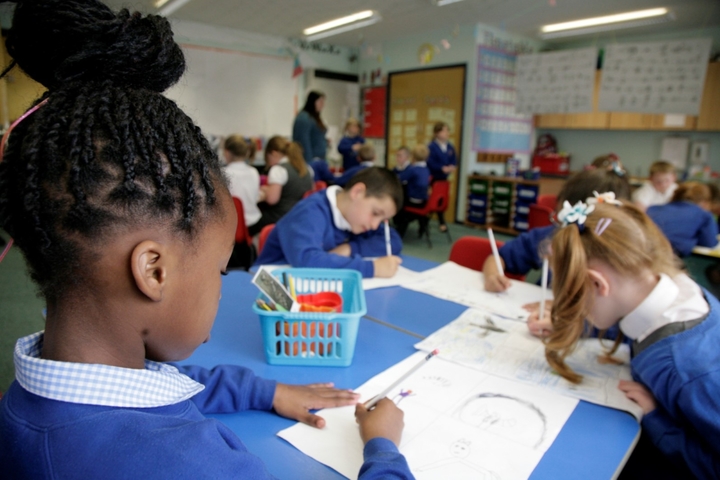 The School Council
The school council also has its own display board prominently on show in the main entrance, which they take great pride in showing visitors and in using to spread messages to the whole school. Appointed by a democratic process of application, presentation and vote, they value their work, and understand thoroughly the high levels of responsibility they carry – the decisions they make impact across the whole school, and they know they have to get them right. Previously they have been involved with devising the school code of conduct, yet they know that now is the time to evaluate it, as what was applicable a few years ago, is different now. They relish the challenge of such work and in making a difference for everyone at New York Primary. As one child quite rightly said:-
"You have to put yourself forwards – if you don't, you'll never know what you could have offered, and what difference you could have made."
Strong Partnerships Throughout the School
There are strong partnerships based on mutual respect at all levels throughout the school. Senior leaders are supported by the Inclusion Manager and Learning Mentor in meeting individual needs through accurately allocating support both from within the school and from other professionals. Since the last IQM review, there has been a strong focus on ensuring that the Learning Mentor role is sustainable, with succession planning being a key part of this. As a result, the school now has a strong learning mentor team which is widening its focus into an emotional well-being team. This is now developing to incorporate other professionals and even the local police officer.
Involvement with the Teaching School Alliance
Staff particularly appreciate their involvement with the Teaching School Alliance, and as a result, their ability to influence others in inclusive practices. Conversations with newly qualified teachers and SCITT students reveals that they are fully immersed in inclusive practices, with a clear focus on quality first teaching. Robust induction procedures for new staff mean they are rapidly brought up to speed in the "NYP way", and in ensuring that they become the strongest teachers they can be as quickly as possible. Good support mechanisms ensure any slippage is caught rapidly and addressed. As a result, observations in class alongside work scrutiny show strong, inclusive teaching which is clearly matched to the individual pupil's needs.
Learning Walks are Undertaken
Learning walks are undertaken regularly throughout the school by senior leaders and Governors. The assessors' visit can confirm the findings of the recent inclusion focus in that:-
• There are clear routines which are consistently applied throughout the school.
• Common approaches prevail (e.g., Talk 4 Writing displays, behaviour systems, positive praise, etc.)
• Additional support (teaching assistants and students) are well planned for and deployed.
• Good learning behaviours evident, maintained and encouraged at all times.
Displays Reflect Diversity
Display is used at every opportunity to reflect the diversity of New York Primary School's population, and to celebrate achievements – "Come as you are and leave at your best" is emblazoned across the hall. Curricular excellence abounds throughout the school, along with thought-provoking displays on health, politics and democracy. The school takes pride in the wide range of awards it has received (including Healthy Schools, enterprise awards, International Children's Day, green awards and friendship awards to name but a few), and the fund-raising undertaken (e.g., Sports Relief, the local hospice, Remembrance events). This is caring school which looks after its own, but equally takes responsibility for those less fortunate within the community and further afield.
External Success is Important
Success outside of the school by the current pupils and former students is given high priority. A particularly positive example is a display of achievement out of school, photographs show a former pupil in her "board and gown" who recently graduated from Sunderland University with a BA in Child Studies (she is now undertaking work at New York Primary), and another of two sisters who have recently gained BA Hons in Nursing from Northumbria University. The children spoke very positively about these former students as they are inspiring many to work towards places at University – aspirational conversations and inspiration for young children makes the difference at this diverse school. Display unifies the school, nurtures and energises the relationships in creating a positive learning and supportive climate where all can succeed … and they do!
Commitment to Inclusion
New York Primary School takes its commitment to inclusive practices seriously. It leads by example, develops its staff, and spreads the messages of inclusion throughout the local community and other learning organisations. Staff openly and readily engage in conversations regarding inclusion and how to get the best for every child, and as a founder member of the IQM Hub, New York Primary has continued to play an integral part in the IQM process, sharing the practices amongst schools and bringing new members on board.
The Staff Team is Strong
The staff team is strong, and it is a community which has an all-consuming enthusiasm for the responsibility of its achievements. Strong and focused leadership, especially by the Inclusion Manager and the Head Teacher, permeates to all levels, with progress being driven forwards swiftly and with great energy. New York Primary and the team have made very strong progress in achieving and exceeding last year's IQM targets, and their further extension is reflected in the new targets.
Moving to Flagship Status
With this in mind, and the well-embedded inclusive ethos witnessed throughout every element of the school, the school clearly maintains its Centre of Excellence standard, but I would recommend that it is awarded Flagship Status in light of their inclusive principles, achievements, and ambitions for the future.
Find out more about the IQM Inclusive School Award
If your school is interested in obtaining the IQM Inclusive School Award or you wish to talk to a member of the IQM team please telephone:
028 7127 7857 (9.00 am to 5.00 pm)
or email: info@inclusionmark.co.uk for further details.
Want more information on the IQM Award? Click here to request your free IQM information pack.