Moldgreen Community Primary School in Huddersfield achieves the Inclusive School Award with Flagship status for the second time.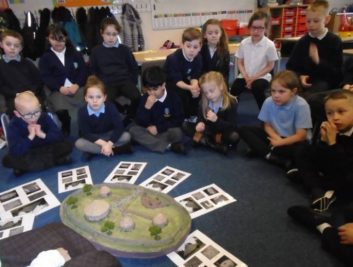 Context
Moldgreen Primary School has 350 pupils with above the national average of children eligible for free school meals and students with additional needs (SEND). There are eight children with Education, Health and Care Plans (EHCPs). This is a school that holds inclusion at its heart. Due to the closure of many private nursery settings, for example, the school has opened its own Pre-School for 2-year-olds. It is hoped to build up the numbers as staff can see the progress these young children are making. The Community Minister described the value placed on each child in the school, concluding:
"They do it by breathing."
The School Is Proud
Moldgreen Community Primary School is rightly proud of its warm welcome and calm atmosphere which is commented on by all visitors to the school. Even on a day with thick snow, burst pipes and no kitchen facilities, staff met every challenge calmly and classes were quickly settled into the normal routine. Plans were quickly adapted to make the most of the weather. The whole staff team were clearly focused on ensuring that children received the best possible education within a highly nurturing ethos, where solutions simply overturned possible barriers.
The Curriculum Is A Success
The Head shared her confidence in the progress being made across year groups which is resulting in above national average achievements according to school assessments. The school curriculum is continually adapted to ensure staff and pupil engagement and success. A new phonics scheme will begin in January 2022 following staff training during this Autumn Term. The Assistant Head for Early Years and KS1 explained how the revised thematic curriculum is right for their children and enables child-initiated play through COOL time – Choosing Our Own Learning. The Assistant Headteacher stated:
"there is so much more for children and the staff are excited too".
Progress Is Monitored
The progress of all children is regularly monitored by Senior Leaders and children are allocated to a wide range of interventions that really build up their confidence. Targeted reading support via Lightning Squad programs is currently being delivered to children in the lowest 20% of achievement and eligible for Pupil Premium. In maths, children are receiving 1:1 online tutoring via Third Space Learning. Recovery funding has also been targeted towards Y6 pupils for reading comprehension and writing.
Families Are Supported
Children who arrive unable to speak English are provided with programs on iPads and symbol cards together with support from other children who speak the same language. A small number of parents cannot speak English therefore appropriate staff are used to translate. As the IQM Lead explained, each child and family are provided with whatever support they need as part of the everyday school provision.
Children Are Independent
Children with EHCPs have individual timetables and are encouraged to develop their independence in class rather than becoming over-reliant on adult support. Children in Reception are having their additional needs met mainly through continuous provision. The AHT for EYFS shared the success of one child who is now able to request when they want to use the sensory area. Another non-verbal child can now communicate using short phrases and sounds. The school provides nurture and sensory provision according to need which is woven into the daily routine. A small sensory area has been created along a corridor by draping heavy curtains across to provide a sense of security. During my school tour, a child was using this area with a member of staff to self-regulate before returning to class.
The Safeguarding System
Safeguarding systems are well-established within the school. A report on Safeguarding and SEND is always provided for governors. As the Lead DSL, the IQM Lead is supported by five other trained DSLs to cover the age range of the school. In addition to children on Child Protection and Children in Need plans, vulnerable families are monitored and supported as necessary, for example, providing food parcels and referrals to appropriate support services, for example, Early Help. If there is no contact or concerns increase, home visits are made. Over lockdown teachers regularly phoned all families. Any child who was identified as struggling at home was offered a place in school. The IQM Lead commented on the strengthening of relationships with parents following lockdown as a deep element of trust had been built and families knew they would receive a response from the school. Parents have the confidence to ring when they are struggling.
Diversity Is Significant
Diversity is very much part of school life. Everyone is treated equally and learning about other cultures and faiths is interwoven into everything. In Reception, for example, staff changed focus to look at different hair colours when a child said something about it being different. Issues are addressed immediately to support a wide and accepting attitude toward others.
Pupil Voice Is Encouraged
Pupil Voice is encouraged via the School Council who explained their role and how they continued to meet over Zoom during the lockdown. Members from Y5 and Y6 explained how they plan activities including fundraising and non-uniform days. A child from Y4 mentioned how they needed to remember to sort out gluten-free food for discos. "I want to help people by raising money," a Y3 child told me. Ideas have also contributed to amended policies, for example, the suggestion to have a green section for good consequences in class rather than always focusing on the negative, resulting in a new traffic lights behaviour system. The School Council is currently working on an updated bullying policy.
Inclusion Is At Its Heart
Moldgreen Community Primary School is fully involved with the 'Dalton Together Partnership' which brings local groups together to support the development of the area. The Community Minister who chairs the partnership praised the school's engagement and willingness to offer support unquestioningly. Staff have collected and delivered food hampers and the IQM Lead is able to refer families for immediate support including access to technology. The Head also attends the meetings to develop links in the local area. The ethos and practice of Moldgreen Community Primary School have inclusion at its heart. As the Head explained:
"We are a family."
The school provides a welcoming and supportive approach that promotes academic progress within the full context of each child and the local community.
Find out more about the IQM Inclusive School Award
If your school is interested in obtaining the IQM Inclusive School Award or you wish to talk to a member of the IQM team please telephone:
028 7127 7857 (9.00 am to 5.00 pm)
or email: info@iqmaward.com for further details.
Want more information on the IQM Award? Click here to request your free IQM information pack