Millwood Primary Special School, Bury has achieved the IQM Inclusive School Award.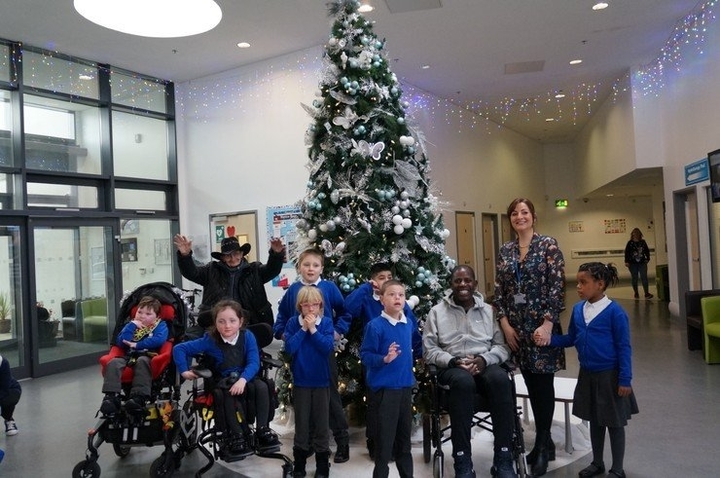 Context
Millwood School is a highly successful maintained Primary Special School, providing for children with a wide range of special needs. All children at the school have either an EHCP or a draft EHCP, indicating a high level of profound and complex need. Millwood is the only Primary Special School in Bury, providing places for children across the borough and for a small number of out-of-borough children. Consequently, Millwood draws pupils from a wide socio-economic range. Places at Millwood are in high demand, as the school has grown rapidly, increasing from 77 pupils in 2012 to 147 pupils in 2019. Of the current pupils on role, 70% are boys and 30% girls.
Committed Leadership Team
The most recent Ofsted report (July 2017) judged the school to be 'Outstanding' in all areas, this was the school's third consecutive outstanding Ofsted report, providing clear evidence that school has maintained exceptionally high standards and outcomes over a sustained period of time. The Headteacher's Leadership is extremely effective, she is ably supported by a strong and committed leadership team who all share a clear, inclusive vision and a drive and determination to do the best for all pupils and families at the school. Millwood School provides a happy, secure and supportive environment in which pupils thrive and despite a wide range of complex and profound needs, make excellent gains in their learning. Throughout school, children make outstanding progress with most meeting and in many cases exceeding their targets.
Exceptional Learning Environment
Millwood moved to a new, purpose-built site in 2012 and 2 new classrooms have recently been added. Despite increases in pupil numbers and complexity of need, leaders and staff across the school have embraced the changes and successfully worked to meet them. The learning environment at Millwood School is exceptional, real care and thought for the needs of pupils is evident in the planning and equipping of the new building. All areas have been carefully developed to meet the complex needs of pupils. The school has a rich, diverse and exciting mix of opportunities for pupils to extend their learning. Pupils are clearly happy in school, they have excellent relationships with staff which ensures that classrooms are calm and supportive learning environments, at all times pupils feel secure and well cared for and have a confidence that their needs
will be met. Staff have a clear respect for pupils and their needs, they are very sensitive to ensuring pupils dignity and privacy, attending discretely and considerately to pupils' personal and medical needs. CPD for staff is comprehensive and thorough, as a result staff have excellent knowledge of pupils' needs and develop appropriate strategies to support them. Staff are experienced and highly trained in a wide range of special educational needs, this along with outstanding levels of care ensures that pupils achieve extremely well from their starting points.
Development of Communication Skills
Staff at Millwood know their pupils and families well and the challenges they face, they are determined to ensure the best possible outcomes and it is obvious that the staff value collaboration and mutual support. This was clearly evident throughout the day and a strength of the school. The school has put great emphasis on the development of communication skills. Staff use a wide and diverse range of strategies such as eye pointing, gesture, pictures, symbols, objects of reference and signing with many pupils using these with increasing independence.
Positive Parents
Millwood School views parents as integral to all the work it does and has extremely strong relationships with parents. Parents felt "communication between parents and teacher is extraordinary, every little detail is shared and I feel confident my child is happy and cared for." Parents spoken to during assessment were unanimous in their positive view of the school, they were full of praise for everything that the school does. They provided many examples of outstanding care and support, commenting,
"This is the best thing that has happened to my child"
"My child is always happy to come to school."
Governors are extremely supportive of the school they challenge and support Leaders to constantly provide outstanding education for all pupils.
Committed to Making a Difference
The school takes great pride in ensuring that children are part of the wider community with pupils attending a wide range of community events. Millwood is an outstanding school that provides a happy, secure and vibrant learning environment in which pupils develop and meet their own personal milestones. A thank you note clearly sums this up with the comment,
"You are truly amazing at your jobs and it really shows with such happy bubbly children."
Millwood is a school committed to making a difference to all its pupils. Everyone works together with dedication and passion to ensure that pupils, irrespective of individual need and starting point receive outstanding care and education.
Find out more about the IQM Inclusive School Award
If your school is interested in obtaining the IQM Inclusive School Award or you wish to talk to a member of the IQM team please telephone:
028 7127 7857 (9.00 am to 5.00 pm)
or email: info@iqmaward.com for further details.
Want more information on the IQM Award? Click here to request your free IQM information pack.