Micklem Primary School, Hemel Hemstead in Hertfordshire, has achieved the Inclusive School Award with Flagship status.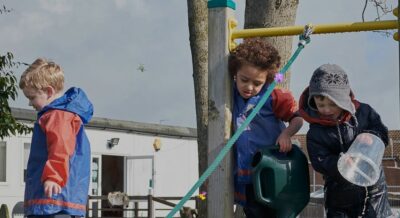 Introducing Micklem Primary School
There is a well-established daily routine for all at Micklem Primary School that is evident right from the beginning of the day with parents and children arriving in orderly way and staff welcoming and assisting with emerging issues and adults' requests, the transition to the working day is quick thus learning time is not compromised. The school's values of learning, achieving, cooperation, reflectiveness, perseverance, and resourcefulness are modelled at Micklem School in a matter-of-fact way throughout the day. This attitude and practice have been further confirmed in conversations with staff, pupils and parents and observed during the tour of the school and an extra visit at lunchtime to the Forest School area. The values are "visible" because leadership has agreed and developed the school's values with the in-depth knowledge of their intake and what the children will need to acquire as part of preparation for adulthood and growing into global citizens. The school makes sure that the values underpin everything they do thus the values are part of the fabric of daily work. The values are ingrained in the consciousness of practitioners' through the school thus teaching them is natural and effective. At the same time the values lay the foundation for understanding and practising inclusion, so clearly at the heart of the Micklem School.
Cohesive Leadership Team
Since last year, the school has had some changes in SLT and teaching staff, but newly appointed professionals have stepped in successfully and there were no visible gaps in provision due to staff transition. On the contrary, a new SENDCO has more allocated time for her role and has brought with her a wealth of experience that has been skilfully utilised to improve early interventions for SEN pupils.
Creating Confident Communicators
The Micklem School has a well-designed, meaningful, and purposeful curriculum that aims at preparing children for next stage of education. The staff "aspire for every child to love reading," which apart from educational benefits contributes to children wellbeing. They believe in exposing children to high level vocabulary and weaving concrete opportunities to build up to a meaningful point of learning into their curriculum. There is a big emphasis on outdoor learning; a newly developed Forest School, led by a Forest School accredited leader, plays a big part in encompassing aspects of curriculum that lend themselves to outdoor environment. It has been reported in one of the newsletters that: "Lots of skills were developed in Forest School last week. Linked to our Design Curriculum Technology, children prepared and cooked a ratatouille as part of a Forest School session. This included clearing up after themselves." When children, primarily those with SEMH issues, struggle to access the curriculum, the school's response is to design an engagement curriculum that is pitched at their level of learning and retains some engagement with the appropriate peer group.
Cultural Capital
The school demonstrates an inclusive approach to its curriculum design and evidences its effectiveness through planning, assessments, attainment, and pupil voice. Regular classroom learning is enhanced and enriched by activities linked to current events, or extra-curricular practical sessions. For instance, in May 2022 pupils at Micklem School were able to take part in: Taking Science Outdoors Week, Dance Through the Decades workshop, Geography Field Trip, Jubilee Theme Week, Urban Strides Motivational Assembly and visit the Sky Studios.
Shared Values
Clearly, the school's ethos and values are taught explicitly and pupils' behaviour and attitude within activities, over play and lunchtime show they are understood and ingrained. Pupils show respect for one another, they cooperate and look after younger pupils and support their peers. In a group conversation with the IQM assessor, a Year 6 pupil made sure that the youngest member of the group had had her turn to speak. Children are proud of their contribution to the effective running of the school, as they see themselves as being part of "leadership" when executing their roles in various parts of the school community.
Parental Involvement
The parents' views echo their children's enthusiasm; they confirmed that their children love to come to school to learn and be with friends. The school uses many channels to ensure that information reaches all parents and is updated in a timely manner. The parents are pleased to be allowed back onto school premises and resume pre-pandemic face-to-face contact. Both the school and parents are resuming a more personal interaction now that the Covid restrictions are lifted and the doors are re-opened to welcome families into school.
Creative Spaces
Micklem Primary School occupies a purpose-built building situated on a large piece of land within a built-up area with a mixture of social and private houses. Its facade is typical of buildings built in Sixties in that it is rather functional. The school recognise how fortunate they are to have all the outdoor space they do and maximise its use by encouraging outdoor learning, which has become part of curriculum. The new initiative of the Forest School makes a good use of the nature area and offer fantastic opportunities to promote good mental health and to engage pupils and families learning together. The site has plenty of scope for further development and the school, with its drive for improvements and therapeutic approach to behaviour management, will certainly utilise its potential in future.
School in the Community
The Headteacher and current Inclusion Lead, Deputy Headteacher and SENDCO, ultimately taking on a role of Inclusion Leader, and a wider team have worked together to ensure that the inclusive ethos prevails and that the pupils remain at its centre. They have high aspirations combined with a clear understanding of the whole school community and challenges that the school faces. Leadership gives unwavering support towards inclusive practice because they believe that through inclusion all children have equal access to increased life chances.
Find out more about the IQM Inclusive School Award
If your school is interested in obtaining the IQM Inclusive School Award or you wish to talk to a member of the IQM team please telephone:
028 7127 7857 (9.00 am to 5.00 pm)

or email: info@iqmaward.com for further details.
Want more information on the IQM Award? Click here to request your free IQM information pack