Mayflower Primary School in Tower Hamlets has achieved IQM Flagship School status.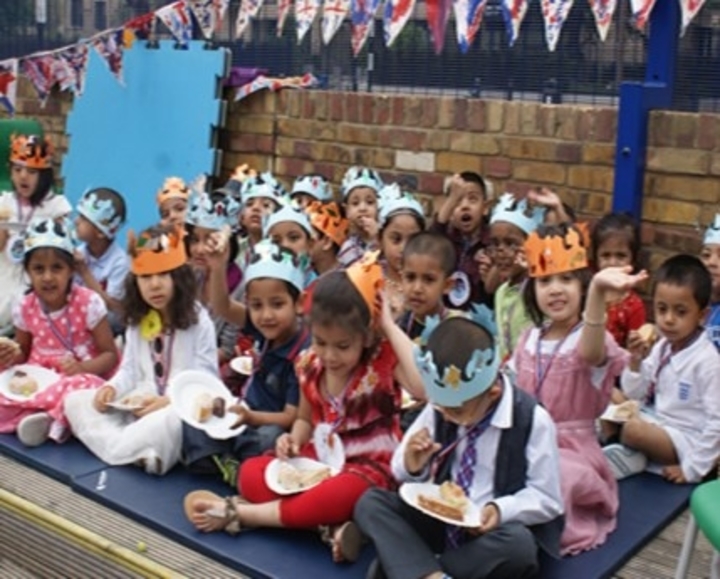 Differences are Catered For
As the IQM assessor at Mayflower Primary School this year I enjoyed my day enormously. Every staff member I spoke to demonstrated an enthusiasm for working within an environment where diversity is valued and differences are identified and catered for. Staff turnover is limited and Mayflower professionals really enjoy their work and the ethos of the school: "I found my staff family, so I stayed here!"
Managing the Inclusion Challenges
The Headteacher and members of the senior leadership team showed me that by utilising the outcomes of both national and international research projects and planning strategically for staff and school development, they are well ahead of the game in terms of managing the inclusion challenges of both the present and the future for their school.
International Visitors
On the day of my visit twenty educationalists were visiting Mayflower from Holland. I met them first thing in the morning and they had a full day of activities ahead of them. Some of the questions asked by individual visitors indicated that although they were keen to experience and learn, their journey along the road to understanding the philosophy of inclusive education had only just begun. Their answers, gently phrased by the Head and her deputy, showed how keen they are to freely share what they have developed over quite a large amount of time: "We're holistic about the children's education. We don't make judgements, we're constantly looking for better ways to engage our children."
Creative and Forward-Thinking
Mayflower Primary School has been an IQM school for a number of years. This is their third year as an IQM Centre of Excellence, and now they are hoping to move forward to become an IQM Flagship School. Earlier IQM assessors have clearly described the context of this outstanding school which is set within Poplar, the densely populated area of Tower Hamlets, described to me by one staff member as being the real setting of the popular BBC drama series 'Call The Midwife'. Other assessors have also described the creative and forward-thinking ways in which a relatively small school footprint is used to best advantage, providing bright and inviting classrooms, resourced additional indoor learning areas, outdoor learning and play spaces, a sensory room, a library, and much, much more.
Promoting Reciprocal Learning
The Inclusion Quality Mark expects that its flagship schools will work with not only the internal school community of staff, children and parents, but that they will take their understanding of the term community outside of the school walls, promoting reciprocal learning with other schools, other communities, and perhaps even other countries. The Headteacher's welcome message on the Mayflower website describes the guiding principles of her school, beginning with 'Keep children at the centre of all we do' and ending with a statement about how important it is to work in partnership with parents.
Promoting a "Can Do" Attitude
Other principles relate very much to the development in all children of 'can do' attitudes, self-confidence and independence and to the enabling of children to feel like 'citizens of a wider global community' in addition to feeling 'part of London'. It is obvious that the professionals are working toward enabling every young person to fulfil their potential, both at Mayflower and then later during their secondary education and in real life after their school days are over: "Our focus is always on working towards greater depth in learning."
Developing a Neurodiverse-Friendly Learning Environment
A school with the IQM Flagship award is expected to develop an outline for a classroom or school-based research project which will build on the excellent inclusive practice already demonstrated and replace the targets set at earlier IQM stages. During the past twelve months Mayflower professionals have become involved in a variety of projects, large and small, relating to the eight IQM elements, and some of these pieces of work are long-term and remain ongoing (see the body of this report). In addition, during this coming year, the school will be adapting some approaches used by schools in New York that are supported by New York University relating to the development of an increasingly neurodiverse-friendly learning environment (mainly but not exclusively IQM Element 2). By using the best existing approaches from the UK, plus those observed in the US, they hope to keep providing the best learning environment and opportunities for autistic pupils. The school is committed to developing any existing practice alongside autistic advocates to advise them. The association with the US was through an individual fellowship which the Assistant Head had received from the Winston Churchill Memorial Trust. Outcomes will inform not only the ongoing good practice at Mayflower Primary but will be recorded in such a way that they can be shared with other IQM schools, and perhaps with schools outside of this group via a published article in an educational journal. The fellowship report will be uploaded into the Winston Churchill Memorial Trust's site later this year.
A Child-Centred and Inclusive Philosophy
In summary, Mayflower Primary School is an exceptional example of a school where the philosophy of child-centred and inclusive education has been practiced by an enthusiastic and effective staff body for a number of years. The Headteacher and her senior leadership team are committed to taking this philosophy to others and the assistant headteacher for inclusion is a passionate professional with a determination to challenge existing conditions and search for even better practice through academically-based research.
Effecting Change More Widely
As an assessor I value the fact that Mayflower professionals embrace and enjoy the challenges set by IQM and that they continue to search for ways in which to effect change more widely.
Find out more about the IQM Inclusive School Award
If your school is interested in obtaining the IQM Inclusive School Award or you wish to talk to a member of the IQM team please telephone:
028 7127 7857 (9.00 am to 5.00 pm)
or email: info@iqmaward.com for further details.
Want more information on the IQM Award? Click here to request your free IQM information pack.