LVS Hassocks, Hassocks in West Sussex, has achieved the Inclusive School Award with Centre of Excellence status.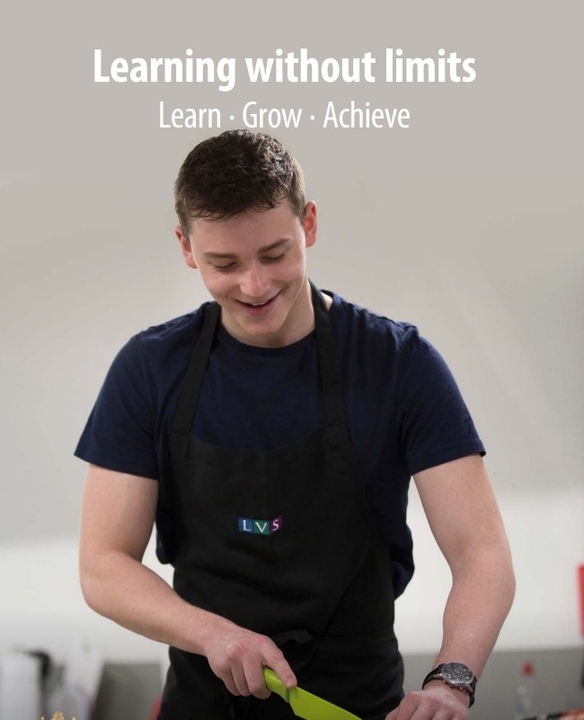 Introducing LVS Hassocks
LVS Hassocks is a very special place. It is a haven where students receive the nurture and understanding they need to build personal strength, resilience, and ambition. For many it is a place to recuperate and regroup after previous less favourable educational experiences. For every learner, it is a place they are accepted, appropriately challenged, and prepared for their lives ahead.
Learning, Growing and Achieving
LVS Hassocks is one of three independent schools within the LVS family of Licensed Trade Charity Schools and is one of two dedicated to young people with a diagnosis on the autism spectrum. LVS Hassocks caters for students aged 8-19, all of whom have Education Health Care Plans (EHCPs) in place. The school is set within 40 acres of land on the edge of Sayers Common where students access a specialist curriculum underpinned by three main areas for development – Learning, Growing and Achieving. Here, the aim is for students become confident and independent and to realise their full potential, resulting in successful futures in jobs or further mainstream education.
Building on Strong Foundations
The school is built on strong foundations of inclusivity as part of the Licenced Traders charitable family which has provided equality of opportunity from its very conception. As such, the school's mission statement states,
"…we believe we can make a difference. Our aim is for all of our students to become healthy, empowered and included adults who participate in and contribute towards society."
Warm and Welcoming
LVS is warm and welcoming from the second you enter the door. The passion that staff have for ensuring students receive the best possible holistic experience is palpable. This was evident in every conversation, from those with reception staff on arrival to chats with students around the school and with support staff in the car park at the end of the day, not to mention the enthused and articulate discussions with staff in various roles during planned meetings.
Genuine and Mutual Respect
There is a clear culture of celebration and recognition of achievements. Students all have bulging Records of Achievement to share and displays around the school also show how much students work is valued. Staff will talk extensively and enthusiastically about the child who created a piece of artwork or who contributed to a particular initiative. The students here are known, seen and respected.
"We don't believe in invisible people" – Principal
Students Feel Valued
Leaders have an inclusive, ambitious, and aspirational vision for the school. The Principal has led enormous change in the school over the past years and has been supported by an enthusiastic and motivated team. Students described the shift in culture from simply "babysitting" or otherwise "trying to make this a mainstream school" to a place they felt contained and safe and where their self-confidence and sense of self-efficacy has grown enormously. Students emphatically appreciate the balance they now feel between being trusted in they are afforded the flexibility to take a nature walk when they are feeling distressed whilst also being feeling safely contained by clear behavioural boundaries.
Invested Governors
Governors are proud of the school and appreciate the Principal's clear vision for the school and see their role as 'critical friend' and to help drive the school ethos. They articulate the wider charity remits in relation to LVS Hassocks' specific profile and bring a wealth of expertise to the school. Most importantly, they invest emotionally. Their desire to ensure students get the best possible outcomes from the school was evident even during our video meeting, where there was a brief side discussion concerning Pupil Voice feedback and a need to respond.
"Students are articulate and honest. That's the beauty of it…and the challenge of it!" – Governor
Compassionate and Rigorous Team
Governors describe the staff team as compassionate and rigorous in their approach and have huge admiration for them. The staff are a close-knit team and there is high accountability which has led to excellent outcomes for students both academically and personally. All members of staff are encouraged to recognise themselves as a leader. It is a place where staff feel trusted in their roles and feel empowered to make decisions within their own areas of responsibility. Throughout the assessment visit, the Estates Team and Catering Team were referred to as "vital cogs." In fact, the current equine therapeutic provision, involving 13 therapy horses on site, was initiated by the Estates Manager.
"What struck me on the first visit was the bespoke package of support. I've never seen it done that well!" – parent
Promoting Resilience
Relationships at LVS Hassocks are built on genuine respect and knowledge. During the assessment visit, students reflected that staff are stricter than they used to be, but they also recognised that this was necessary. They expressed an understanding that this authenticity has supported increased levels of trust. Pupil voice is authentically valued. Learner interests and passions of students are recognised and developed and integrated into their educational experience. The curriculum adapts to the needs of the students. For example, students can walk the school grounds, or listen to music when they are struggling in class. They are encouraged to have movement breaks to support self-regulation and concentration. One students stated,
"My old school didn't care. I had nothing to lose. Now I have my GCSEs and A-Levels. This school is good at making you feel wanted." – learner
Everyone here is valued and there is a strong ethos of ensuring the needs of staff and students are adequately met so that they are all able to perform at their best. The value placed upon staff wellbeing makes for a resilient staff team and thus facilitates the positive atmosphere at LVS Hassocks.
Holistic Focus
This is a school that places social, spiritual, and moral development at its heart and recognises the value of cultural capital for all students. When asked to reflect on what they had gained from LVS Hassocks, students all spoke about confidence and self-esteem. When asked what behaviours would tell the staff that these were growing, they listed greater tolerance of others; talking more; the ability to ask for help; openness to pushing their own boundaries and increased attendance.
Parents as Partners
Parents and carers feel valued and included. They trust that staff know their children and will act in their best interest. One parent said,
"I just can't fault the school"
"They know [my child] as an individual and treat him as an equal"
Parents spoke about the school's true open-door policy, where discussions are not reserved for Annual Review Meetings or other statutory occasions. As one parent said,
"Communication is clear. I feel I could pick up the phone to anyone and they will understand without me having to explain things repeatedly…. I don't understand how this magic happens"
It is clear that parents, carers, and guardians all feel a sense of containment and support from the school that mirrors the care given to their child. They know that the staff are genuinely dedicated and are truly grateful for this.
Transition Success
As students transition on from the school, it is understandable that parents, governors, staff, and students themselves all share a sense of trepidation. However, the focus on resilience building and planning for future life means that these students will take a plethora of practical and emotional tools with them into the world.
Excellent Ethos – Supporting Success
To summarise, LVS Hassocks is a beautifully warm and caring environment where students and their families receive the honest, trusting, caring and safe containment they need and deserve. Everyone is valued and treated as an individual and staff truly recognise the importance of relationships. Wellbeing is at the heart of everything they do here. Staff fervently pursue the very best outcomes for those under their wing through creative and well-planned opportunities. There are high aspirations or all, including staff and life trajectories are significantly changed for the better.
Find out more about the IQM Inclusive School Award
If your school is interested in obtaining the IQM Inclusive School Award or you wish to talk to a member of the IQM team please telephone:
028 7127 7857 (9.00 am to 5.00 pm)

or email: info@iqmaward.com for further details.
Want more information on the IQM Award? Click here to request your free IQM information pack