Lozells School in Birmingham has achieved Flagship School status for the second time.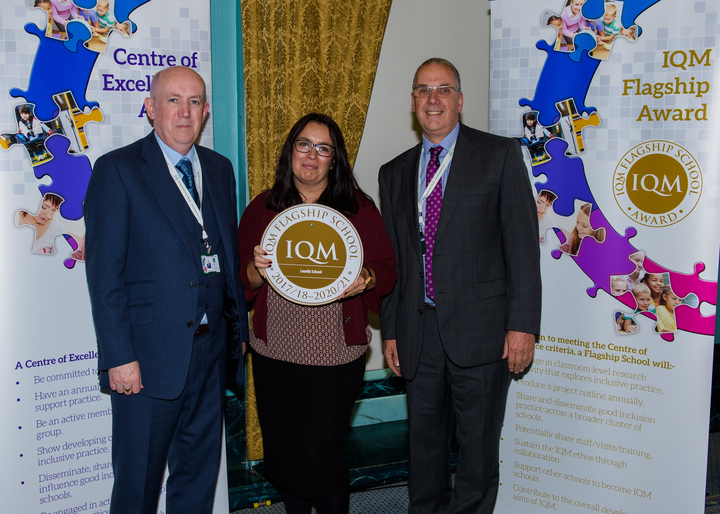 Context
Lozells School is a much larger than average primary, situated in a deprived area to the of north Birmingham city centre and with a high proportion of disadvantaged pupils. The numbers entitled to pupil premium grant funding are higher than average. Whilst the majority of the children are from minority ethnic groups, this leads to one of the school's greatest strengths – that of respect and inclusivity of its population, irrespective of their background, culture or religion. Children here are positive towards each other and as they progress through the school they benefit from the smart systems which leaders have put in place to enhance their learning, skills and social attributes. This is a school which was recognised by Ofsted in 2015 as Outstanding and which is also recognised as a Flagship School by Inclusion Quality Mark, but it is not complacent. Staff work cohesively and tirelessly to push standards forward and ensure that all children who attend the school receive a good standard of education, regardless of their individual needs.
A Warm Welcome
The warmth of the welcome by the school's administrative staff is matched by children and staff at all levels within this high performing multi-cultural school near Birmingham city centre.
Impressive Buildings
Set in impressive buildings, the school is situated on a vast shared site with Mayfield Special School and Holte Secondary with whom there are emerging plans for a potential federation. Wider collaboration exists with other Birmingham schools and both Holte and Lozells are participants in the Inclusion Quality Mark's cluster collaboration networks. An example of this collaborative approach includes the SENCo from Lozells supporting the newly appointed SENCo at Holte.
Community Challenges
The community around the school has had a number of challenges in the last year, among which are knife crime and gang culture which have resulted in a number of incidents, making the local park unsuitable for unaccompanied children to use. This has led to school representation on local community and police panels to consider ways of dealing with this problem, including offering victim support.
Impressive Displays
In spite of the context described above, there is a feeling of efficiency which permeates through Lozells School, evidenced through the impressive displays which support and celebrate children's work, act as drivers for the school's key priorities and which also support aspiration for children from diverse and often disadvantaged backgrounds.
Differentiation
Not only are the displays of a high quality but they, together with the school's key priorities, are differentiated according to the age and key stage of the pupils. For example, the school's current engagement with Guy Claxton's Behaviour for Learning, known as "fit to learn" in the school is effectively applied from Early Years onwards. Among the "fitness powers" are collaboration, empathy and listening, questioning and perseverance. A child in the Reception class understood this and told the assessor that she was "at the top of the mountain" for her engagement in learning that morning. During the learning walk, Year Four children were able to explain how they used this strategy to help them in their learning and could cite examples across the curriculum of how it aided their progress. When questioned by the assessor, one was also able to explain how the strategy helped him improve his learning at home.
Effective in Self-Evaluation
The school is effective in its self-evaluation, whether that be through the formal processes for performance management and associated peer observation strategies, or through its swift response to the greater diversity of children's needs. For example, in early years a very small group of children were presenting with extreme behaviours (complex autistic tendencies, severe cognitive delay etc) which went beyond those previously experienced. As a consequence, leaders, with the backing of the Governing Body, decided to modify provision and to add additional human resources to personalise learning for this small group. The children were kept in school, had their very explicit needs met and in so doing the needs of the other children in early years were also effectively supported. Indeed, in spite of the complexity described above, the EYFS outcomes this year continue to be above national.
Bespoke Nurture Provision
Elsewhere, the school's bespoke nurture provision has also been changed. The SENCo and her colleagues not only changed the name of the provision to "The Core" but have also ensured that the learning in this area is very much focused on curriculum progression with a deliberate and distinct focus on the acquisition and application of language. Children are immersed in quality literature which is used to inspire and motivate them through high quality creative environments which engage and inspire them in their work. An example of this is the current focus on "Beauty and the Beast" through which staff had supported children to paint pictures, create a fireplace, a dungeon and a space where children experienced a special feast. To create such environments and associated learning processes requires a high level of experience, skill and dedication from the personnel involved. They should be congratulated on their work as the children respond so positively from such wonderful and memorable experiences.
Positive Attitude to Learning
Children's attitudes to learning exude positivity, due in no small part to the highly skilled staff team but also supported through the specific focus on "fit to learn", the values which children had prioritised after a vote to determine which core values mattered most to them. The team known as "Architects of Change" (AOC) helped lead on this by modifying the former golden rules and transforming and aligning them into core values. These are promoted consistently across the school and include children's own values' posters in their classrooms.
Support and Motivation Processes
Support and motivation processes for children permeate the entire setting. Learning mentors, specialist learning support assistants and highly skilled teachers ensure that children aspire to be the best they can be. Strategies to motivate them such as the high-profile work on Black History Month are matched with motivational posters of famous people from diverse walks of life (politicians, sports people etc) with quotations which often refer to the fact that hard work and dedication are among the determining factors in achieving success.
Pupil Voice
Among the secrets of the school's success is pupil voice. Children can democratically express their views through the Architects of Change, Junior Leadership Team and Youth Parliament processes. The representatives who met with the assessor were proud to have these roles, presented with self-confidence beyond their years and were great ambassadors for their school. Furthermore, they had begun to realise the impact of their roles and could not only speak eloquently about the matters they had engaged with but also had a great sense of humour. These young people were demonstrating true leadership and positively reflected the school's values, listening to each other, taking turns to talk and recognising that adults were listening to their views and taking them seriously.
Parents' Ambassador
Another facet of the school's work is engagement in the UNICEF Rights Respecting School process. Leaders have decided to appoint a parents' ambassador whose role will include informing parents about this scheme. The school has accessed the UNCRC (U.N. Convention on the Rights of the Child) symbols' resource which is a "communication friendly" tool used for children who are nonverbal, have speech, language or additional support needs.
A Cohesive Community
There is a cohesion to this community, recognised by parents, staff and Governors. Effective induction, parents' forum meetings, the appointment of a new parent ambassador and recognition of the fact that the staff team will go out of their way to help with any matter which may arise provides confidence and evidence that this is a truly inclusive school. Examples of this include weekly review meetings for children with the most complex needs, modification of resources, timetables and staffing to ensure that all children's needs will be effectively met.
Ongoing Improvements
When one factors in the support from learning mentor, pastoral manager and others, it is clear that the school is pro-actively seeking and implementing ongoing improvement. An example of this is the pilot work, in conjunction with Birmingham's Services for Education, a scheme entitled "Ruby, Rafa and Riz" which is a health education initiative focusing on mental health and well-being.
A Matrix of Initiatives
At Lozells, it is not any singular project or programme which makes the difference, but the collective matrix of initiatives, delivered from a dedicated and competent team who ensure that each day they do their best to include, support and guide every child in their academic, social and emotional development. In so doing, performance in this year's SATs is above national, in spite of the school's context and children's starting points in reading, writing and maths.
A Highly Effective Setting
Lozells School is a highly effective setting with a vibrant cohesive staff team who create a superb context for learning for the children in their care. Leaders are reflective and are determined to provide the very best opportunities for all.
Continuous Evaluation
Established practice is continuously evaluated and, where opportunities arise, improvements are made. This is a school where everyone is treated with respect, as evidenced by the consistent use, and modelling of "miss" and "sir" at the start of all communications. Peer evaluation lies at the heart of school improvement and the climate is one in which everyone recognises that they can learn to do things better than in the past. This approach rubs off on the children who present so well to each other, to the adults in the community and to visitors.
Reflective Approaches to Change
This was the assessor's second visit to the school and he was impressed to see that although recognised by different organisations as a successful school, there was evidence of sustained improvement and of careful, reflective approaches to change. New initiatives here are carefully thought through, often piloted and then implemented consistently to gain the greatest impact.
Find out more about the IQM Inclusive School Award
If your school is interested in obtaining the IQM Inclusive School Award or you wish to talk to a member of the IQM team please telephone:
028 7127 7857 (9.00 am to 5.00 pm)
or email: info@iqmaward.com for further details.
Want more information on the IQM Award? Click here to request your free IQM information pack.