Little Learners Day Nursery in Doncaster has achieved the Inclusive School Award.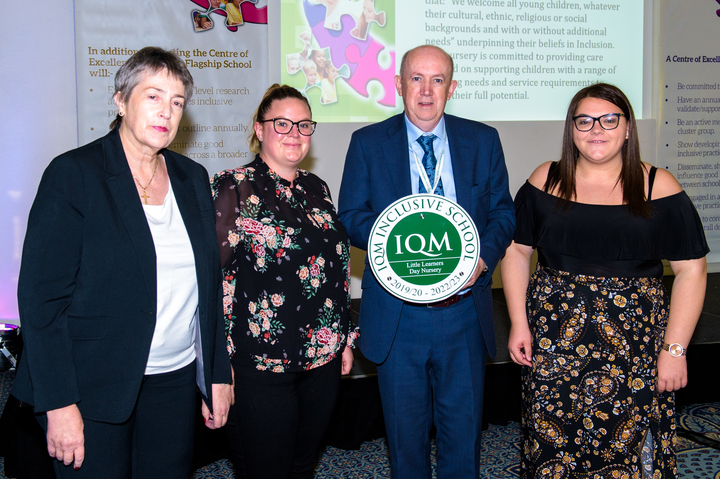 Supporting All Children
Little Learners clearly state on their website that: "We welcome all young children, whatever their cultural, ethnic, religious or social backgrounds and with or without additional needs" underpinning their beliefs in Inclusion. The nursery is committed to providing care focused on supporting children with a range of differing needs and service requirements to reach their full potential.
A Range of Accessible Facilities
The Nursery was founded in 2001 and operates as a Private, Voluntary and Independent day care facility within the grounds of The Doncaster Deaf Trust. The Nursery has a large practitioner base, managed by a team of Senior Management Practitioners and overseen by an Executive Principal and Board of Governors and Trustees." It is a well-established setting which has good quality resources and a range of facilities accessible to children. Rooms are open-plan and have good access to outdoor areas with ramps for wheelchair users.
Enhanced Provision Status
Little Learners is one of a group of settings in the entire Doncaster Borough to be awarded 'Enhanced Provision Status' from Doncaster Early Years and Childcare Service for its high standards of care and education for children with additional needs. Staff are employed to manage and coordinate the needs of children who may require Education, Health & Care Plans, Person Centred Plans and Personalised Learning.
Support Practitioners
As part of Doncaster Deaf Trust, the setting is able to access a range of other facilities including a dining hall, gardens and swimming pool. Other professionals support practitioners to meet the needs of children including a speech and language therapist, audiologist and school nurse.
Working Proactively with Parents
The setting is well planned and organised, there is a collaborative approach. The Manager, SENDCO a member of the Trust Team, parents, staff and children all endorse the fact that the team work industriously to ensure a positive journey for the children in their care. Children are happy to talk to adults and feel assured in approaching visitors in their rooms. During the IQM Assessment visit children engaged purposely in the rooms and became engrossed in mark making, imaginative play and reading. Children have a positive environment in which to learn and reach their full potential. The Little Learners Team firmly try to provide the best for the children and seek to do this in a number of ways. A range of needs are accommodated in the setting and staff work proactively with parents to support the learning process. Practitioners provide an environment which is supportive, which has well-organised resources and labelled for ease of retrieval.
Enabling All Children to Succeed
As an enhanced provision, the team has worked hard to ensure that children can progress regardless of a range of barriers to learning. This is supported by the views of parents including a parent of a child with SEND. It is clear that the setting is prepared to 'go the extra mile' to enable the children to succeed.
Providing Meaningful Experiences
A determination and genuine passion for children's education exists. Managers and staff understand the importance of identifying the interests and needs of children and providing them with meaningful experiences. The importance of teaching things that are relevant to a child's understanding is a key principle of the work of the setting.
Ensuring Emotional Well-Being
The new staffing overview and curriculum mapping/planning which is in place will ensure that the children's emotional well-being is secure to enable them to learn. On the setting website it clearly states that, "Little Learners embraces the ethos that every child deserves the best possible start in life and recognises that all children require support and guidance through individually planned activities in order to fulfil their potential." Attention is given to ensuring that children are safe and happy but that guidance from the EYFS is followed to help to plan learning and measure children's progress. Baby days, an app to support communication and observations in relation to a child's progress, is in use in the setting and this promotes positive relationships between home and the setting.
Supporting Children to Work Independently
Staff support children to do things independently, to learn to play cooperatively, to listen to and value the views of others. Opportunities exist for children to develop their own views and articulate these in meaningful ways. Children are clearly valued; an inclusive approach enables the needs of individuals to be considered. The Golden Rules are posted in the rooms to serve as useful reminders and aid the children's understanding of expectations. Modelling of positive attitudes is fostered at Little Learners; Children's attempts are valued and appreciated as noted in the Toddler room where children's paintings and mark making is on display alongside a quote from Pablo Picasso.
Developing Resilience
It is clear that staff use the outdoor area successfully, they comment that they endeavour to offer challenge and set out areas so that risk taking is encouraged and confidence grows. The staff intend that the children should develop resilience to enable them to tackle new challenges.
Forest School Approach
Parents and staff acknowledge the value of the Forest school approach as it enables children to gain confidence and participate more fully in other aspects of nursery life. The setting has a well-established Forest school area which the team has developed. This is highly successful and used regularly to enhance children's learning opportunities.
A Caring, Stimulating and Exciting Environment
Staff provide a caring, stimulating and exciting environment. Excellent relationships exist with the children, each treated as an individual, their likes and dislikes noted, and parents are regularly consulted about the children's needs and routines. Clear evidence of this is exemplified in the documentation collated by the Inclusion Leads for the IQM Inclusive School Award. Parents feel that they can approach the nursery staff at any time. They value the fact that staff make themselves available at a range of times and for a range of purposes. They have noted the support of the Manager and SENDCO and how both willingly give of their time. They value the approachability of the whole team. The Nursery team is very aware of the importance of transitions and work hard to smooth this process. They ensure that an 'All about me' booklet is completed, that records are passed on from room to room, that parents' views and children's views are included.
Enabling Continual Improvement
The setting manager has a genuine and positive approach about enabling continual improvement, striving for the best outcomes for children. She fosters professional development both in-house and from external sources. Equally, the SENDCO fully understands SEND procedures and actions these effectively ensuring the children and parents' needs and wishes are valued.
A Warm Welcome
Personnel, office staff and children in all parts of the nursery provide a warm welcome but also pay due attention to Health and Safety and safeguarding, ensuring that visitors are signed into the setting and have up to date DBS certification.
Find out more about the IQM Inclusive School Award
If your school is interested in obtaining the IQM Inclusive School Award or you wish to talk to a member of the IQM team please telephone:
028 7127 7857 (9.00 am to 5.00 pm)
or email: info@iqmaward.com for further details.
Want more information on the IQM Award? Click here to request your free IQM information pack.