Litherland High School, Merseyside has achieved Centre of Excellence status.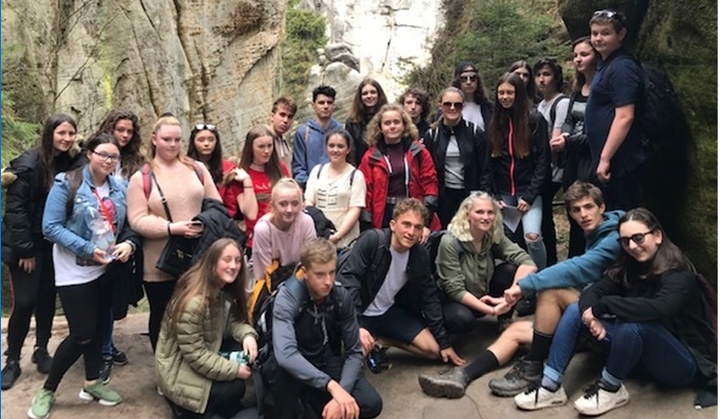 Context, Vision & Goals
Litherland High School is an 11-16 mixed community school, in the Borough of Sefton with 584 students on roll and at the time of the review attendance stood at 94.3%. LHS is a true community of students, staff, parents and governors with a common goal – to strive for the highest standards in everything they do. The school is part of the Heath Family (NW) Multi-Academy Trust and share the Trust's ethos of having the highest expectations for all students, where they are challenged to be successful in an exciting, creative, enjoyable and innovative learning environment and culture. Through their vision and values: 'Together in the business of learning' supported by and underpinning their core purpose 'Success for All.' Always striving to give their students the best education possible and a superb level of pastoral care so that they learn well and enjoy school. While also continuing its constantly evolving superb commitment to providing a highly inclusive teaching and learning environment for everyone. Everyone at LHS is fully committed to maximising the achievement of every student. Everyone is challenged and supported to flourish and encouraged to work hard to fulfil their aspirations, with an expectation that every member of the 'LHS Family' will be the best they can be.
Inspirational and Aspirational Leadership
The school is effectively led and managed by the inspirational and aspirational Principal, his Senior Leaders and Governors who work effectively together to develop and drive forward the strategic vision of the school and the Trust. There are clear leadership roles identified and everyone works hard to provide a learning environment that excites, stimulates and challenges students within a superb safe, secure and caring community. A team approach underpins everything that happens across the school, where superb support, pastoral care and student intervention together with outstanding guidance and true inclusive practice, combine to great effect. LHS demonstrates superb care, nurture and support that is the foundation upon which the school builds its educational practice developing students for success in the 21st century through their curriculum, where inclusion is at the heart of everything that happens on a daily basis and is seen in all interactions, naturally as a matter of course. This was clearly seen and identified from discussions during the review and from the evidence provided.
Breaking Barriers
During the review process I was able to observe a Year 10 assembly with a focus on British Values, given a tour of the school by both Head Girls, talked to a variety of staff and students about inclusion within the school thereby ensuring that LHS continues to enact all elements of the Inclusion Quality Mark. Everyone without exception was extremely positive about the school and they were keen to let me know that the school is a naturally very inclusive setting. Empathetic staff clearly understand the needs of their students and the needs of their colleagues. There are no barriers to learning or inclusion at LHS that cannot be overcome, everyone is included and looked after to the best of their ability demonstrating the school's superb level of inclusivity.
Superb Student Leadership and Teamwork
I was also able to conduct a Tutor and a Learning Walk through a number of different curriculum areas and see staff and students successfully, actively engaged in learning and teaching and also had the opportunity to speak to some of the JLT including both Head Girls who were superb ambassadors for the school and were very mature and eloquent in the way they discussed their plans for and their roles across the school this year. The school JLT including Prefects and Anti Bullying Ambassadors should be very proud of themselves. They were all keen to discuss that they felt privileged to hold their positions and felt they were a key part of the successful running of the school being the interface between students, staff and SLT. JLT have recently agreed their four key priorities for the year ahead: Unity where everybody feels included, bridging gaps across all years; Mental Health and Well-Being; Promote Community within the school and supporting CEIAG opportunities in the school for a greater number of students. The level of student leadership at LHS is superb, the school and its students should be commended for the fantastic way they work together to improve what occurs and what is offered for everyone. This should be disseminated to a wider network of schools.
Enthusiastic and Determined Students
I was able to discuss Student Leadership across the school with the members of staff who lead on this crucial aspect of the school and also talk to a number of students involved in various capacities. It was clear to see how enthusiastic and proud students are to be given leadership opportunities and it is clearly shown in the way they take their duties so seriously and is reflected in their level of maturity and desire to help others. I was extremely privileged to be able to participate in the discussion and be involved with such a group and this is also reflected by the efforts of the staff and they should be commended for the work they have put into developing Student Leadership at LHS. Currently there are 240 students from Years 7 – 11 who hold a leadership role in the school that is roughly 50% of the school population. This is a fantastic accolade and that is clearly going to continue to go from strength to strength and involve more students.
Training for Success
All students who have a leadership responsibility have clear roles and are given appropriate training where needed, for example, the anti-bullying ambassadors have had appropriate training and have been involved in Restorative Justice conferences with other pupils leading to very successful outcomes. Ten prefects have opted to take part in a business mentoring course that includes training on raising aspirations and confidence building for identified Year 8 students. Pupils in Years 7 and 8 are able to achieve Bronze, Silver and Gold levels on 'The Leadership Ladder' recognising their involvement in leadership opportunities and has been so successful that they have now had to add a Platinum level who is then nominated as a Leadership Ladder Champion. The school is also continuing to develop leadership accreditation through Pixl Edge leadership accreditation. The school and students should be highly commended for their efforts in this area.
Committed to Inclusion
I had the opportunity to discuss attendance, behaviour and alternative provision with the school leads and see first-hand the efforts that staff and students have put in to increase levels of attendance, decrease instances of behaviours that are disruptive to learning and massively decrease the numbers of students who need to access Alternative provision. It is clear that staff and students understand that the best place for students is in school so that they can access the best possible education and, if necessary, the support mechanisms offered as well as where necessary external agencies who work extremely closely with the school. This is a key driver and principle that underlies the work at LHS where they strive endlessly to work closely with students to identify barriers to education and to offer the support needed often working with their parents and families beyond what is normally expected. Staff are highly effective in their roles and support the school's superb, naturally occurring inclusive ethos. Such a highly dedicated and well-trained staff team and their external partners continue to build the capacity to support the needs of their students including their emotional and social needs from within their own resources, a fact that the school should be highly commended for. They are very successful in providing a learning environment where everyone, students and staff alike, are helped to succeed. Behaviour seen during the review in lessons, on corridors, at social times and in discussions with different groups of students was excellent and there is ample evidence of the mutual respect that students and staff have for each other. Students spoken to during the review talked honestly and confidently about their learning, about opportunities available and their experiences at LHS and how they were appreciative of the efforts made to ensure they were stimulated to learn and be successful and the support they were offered. This is a fantastic accolade for staff and students and something that they should all be proud of.
Outstanding Learning Opportunities
In a discussion with the Assistant Principal with responsibility for PSHE and CEIAG it was clear to see that she is continuing the work begun the previous year in terms of reviewing the whole school PSHE provision and ensuring it is outstanding and meets the needs of the students. Using the newest PSHE Association guidelines and plans to ensure that lessons continue to evolve and develop offering students outstanding learning opportunities. Everything is mapped and learning walks are a regular occurrence during PSHE lessons with feedback given to staff to ensure further improvement. Lessons cover issues that are personal to the school, the local community and national and international issues are also addressed. It will be interesting to see how PSHE has evolved at the next review and to possibly observe a lesson.
Career Hub School
Preparing students for the next stage of education, employment and training has always been a key focus for LHS and they continue to work extremely hard to improve their superb provision of high quality CEIAG. The school through their expertise in CEIAG was identified as a 'Career Hub School' one of 20 career Hubs across the country as a part of the government strategy to transform CEIAG. LHS are working with 'The Careers and Enterprise Company' and their Enterprise Advisor to continue to drive improvements in career education for their students. As part of this continuing drive for improving what they do in this area, the School Lead has embarked on The Career Leader Course and is part way through the process of achieving the award. Over the next review period the school will work towards achieving all 8 Gatsby Benchmarks through the implementation of the IAG Strategy and continue to access professional development opportunities to ensure SLT and staff are expert in careers education.
Innovative START in Career Education
During the conversation I was shown START, a free and comprehensive digital platform that offers schools and colleges a single starting point to help simplify and improve careers guidance in schools. The online programme uses structured and progressive activities, catering for all students and helping them to make more informed decisions about future study and career options at the right time and in good time. The Lead is keen to launch START to students across the school during the next twelve months and has been added to the school's Action Plan. I look forward to seeing how effective the programme is and to discuss it with staff and students to evaluate its effectiveness and to see how the school has used it and whether it has been of any benefit to staff or students.
Inclusion is at the Heart of Everything
In conclusion it was very clear from this third Centre of Excellence review that this is a school where every single student really does matter and is made to feel valued as an individual. The school and staff are committed to providing the very highest standard of teaching and learning experiences which not only develop students' knowledge and skills, but develop their confidence to become innovative, independent learners, who take responsibility for their own learning and actions. The superbly caring, inclusive environment that LHS provides ensures each student receives the very best education possible given their individual circumstances, delivered by highly dedicated staff. There is a clear belief held by and enacted that every student is entitled to experience as many opportunities as possible in order to broaden life experience, develop confidence and self-esteem, allowing them to find what is unique about them and to capitalise upon it, whilst easing through areas of challenge. In terms of inclusion this is a superb school in every sense where superb care, nurture and support that are the foundation stones of inclusion are at the heart of everything that happens on a daily basis at the school seen in all interactions between staff and students; between students and between staff. This was seen and evidenced through discussions with a variety of stakeholders and from evidence provided. Everyone involved with the school pull together to realise the school's vision and understand that this is a superbly inclusive place to come to work and learn and they should be commended for their superb efforts in making this such a special place.
Find out more about the IQM Inclusive School Award
If your school is interested in obtaining the IQM Inclusive School Award or you wish to talk to a member of the IQM team please telephone:
028 7127 7857 (9.00 am to 5.00 pm)
or email: info@iqmaward.com for further details.
Want more information on the IQM Award? Click here to request your free IQM information pack.