Lincewood Primary School, Langdon Hill in Essex, has achieved the Inclusion Quality Mark's Inclusive School Award, with Centre of Excellence status.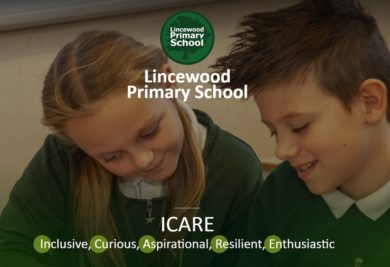 Introducing Lincewood
Lincewood Primary School is an excellent example of inclusive practice. Inclusion permeates all aspects of the school's work and there are good links with the governors and community to offer support for families. The Headteacher demonstrates strong, caring leadership and she works effectively with her Senior Leadership Team and the Governing Body to ensure that all staff have similar aspirations for children at the school. It is a larger than average primary school with 395 children on roll. After a great deal of hard work, the attendance has risen to national averages and children make good progress from often low starting points.
Bright and Stimulating
There is a consistency of display across classrooms and shared areas which shows a balance between celebrating children's work and providing a focus for learning. The displays in all classrooms are of particularly high quality and the school mission statement 'ICARE' (Inclusive, Curious, Aspirational, Resilient, Enthusiastic) is promoted in all classes, with a slightly different focus depending on the age of the children. It also greets pupils in large letters in the impressive school hall. The ICARE statement is developed further to express the way in which the school was seen by the Assessor throughout the day
'Together we nurture curiosity and positivity to promote aspiration and build prosperous futures. Through our community, we inspire strength, resilience and equality for the wellbeing of all.'
Excellent Outdoor Classroom Provision
The outdoor learning environment includes opportunities for children to develop aspects of sport and learning through play. The well set out EYFS outdoor environment encourages free flow and both teacher directed and child-initiated activities, whilst the playground and field have a range of apparatus to encourage children to play creatively. There is a KS1 and a KS2 playground each with their own picnic benches, climbing apparatus and well-marked out surfaces. The playground and field are spacious and there are shaded areas provided by trees for the summer and ample space for children to use their creative instincts. A gate into a wooded space is well used to access the range of opportunities available in this area. A floodlit Astroturf area is also a great asset. It is used for PE, clubs and by the local community in the evenings. Observations during lunchtime demonstrated that the children used the spaces effectively and enjoyed the time they had to use apparatus provided for them on each playground by the Midday Assistants. The quiet seated areas for a quiet chat ensure all aspects of outdoor play are addressed. The welcoming outdoor environment gives parents and visitors a good first impression of the school and the office staff present a friendly reassuring face to parents and visitors.
Good Governance
The strong leadership of the Headteacher, her accessibility and her commitment to inclusion and improving the opportunities for all children is articulated by everyone as one of the biggest strengths of the school. Effective performance management systems have been key in focussing teachers and LSAs on pupil progress and keep moving the school forward. These systems ensure there are common themes related to the school improvement plan and personal development opportunities which influence whole school improvement. The focus on pupil and staff wellbeing and its impact on positive attitudes within the school has continued to be addressed during this pandemic. The SLT is committed to raising standards and providing staff and pupils with the best possible environment and opportunities. The Governors have a wide range of experience and expertise, directly impacting on outcomes for children. The Chair of Governors is an experienced professional and works well with the Headteacher and her other Senior Leaders in improving governance and visibility around the school.
Pupil Voice Heard
The work ethic of the children, their good behaviour, friendliness, and politeness echoes their engagement with their school work. The atmosphere in classes and in shared areas is calm, with children reflecting and valuing the care and attention which all staff show them. Children are often involved in the decision-making process when matters relating to their school environment and learning are concerned. The School Council empowers children to take responsibility for their own actions and for activities around the school and all Y6 children are given responsibilities which they take very seriously. The aspiration work conducted with children raises their expectation and lets them see beyond their present home circumstances. Relationships between staff are excellent and pupils feel cared for and supported in their learning with teachers and LSAs understanding their pupils' needs. Children enjoy their time in school and consequently attendance is at national levels.
Aspirational but Achievable
In addition, visitors to the school and visits connected to topic work make the curriculum more relevant to the children. These visits are also now starting to increase as restrictions ease. The school has developed its own curriculum after trialling and adapting elements from other providers until it is now satisfied that it has a broad, balanced, and aspirational curriculum for all children. The outdoor environment is used to a greater extent through links to topics and there is an area for development to ensure that subject leaders monitor this aspect of learning more closely in the future. An expert on the use of the outdoor environment is employed to work with the children on forest school type activities using the outdoor classroom and the impressive outdoor area. Children say that they really enjoy these sessions, and they link well with topic work.
Enthusiastic Communicators
Talk for Writing is used across the school and is having an impact on children's reading and writing skills. Talk for Writing is a very enthusiastic and animated class activity where the children recited a text whilst providing the actions to instil it in their memories. It seemed a fun time was being had by children and teacher!
Quality Extra-Curricular Activities
The school provides a wide range of extra-curricular activities which enhance the curriculum, and the use of the Astroturf is an added bonus for offering a wealth of sporting activities provided by an outside sports provider. Art, drama, recorders, and choir clubs are other non-sporting clubs that are on offer to children. The residential visit in Y6 to Kingswood in Kent and the visits to the Isle of Wight in Y5 develop pupils' understanding of the wider community, the experience of living away from home and challenges children in a variety of ways allowing them to experience different environments, taking them out of their comfort zones.
Partnership with Parents
Excellent work is carried out with families, pupils and the community generally to ensure that children are cared for and valued. There are excellent communication systems which give parents and carers confidence in the school and in its support for their child's needs. Email, texting, newsletters, and parent consultations as well as one to one conversations keep parents regularly informed about their child's education and needs. Studybugs is widely used by the school as a means of communication and a facility for parents to report their child's absence from school. It improves communication and the parents who were interviewed at the time of the assessment could not praise it enough. 'I don't know what we did before it came on board!' was one parent's comment. Another parent said,
'I cannot express enough how much this school has done for my child.'
Parents commented on how accommodating the school is. They also mentioned the good induction and transition arrangement which offered great reassurance for them. The school intends to run more parent workshops to keep parents better informed in how to support their children at home particularly as these have had to be curtailed during the pandemic.
Fundraising Support
The PfA has, however, continued its excellent work as a fund raiser and a social focus during the pandemic. A parent who is Chair of the Association spoke eloquently about the hard work that goes into the fund raising and how they have supported school and families by organising quiz nights and a Christmas Fayre which itself had to be reorganised to be outdoors due to a sudden change in covid rules. It was, non-the-less, well attended and a success! Parents are in full support of the school and its inclusive ethos and couldn't praise the school enough for its excellent communication and openness
Part of the Community
The school has strong links with the local community. Good use is also made of the local parks and services to extend the curriculum. There is good support for local and national charities and an involvement of the children in raising funds for children less fortunate than themselves. The school is very much part of the community and even during the pandemic it has maintained, as much as possible, good contact. Where safe and possible, staff have also planned for outside visitors to enhance experiences and learning in school. Parents talking about their own religions is a recent example of a visit to the school. It wants to increase these visits now that restrictions are easing. The school is actively involved with the local Basildon schools and participates in a number of inter-school competitions and sports events when safe to do so. It is involved in many local activities including music and sports festivals. The school aims to ensure that its children see beyond their 'bubble' and what opportunities exist. Staff want the children to understand that their current learning leads onto many opportunities. The curriculum is consequently designed to include local, national, and international references. There is also the intention to find ways to give the school a more international focus.
Find out more about the IQM Inclusive School Award
If your school is interested in obtaining the IQM Inclusive School Award or you wish to talk to a member of the IQM team please telephone:
028 7127 7857 (9.00 am to 5.00 pm)
or email: info@iqmaward.com for further details.
Want more information on the IQM Award? Click here to request your free IQM information pack