Laxey School on the Isle of Man achieves the Inclusive School Award.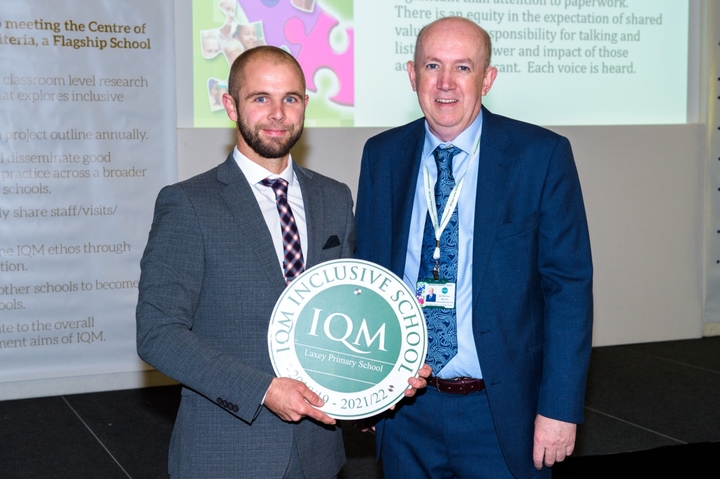 Celebrating Individual Differences
Inclusion can often be misunderstood. It is not a one definition fits all. In fact, it is the contrary, Laxey demonstrates this. It is the succinct appreciation, celebration and recognition of individual differences that holds to the integrity of true inclusion. Each voice within this community is valued and the skill of listening is significant as is that of proactively hearing.
A Shared Philosophy
The freedom to explore must come from a firm foundation. Validity of belief systems can only be ascertained by enabling freedom. The commonality of structures and strategies, borne of a shared philosophy enables imaginative and vibrant exploration of thinking and of learning. Courage to 'let go' comes from a determination to empower others to experience the processes and outcomes of taking responsibility.
"The IQM process has pushed us to be brave and to want to question and move on our practices."
What is right for the staff here is most certainly right for the pupils. There is a collective energy that is humbling and inspirational.
Challenge of Curiosity and Self-Evaluation
There is a deliberate climate of challenge of curiosity and self-evaluation. There is no finite goal for inclusive practice and the capacity to question is a powerful tool. It reflects the courage of the children too, who can readily accept challenging experiences and new learning, in the spirit of seeing if it is possible and if they can do it, and of course always being ready to ask of themselves 'why?'
A Willingness to Share and to Learn
Becoming part of a Federation has provided additional energy to reach out. It has also enabled a recognition and evaluation of what is of value, what is of worth. Laxey has responded with an openness and a willingness to share and to learn. There is clear welcomed anticipation of the capacity to further enrich the curriculum as the pool of teaching skills has now widened. "Continuous learning opportunities" are open to all staff and feed the richness and depth of self-evaluative questioning and of professional conversations,
"we want to be the best we can be,"
who can offer a more humbling challenge of themselves? This school walks the talk.
A Readiness to Engage, Collaborate and Prioritise
The influence and impact of building relationships is clear in Laxey. There is a readiness to engage, collaborate and to prioritise when a conversation is more significant than attention to paperwork. There is an equity in the expectation of shared valuing. The responsibility for talking and listening, the power and impact of those actions is significant. Each voice is heard.
The WOW Factor
This school gives the WOW factor!
Inclusion Underpins the School's Philosophy
Mr Craig Astin (with support from Max Kelly, the Executive Headteacher, and all the staff of Laxey) has led the collation and presentation of evidence in readiness for the review. The Self-Evaluation Report provides a thorough and insightful understanding of Inclusion and of its profound place as the underpinning of the school's philosophy. The programme for the day was thoroughly supported with access to all aspects of required evidence and information. The determination of leadership to promote inclusive values is clear and it is exciting to see the start of such a creative journey.
A Unifying Inclusive Journey
Laxey is at the commencement of a unifying inclusive journey and will grow the capacity.
Find out more about the IQM Inclusive School Award
If your school is interested in obtaining the IQM Inclusive School Award or you wish to talk to a member of the IQM team please telephone:
028 7127 7857 (9.00 am to 5.00 pm)
or email: info@iqmaward.com for further details.
Want more information on the IQM Award? Click here to request your free IQM information pack.