Launcelot Primary School, Bromley in Kent achieves the Inclusive School Award for the first time.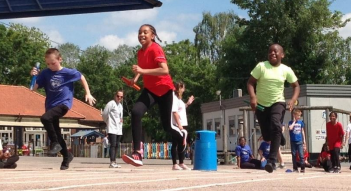 Context
Launcelot Primary School is a fully inclusive school. The school has a powerful ethos of inclusion, diversity and equality that is reflected in the mission statement. It is clear from the learning environment that the primary school place great importance on the diversity and the rich culture of the whole school community. The Headteacher and staff work hard to get to know every pupil and their families. As one Year Two pupil wrote,
'I think it is good that everyone is different because we are one big team and if different people are good at different things, together we are good at everything!'
Teamwork and good relationships are evident throughout the staff team and are recognised by teachers as one of the many strengths of the school.
Everyone is Welcome
The school has a reputation for being inclusive and welcomes all pupils and their families. One parent commented how well her child's additional needs have been supported at Launcelot Primary School. Within Lewisham Local Authority, the Launcelot paperwork for special educational needs has been praised and used as an example of good practice for other schools.
We Enjoy Working Together
Teaching Assistants are trained to be able to support pupils with a wide range of interventions, including Sensory Circuits, and to develop their speech, language, and communication skills. One member of support staff became involved with the school initially as a parent through the P.T.F.A. She commented,
'I loved the school and wanted to be a part of that. We do all enjoy working together and approaching things together.'
There has been a focus on a 'restorative justice' approach to behaviour management. Support staff team know how to approach and deal with behaviour incidents and when it is more appropriate to involve the leadership team. This sense of effective teamwork was echoed many times throughout the assessment day.
"We are All Humans"
Across the school, 45 different languages are spoken and specific tailored support is given to newly arrived pupils to ensure that each child is supported to learn English through group work and a wide range of dual language books and resources. One pupil wrote,
'equality means that everyone is the same inside – we are all humans – so we should all have the same choices and chances.'
Displays show photos of pupils and adults and their home languages with the title
'we all smile in the same language.'
One adult had also promoted their British Sign Language skills.
Regular School Visits
Pupils have regular school visits to support the curriculum when the pandemic allows. More able pupils are identified and awarded with specific additional opportunities to further develop their interests. For example, a pupil who is a 'Maths Scholar' may take part in competitions with other schools. An 'Art Scholar' may have opportunities to visit a gallery. Pupils can develop their responsibility by standing for election as a School Council representative. One member of the School Council explained this role: 'We help around the school and help teachers make decisions.' Most recently, new playground equipment has been chosen and purchased with much enthusiasm from the school council.
Teachers Have Commitment And Passion
Governors know the school well. They recognise the passion of the teachers and their commitment to the pupils and families. As one governor said,
'Staff are always putting families at the centre.'
Another commented that pupil wellbeing is prioritised for every child. The Governors were aware of the needs of the pupils and the differences that resources, such as Pupil Premium, makes at Launcelot. The Covid restrictions have meant that the governors have been holding meetings online, but they are very much looking forward to being back in the school building again, when possible.
Going Online During Covid
The school learning environment is Covid secure and so seating is currently in rows and social distancing is observed. Staff adapted structures during lockdown to ensure that there was a clear system to meet family needs and support individual learning. This resulted in 80% of pupils accessing the learning either within school or through home learning. Some families accessed via computers and others by a paper pack of work. Consideration was given to ensure each year group had their own daily lesson at a specific time which did not clash with those of other year groups at Launcelot. Many parents also took a role in the daily online sessions which resulted in better understanding of the tasks and specific learning points which the children would access on Google Classroom. Many parents worked hard to support the learning tasks, despite their own worries and difficulties due to the pandemic. This commitment was recognised by the staff who look forward to building on this learning partnership.
School's Values are Consistent
Each classroom has a consistent display of the school's values, and these are regularly part of assemblies and shared with parents through newsletters. The learning environment is currently a little different, as the pupils are socially distanced, but every effort is made to continue the interactive activities and give pupils opportunities to work collaboratively when possible. Despite the current restrictions, the school looks vibrant. This is an inspiring, caring, and calm learning environment. Above all, it is a place where all children are at the heart of the school and staff go above and beyond to support and nurture all pupils in their care.
Find out more about the IQM Inclusive School Award
If your school is interested in obtaining the IQM Inclusive School Award or you wish to talk to a member of the IQM team please telephone:
028 7127 7857 (9.00 am to 5.00 pm)

or email: info@iqmaward.com for further details.
Want more information on the IQM Award? Click here to request your free IQM information pack