Lambs Lane Primary School in Berkshire has achieved Centre of Excellence status.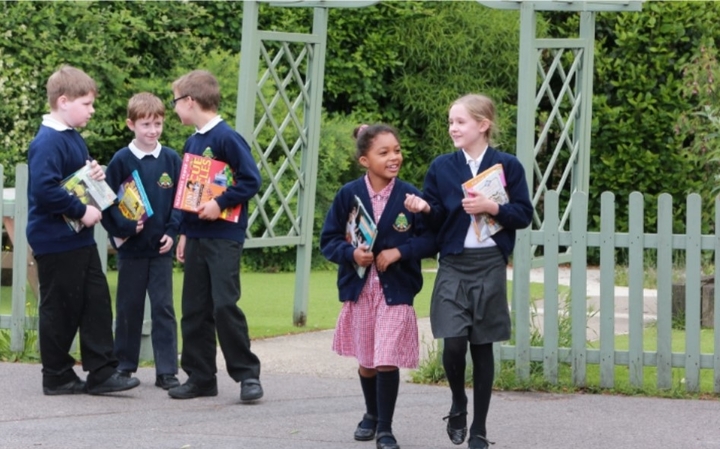 A Very Inspiring Place
Lambs Lane is a very inspiring place. It is an average sized primary school with 201 pupils on roll. The school is situated in a village but borders the large town of Reading where most of the families are from. The school community is from a wide-ranging socio-economic background, with the majority of pupils being White British. There is high mobility throughout the year with pupils coming from around the surrounding areas of Reading, Slough and Wokingham. The school is described as having a "resource base" for up to 10 pupils with complex needs, however, this isn't a base in the traditional sense and no designated room exists. All of the children with complex needs, (there are currently 6 in school with 2 pending) are in their mainstream classes and only leave their classmates for their physiotherapy/OT, Speech and Language or medical programmes to be carried out, all within a designated room or space. Lambs Lane really is the definition of inclusion.
Recognised for Delivering Outstanding Provision
The school is recognised in the community and neighbouring area as delivering outstanding provision to all of its children. The staff are highly skilled and effective in delivering a bespoke curriculum, regardless of the starting point. The drive for breaking down barriers to learning through a personalised approach is evident throughout the school and this is achieved by strong leadership, scaffolding, concrete apparatus and chunked learning. Staff work closely with a range of outside agencies including OT, SALT, Sensory Consortium, Learning Support Service and the EP service.
A Highly Inclusive School
OFSTED January 2017 report states "Lambs Lane is a highly inclusive school. Pupils who have special educational needs and/or disabilities, including those who have complex needs play a full and active part in every aspect of school life."
Strong Partnerships
The school has a strong partnership with Rivermead Primary School and Addington School (3-19 ), both local community special schools for young people with a range of complex needs and together they have joined the Schools Learning Alliance which has 8 other schools in close proximity, which allows them to work very closely with colleagues focussing on improving teaching and learning across the schools. The school is also a member of the Future Thinking Partnership which is a group of schools working together to provide quality CPD for the schools and others, within the local authority. This has included the development of oracy, mental health and wellbeing, reading and curriculum.
Parents are Extremely Proud
Pupils, staff and parents are extremely proud of the inclusive nature of the school. Katy Bicknell Inclusion Manager said,
"We are inclusive by nature, it's just something we do."
Excellent Pupil Behaviour
Pupils' behaviour around the school is excellent. The school continually work on behaviour management and are developing 'silent signals' as an ongoing priority to lower Teacher Talk in classes. They also use " Trackit Lights", an interactive programme to help the teachers log positive and negative behaviour quickly and motivate pupils. The pupils are polite, articulate and confident and engaged in their learning. When asked what they liked about the school, comments included,
"We get asked what we think could make school better?"
"It's fun here we do lots of stuff to raise money for the school."
"We go to the Kennet games and win loads of medals!!"
(Kennet games is a sports tournament for the physically disabled run by Kennet School) and one Yr 6 pupil who has ASD told me;
"We are a school that are very well qualified to work with children with SEN. We have lots of things to help you like nurture assistants who help you with your worries and anxiety and I have experience of that."
Pupils Were Fully Engaged
Classrooms are calm and pupils were fully engaged in their tasks in a purposeful learning environment. The classroom spaces were tidy and well organised with clear understanding of what individual pupils needed to fully be immersed in the learning. Displays were good and informative without clutter, that reflected the achievement and abilities of all pupils and a wide range of well-organised and stimulating resources were being used.
Highly Complimentary External Partners
External partners are highly complimentary about the school, commenting on how staff support families who may need additional emotional support
"they just need wrapping up in the Lambs Lane way." (Bridget Wood, Educational Psychologist).
The school has a highly experienced Parent Support Advisor, Rachel Barnard, who is an excellent support for the more vulnerable families. Parents told me
"It feels like home here."
"The school help us in other areas of our family life, if we need support."
"When I was choosing a school for my son, Lambs Lane came out top with the parents I chatted to."
One parent who has a child with complex needs at the school told me
"This school has got it so right, every school should be like this. All children should have the opportunity to be exposed to children who have differences."
Staff Morale is High
Strong leadership is provided by the Headteacher, which continues through the SLT. Staff morale is high and excellent relationships are evident throughout the school, staff are highly valued and seen as an integral reason why barriers to learning can be successfully removed. Teachers and Teaching Assistants told me
"there is a huge element of trust between parents, staff and pupils."
Achievement by All is Celebrated
Achievement by all is celebrated in a variety of forms. Pupils can earn High Tea with the Headteacher which is a weekly coveted prize. There are end of term cups for "Polite and Courteous" "Sporting Achievements" "Kindness" "Special Achievement" "Perseverance" and "Excellence in the Arts" and a shield award to be won by Year 6, as well as a weekly "Shinfield Cup" which celebrates an identified year group pupil.
An Actively Involved Governing Body
The Governing Body is actively involved in school life and supports and promotes inclusion within school. Governors provide both support and friendly challenge. They hold high aspirations and expectations for all pupils. They are also highly supportive of the cohort at Lambs Lane and recognise the mobility of the pupils. The Chair of Governors told me they focus on how to meet the potential of all of the children, showing progress in those children who don't show academic progress, this may mean through their speech or emotional and social progress. Katy has devised an assessment tool called "footsteps" this helps to track a child's progress and how they are learning and functioning in the classroom. The Governors are very proud of all the children at Lambs Lane
"The children are so inclusive here, they don't see the disability."
"Reach Out and Shine"
The day was managed efficiently and effectively by Katy Bicknell, Inclusion Lead and IQM Co-ordinator, who was welcoming, clearly proud of the school and her enthusiasm was infectious. It has been an absolute pleasure and a privilege to spend time with the staff and pupils of such a welcoming and inspirational school. The school's motto is "Reach Out and Shine" and they do this with gusto.
Find out more about the IQM Inclusive School Award
If your school is interested in obtaining the IQM Inclusive School Award or you wish to talk to a member of the IQM team please telephone:
028 7127 7857 (9.00 am to 5.00 pm)
or email: info@iqmaward.com for further details.
Want more information on the IQM Award? Click here to request your free IQM information pack.