Knotty Ash Primary School in Liverpool has achieved Flagship School status.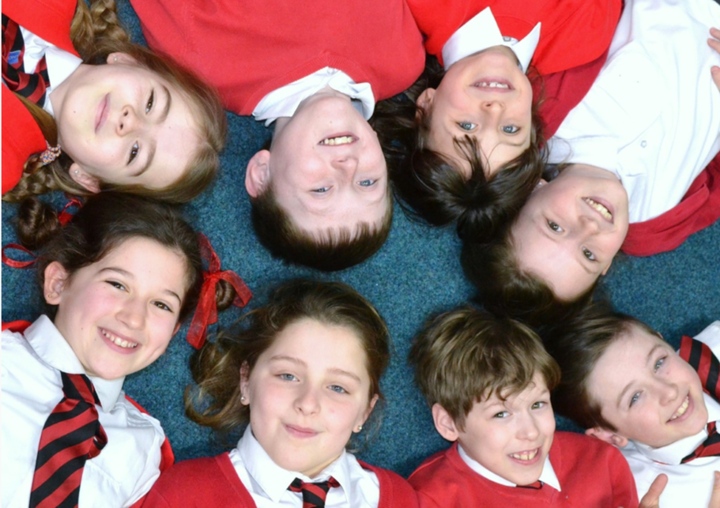 Context
Knotty Ash Primary School is a small community primary school with 258 pupils on roll in the East of Liverpool, close to the border with Knowsley. It is a single-form entry school with both full and part time Nursery provision for 3-5 year olds. The school additionally accommodates a resource provision for profoundly deaf children, many with additional and complex needs. The Deaf Resource Base (DRB) draws children from Liverpool and neighbouring authorities in the North West and currently educates 18 children. The DRB is fully integrated into all aspects of school life and the school prides itself on its support not only for the children in the DRB, but for all children throughout the school whatever their need. The Headteacher states in her welcome on the school's website, 'At the heart of everything we do is a belief in our duty to develop the whole child. Our academic expectations are high, and we strive to support each child to achieve their full academic potential. We also offer a broad curriculum which values investigation, curiosity and creativity. In addition, there are a lot of opportunities for children to grow as responsible and valuable citizens.' This is an inclusive statement that perfectly captures everything that Knotty Ash Primary School stands for and was evident in this online review and in previous reviews.
Highly Motivated, Inclusive and Dedicated Staff
Everyone involved with the school including Governors and parents are actively engaged in enacting their inclusive vision and every member of staff has a responsibility to ensure everyone is included. This is at the heart of their superb ethos and vision where staff work tirelessly to ensure that successful outcomes happen, with interventions and strategies evolving and developing as the school's pupils and families change over time. Staff know their pupils, families and the community very well and there is a determination to help everyone to be the best they can be, often going above and beyond what is expected to ensure they make a difference. There is a clear vision for the school and all children who attend, with a relentless drive for all to succeed, but also in supporting their colleagues. It was evident throughout the review that staff work together extremely well and that Knotty Ash Primary School is seen as a family by staff, Governors, children and families. The naturally caring, supportive environment that is prevalent at the school ensures every pupil receives the best possible educational experience and care, delivered by highly motivated, inclusive and dedicated staff.
A Multitude of Opportunities
Through their newly developed inclusive curriculum and the multitude of opportunities available to them, pupils are able to broaden their life experience and develop confidence and self-esteem, so that they can find what is unique about themselves and capitalise upon it, whilst being supported and eased through any identified areas of challenge. This is something that the school and its staff should be extremely proud of.
A Happy, Stimulating and Vibrant Learning Environment
In terms of inclusion Knotty Ash Primary School is an outstanding school in every sense where the commitment to superb care, nurture and support are the foundation stones of its inclusive approach and are ingrained into the very fabric of the building, its staff and its students. It is a school that is in a constant state of review evolving its educational and inclusive practice for the benefit of all in the school community, providing a happy, stimulating and vibrant learning environment. This is a school that focusses on helping all children to develop their potential, whatever that might be and helping to ensure they become positive members of their community and society ensuring no one is left out or behind. Inclusion occurs naturally without thought due entirely to the efforts of the staff. This is a fact I can attest to from the evidence of this and previous reviews, where everyone involved is committed to the inclusion of all whatever it takes and no matter the difficulty.
Sources of Evidence
Discussions with key members of staff, parents, Governors and pupils during the review was extremely useful in confirming that the school continues to successfully address all elements of the IQM Inclusive School Award, supported by documentary evidence both prior to, and during, the review to enhance and underpin discussions. This included photographic and video evidence from the website and a number of additional documents seen during the review, that allowed a remote and highly positive picture of the school to be seen and built on the evidence gleaned, from previous in school reviews.
Professionalism, Enthusiasm, Inclusivity and Passion
Staff and Governors actively engaged in discussions during the review to talk about inclusion, the Centre of Excellence action plan, their part in it and to talk about successes and future developments. There was also discussion about the Flagship development Project for 2020-23. Discussions with all stakeholders during the review demonstrated their professionalism, enthusiasm, inclusivity and passion for educating students, supporting them, their families and the local community. What came across clearly is that Knotty Ash is a real life 'Family', that is at the heart of its community which was described as such by staff, parents, Governors and the pupils I spoke to. The superb inclusive ethos and nature is shown in the way that they educate, care for, support and nurture all of their children. It became apparent from conversations during the day that everyone involved with the school is invested in providing the best possible experience and outcomes for everyone including adults who work in the school and this has an enormously positive effect on both themselves and the pupils and is something, they should be proud of.
Successfully Operated During Lockdown
The initial discussion with the Headteacher set the scene for the review and looked at how the school has moved forward since the last review in terms of inclusion, how they had successfully operated during lockdown as part of a hub and beyond, supporting children and their families so well, providing the best possible education and care for all, ensuring the safety of pupils, staff and families and giving them the best possible education in difficult times. Staff are determined that everyone continues to be supported, whatever it takes, and that pupils are supported to make up for lost time and accelerate progress in a safe and appropriate manner. This is a fantastic achievement that says a lot about the calibre of staff at the school and their naturally inclusive nature. Everyone involved in this monumental effort should be congratulated for their efforts. We were also able to discuss the school's extremely innovative Inclusive Curriculum that is continuing to be developed and evolve alongside the role of Philosophy for children(P4C) within the curriculum.
Effusive and Supportive Parents
In other meetings during the review there was the opportunity to meet a number of parents through Zoom and through phone conversations, including parents with children in the DRB who were all extremely effusive about the school and its superb support for their children. It was made very clear by each parent spoken to that the staff at the school are highly valued by the parents and that everyone is included and supported, stating on numerous occasions that the school is a 'Family Community' that they are privileged to be a part of.
Proud Pupils
The Year 6 pupils spoken to were extremely confident and mature and were themselves proud of their school and the way in which it supported and challenged them to be the best they could be. They felt that they were listened to and couldn't fault the staff or the support they are given. They were a pleasure to talk to and a credit to themselves, their parents and the school.
A Variety of Discussions
Further wide-ranging discussions throughout the day with a variety of staff explored the following: the school's comprehensive and detailed review of the previous action plan exploring SEN assessments, use of PIVATS and how that was being adapted to suit the needs of children in school; a meeting with The Head of DRB and staff looked at how the DRB staff supported children in the resource base and future plans; a meeting with a number of staff with different responsibilities looked at the introduction of the inclusive curriculum, the school's inclusive ethos and vision and how they as a staff were supported, adding to the evidence supporting the fact that the school continues to meet all elements of the IQM Inclusive School Award; an interesting conversation with the Deputy Headteacher and SENDCO about how the children, their families and staff had been so effectively supported since March, with a particular focus on the Emotional Health and Well-being of all; The Mental Health Team discussed the development of the use of Mental Health Support Strategies and it was clear the pride they all feel about the excellent strategies that have been put in place to support not only children but adults working in the school and how they had delivered training to parents to support this at home. It will be interesting to explore this further at the next review.
The Inclusive Curriculum
I was able to meet with the Chair and Vice Chair of Governors, a Co-opted Governor and a Parent Governor (who were both Teaching Assistants working in the school) for an interesting and quite detailed conversation about their role, inclusion at Knotty Ash and the inclusive curriculum. They were all extremely knowledgeable about the school and the work that they and the school are involved in to ensure everyone is included and no one is left out. They all felt that the school is a superbly inclusive place and stated,
'Knotty Ash is a family; everyone is part of the team and everyone is valued'.
This is a statement that I wholeheartedly agree with. These wide ranging and extremely interesting and involved discussions were pertinent to ensuring that the school still meets the criteria of the IQM Inclusive School Award, but also looked at the school's previous action plan and future Flagship Project and inclusive provision.
Passion and Pride
What was clear from the review was the passion that staff bring to their roles and their pride in what they have and continue to achieve. It was a privilege to participate in discussions with such, professional, dedicated and enthusiastic staff, who are fully supported to achieve success for their pupils and for themselves. The review underlined the superb and evolving inclusive ethos that is at the heart of Knotty Ash Primary School and was talked about and discussed openly throughout the review by staff, pupils and parents. The superb level of mutual respect, the supportive caring ethos is evident across the staff body and is felt by visitors. The fantastic rapport between the staff and between the staff and pupils clearly shone through. Everyone involved with the school should be extremely proud of what they achieve in this respect and is a key driver in the success of the school.
Find out more about the IQM Inclusive School Award
If your school is interested in obtaining the IQM Inclusive School Award or you wish to talk to a member of the IQM team please telephone:
028 7127 7857 (9.00 am to 5.00 pm)
or email: info@iqmaward.com for further details.
Want more information on the IQM Award? Click here to request your free IQM information pack