Kingswood Academy in Hull has achieved Centre of Excellence status.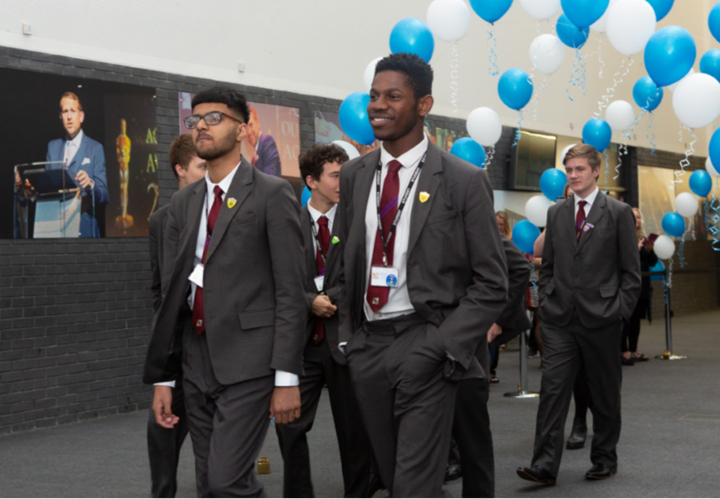 Context
Kingswood Academy is an 11-16 school based in Kingston Upon Hull. The Academy has 1174 students on roll. 42.1% of their students are disadvantaged compared to the national average of 28.6%, 14.3% are SEN compared to the national average of 14.9% and 7.1% have English as an additional Language which is approximately half of the national average. It is part of the Academies Enterprise Trust. It is the seventh best performing non-selective Secondary Academy in England and the best performing secondary Academy in Yorkshire. It is a fairly new building with impressive facilities, that ensure accessibility for all. The learning environment at the Academy is clean, welcoming, friendly and clearly student centred, as seen from the virtual tour seen on the website and from a multitude of pictures and discussions with staff and students. Staff and students take pride in their learning environment and corridors host displays, photo boards and artwork that both celebrate and inspire students. The Academy is on track to extend their facilities with a new building to accommodate a further 350 students. This will include new science labs and an additional dining space and allow for the accommodation of the increasing number of applicants, for this highly successful and over-subscribed school. The extension has been carefully planned as a continuation of the current learning environment with the same high-quality features and accessibility.
Making a Positive Difference
The two-day assessment of Kingswood Academy was undertaken virtually due to the current pandemic. However, this did not in any way compromise the depth, breadth and integrity of the assessment process. The information from the Self-Evaluation Report, the school SEF, SIP, website and a plethora of documents and online meetings, were all triangulated to ensure that all elements of the Inclusive School Award, were not just established but were fully embedded in the Academy's everyday practice. The schedule for the two days was a model of good practice and organisation ensuring that I was able to speak to the staff, parents, students and external partners who I needed to and they all spoke confidently and passionately about inclusion. What became apparent as the assessment unfolded over the two days and occurs naturally pervades the positive culture of this school, is the dedication and drive of the staff to make a positive difference to everyone they work with. That fits seamlessly with their stated vision 'to deliver world class learning, which places no limits on what young people can achieve' and with their mission, 'all students have an inner belief and ambition to fulfil their dreams and live a happy and successful life.' Part of their vision is to become a National Beacon of Educational Excellence in Hull. From the evidence of this assessment, I would suggest that this is already a reality and with the continued support of the Trust and the aspiration and drive of the Headteacher and his dedicated staff it will continue to be the case.
Vibrant, Warm and Welcoming
As the assessment unfolded in this vibrant, warm and welcoming school, I found a genuine ambition and integrity amongst all stakeholders that reveals what really matters most. Simply, students come first and all students receive equitable provision and support. All the staff are extremely dedicated, knowledgeable and skilled. Their sense of drive and determination to improve the outcomes of all students came through strongly. The implementation of rigorous structures and processes supports the different teams to work strategically and collaboratively together. Strong teamwork amongst the staff is at the core of their relationships. Staff support each other to develop their own skill set. They are motivated to improve and share their outstanding ability to aspire to greatness and to improve the lives of everyone so that they too can aspire to greatness. Leaders spoken to in numerous meetings are clear about the vision and next steps for the school. They have excellent reflective skills in their leadership wanting the best outcomes for all students whatever their starting points or individual needs.
Aspirational and Inspirational Core Principles
All staff are included and buy into the vision and values of the Academy, they are passionate about their students. They 'recognise their academic worth' and make sure that they are 'prepared to make bold choices in order to secure places, and thrive, at the most reputable and highest performing colleges, universities and world-class employers. Underpinned by their vision for educational excellence through 6 key drivers: Highest Expectations; Everyone is valued; No excuses; Never give up; Value feedback and Outstanding Learning. These aspirational and inspirational core principles are central to everything that occurs at Kingswood Academy and were jointly created by students and staff to drive the Academy forward. These key drivers are lived and breathed with an unwavering passion and determination to ensure that every student receives the best education. I was privileged to witness this in action through a virtual learning walk on day 1 of the assessment experiencing outstanding lessons, teaching, learning and superb levels of student engagement first-hand. It is clear that staff will not settle for anything but the best and will not rest until the Academy is truly great in all areas and has achieved their stated goal of World Class Teaching and Learning.
Delivering High Quality Learning
During the current pandemic, the staff have continued to deliver the highest quality learning experiences for all their students and have gone above and beyond what is expected to ensure they are all supported and can access appropriate teaching and learning. Constant communication with all pupils ensures that pupils understand how much the staff value and miss teaching them in person. However, through the superb online learning opportunities provided by the Academy where all students are able to access their normal curriculum offer during the normal school day, the students are still actively engaging in their education and making progress with work being marked and getting effective feedback in line with the Academy's Teaching and Learning Standards. This is a fantastic achievement and supports the superb inclusive practice seen at Kingswood over the assessment.
Enthusiastic, Dedicated and Professional Staff
Scheduled discussions during the assessment allowed a superb picture of the Academy's intuitive and natural inclusivity to emerge. It was a privilege to engage in conversations with such enthusiastic, dedicated and professional staff. The virtual learning walk where I was able to experience live lessons was a highlight and I was able to see a number of different subjects and year groups and clearly see outstanding teaching. I spoke at some length to a number of staff with a variety of responsibilities about Personal Development including the Student Experience Passport; Enrichment, Community; Partnership Working; Careers; Strive – an inhouse package that aims to engage students with their learning, removing barriers and enabling students to succeed and has been designed to give targeted students strategies to self-regulate and achieve to their full potential. I also had wide ranging and interesting phone conversations with parents who were extremely supportive of the school, what it offers their children and how they are partners in their child's education individually and through PCAB. Students spoken to were positive about their school and felt they were well educated and supported, given opportunities for leadership roles and that everyone is part of the 'Kingswood Family.' There was an opportunity to talk about Global Learning and The International Schools Partnership Programme that the Academy is involved in with a partnership with a school in India. It will be interesting to see how this evolves in future. The Co-ordinator was given contact details for a school who are experts in this area.
Partnership Working
The Academy has very strong relationships with external partners and I was able to have conversations with the SENCo from a local primary school and with representatives of Advotalk, who offer one-to-one bespoke support to empower children and young people who are experiencing a variety of emotional issues, so that they are able to face challenges in life with confidence and have the resilience needed to sustain their emotional wellbeing. I was also able to have conversations with CornerHouse, who work with young people and offer a number of different programmes around sexual health and emotional wellbeing and also deliver a programme to do with the White Ribbon campaign to end male violence against women to students at the Academy who have pledged to make a stand and become White Ribbon Ambassadors. All external partners spoke about the supportive culture at Kingswood and felt that the Academy was extremely inclusive and went above and beyond what they experience elsewhere to ensure that their students and their families are safe, looked after and receive the best education possible. This is quite an accolade for the school and one that is well deserved.
Superb Inclusive Ethos
There was an in-depth and involved discussion about Character Education, a bespoke programme developed in partnership with Kevin Mincher, that focuses on enabling students to recognise their value in the context of the wider world and equips them to make bold choices in order to reach their personal, academic and professional ambitions. I was also able to discuss Horizons, the internal bespoke provision for students who, for a variety of reasons, cannot access a full curriculum. Specialist staff work with the identified students on alternative programmes and qualifications to support re-integration at the earliest opportunity. This is a fantastic provision that is a key element of inclusivity in supporting all students. It was a pleasure to visit Kingswood Academy and to conduct their assessment, albeit virtually. The assessment underlined their superb inclusive ethos, care, nurture and support that is at the very heart of their approach to teaching, learning and supporting everyone in their care and was talked about and discussed openly during the assessment.
Find out more about the IQM Inclusive School Award
If your school is interested in obtaining the IQM Inclusive School Award or you wish to talk to a member of the IQM team please telephone:
028 7127 7857 (9.00 am to 5.00 pm)
or email: info@iqmaward.com for further details.
Want more information on the IQM Award? Click here to request your free IQM information pack