Kingsley High School, Harrow in Middlesex, achieves the Inclusion Quality Mark's Inclusive School Award for fourth time.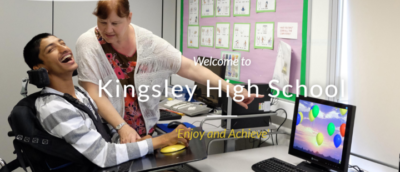 Context
Kingsley High School provides education for ninety-seven students with ASD, SLD and PMLD. The gender split is 30% girls to 70% boys. Kingsley is a special high school for Years 7 to 14, and children are taught in Key Stages, grouped according to their needs. Each class has 6-8 students and is taught by a teacher, supported by 2 or 3 TAs, dependent on the needs of the group. Many of the children have profound learning and physical disabilities. The school is within the Harrow Local Authority and accepts children with EHCPs from Harrow, Hillingdon, Brent, and Hertfordshire Local Authorities. At the last Ofsted inspection in November 2018, Kingsley was judged to be outstanding. There are eleven children with CIN plans and many of the families have needed significant support with a range of complex issues, particularly through the pandemic.
Family Liaison Advisor
More than 40% of the students are from an EAL background and some are recent arrivals in the UK. The appointment of a Family Liaison Advisor has proven supportive to families who may be struggling to engage and manage the complex needs of their children. She comes from a social care background and works under the direction of the Headteacher, who is also the DSL (Designated Safeguarding Lead) to provide active connection to services and support for the families. She runs coffee mornings for parents and families from the network of special schools to support and provide a space for parents to share their experiences.
The Challenges of Lockdown
The Headteacher has been in post since 2019 and has prioritised a review of the curriculum, which clarifies intent, implementation and intended impact. The three parents I met with kindly shared their experiences of securing a place for their children at Kingsley and the challenges of lockdown for parents with children who had to shield throughout. The parents clearly value the support from the school and the education their children receive. All students have a progression plan and for many, this leads to placement at Harrow College. Students in Year 13 and 14 have increased exposure to life in college with weekly visits for students in Year 14, notwithstanding pandemic restrictions.
Remote Learning
Throughout the lockdowns and pandemic restrictions, the school has provided a remote learning programme for students and in-school support for children of key workers. The remote learning offer was built around two sessions per day for ASD, SLD and PMLD students. Where remote Zoom sessions were not possible or successful for individual learners, the team sent packs home to support families, to support their children. The team has been working through the recovery curriculum, which has been at the heart of the learning offer since March 2020 and is supporting the return to school.
Feedback
Initial feedback is indicating that KS3 students coped better throughout the lockdown. A likely factor for this may be that KS4 students, who would normally have more opportunities for life skills' experiences in work and other settings, were not able to access these opportunities.
Virtual Tour
From the virtual tour of the school, it is evident that accessibility is good and there are bright displays throughout. The outdoor spaces include specialist play equipment and there is a memory garden and an allotment. The school also has access to horticulture experiences for learners at the local primary school. There is a hydro pool for hydrotherapy for all students. The lessons were very much enjoyable, students were clearly enjoying their learning and the very positive relationships they have with their teachers and TAs.
New Themed Curriculum
Following a curriculum review in response to 'Life After Levels,' the team has developed a themed curriculum that is both flexible and dynamic. Students follow six themes each half term, which is differentiated for KS3, KS4 and Post-16 learners so that themes are re-visited at age-appropriate levels. Alongside content, the team has reviewed learning criteria and skills which support the sequencing of 'I can' statements. Progress is captured and quality assured using an Excel spreadsheet based on the B Squared principles from P level assessment. There is a skills workbook for all learners from years 7-14 and there are ten core skills which all students are working towards. For each theme, there is a clear pedagogy comprising intent, implementation and intended impact to reflect and meet the targets of the Personal Learning Programs and the individual EHCP outcomes.
Networking For Success
Kingsley is part of the BHHAG (Brent, Harrow, Herts Special Schools Assessment Group) of nine outstanding special schools and there are strong links with the feeder primary school, Woodlands.
Find out more about the IQM Inclusive School Award
If your school is interested in obtaining the IQM Inclusive School Award or you wish to talk to a member of the IQM team please telephone:
028 7127 7857 (9.00 am to 5.00 pm)
or email: info@iqmaward.com for further details.
Want more information on the IQM Award? Click here to request your free IQM information pack
Find out more about the IQM Inclusive School Award
If your school is interested in obtaining the IQM Inclusive School Award or you wish to talk to a member of the IQM team please telephone:
028 7127 7857 (9.00 am to 5.00 pm)

or email: info@iqmaward.com for further details.
Want more information on the IQM Award? Click here to request your free IQM information pack