Kingsdale Foundation School, Dulwich in London, has achieved the Inclusive School Award with Flagship School status again.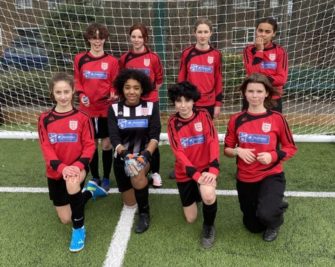 Introducing Kingsdale Foundation School
The school draws students from a wide area, all over London and from many different boroughs and most use public transport to get to school. Despite this fact, the Covid protocols instituted in the school were very effective and as a result they have not had to close the school or send lots of student's home. The school recognised it was a case of getting the balance right so that the school community felt confident and safe so they could get on with their jobs. They have made the decision to retain some of the restrictions put in place during lockdowns and have now integrated them into their normal routines. For instance, they still have staggered starts and finishes and staggered lunch times, ensuring that the canteens and playgrounds are less crowded and the Headteacher said it is this 'structure' that makes students feel safer. They also introduced two week half terms to act as 'circuit breakers' throughout the year.
Diverse Curriculum
The school is outward facing and has remained pro-active in watching what was coming down the line and particularly so during the pandemic. The Head is proud of the fact that staff were teaching on-line two weeks into the first lockdown. They made big decisions early on – which could have been risky and unpopular at the time. Lessons are recorded live and students isolating at home, but not unwell, can still log into lessons. Throughout the last year the school kept the focus on Curriculum Design and Teaching and Learning and on the quality of teaching and education, developing a broad balanced framework that provides choice and challenge and inspiration to students. It is important that the curriculum is diverse and develops individual talent so that students can go on to equitably compete on a global stage. There are over twenty subjects offered in KS5 and the Kingsdale Baccalaureate at KS4 encourages and enables students to opt for one Arts subject as well as a language and a humanities subject. Every subject has designed their specific curriculum with this framework in mind. As a result, the curriculum is operationally stronger now than it was two years ago.
Transition Support
Transition from Year 6 to 7 can sometimes be a worrying time for children and the summer school provision really helps with that process. Those with SEND are targeted to attend and really benefit as a result. Careful attention is given to easing the transition process for vulnerable children into this very large school. Furthermore, when they do start at the school there is a dedicated playground for Year 7 students and a SEND lunchroom for those who want to be away from any crowds.
Positive Mental Health
Safeguarding is at the heart of everything that happens at Kingsdale Foundation School. Because the school has such a large student population there are 12 members of the Safeguarding Team, and the Deputy Head oversees their work. The pandemic and the focus on mental health and wellbeing has encouraged more students to speak out. The safeguarding landscape has changed dramatically over the last few years and includes bullying, sexist, and racist incidents and so the team have broadened their overview and there is joined up thinking and working with the pastoral and wellbeing teams.
Passionate Provision
Every member of staff is passionate and very excited about the work that had gone on over the last year. Every action taken by the school ensures that students need's come first. This is a big school with a big heart. Students are known and the structures and personnel are there to support every part of their education. Investment in support staff to meet the needs of the most vulnerable is impressive. The Headteacher has led the school with great determination and vision, and he has brought staff at all levels on board with that vision. He makes sure staff at all levels are valued and appreciated and he invests in their training and development. He, and the school, have much to be proud of.
Find out more about the IQM Inclusive School Award
If your school is interested in obtaining the IQM Inclusive School Award or you wish to talk to a member of the IQM team please telephone:
028 7127 7857 (9.00 am to 5.00 pm)

or email: info@iqmaward.com for further details.
Want more information on the IQM Award? Click here to request your free IQM information pack