Kings Heath Primary Academy, Kings Heath in Northampton, achieves Centre of Excellence status.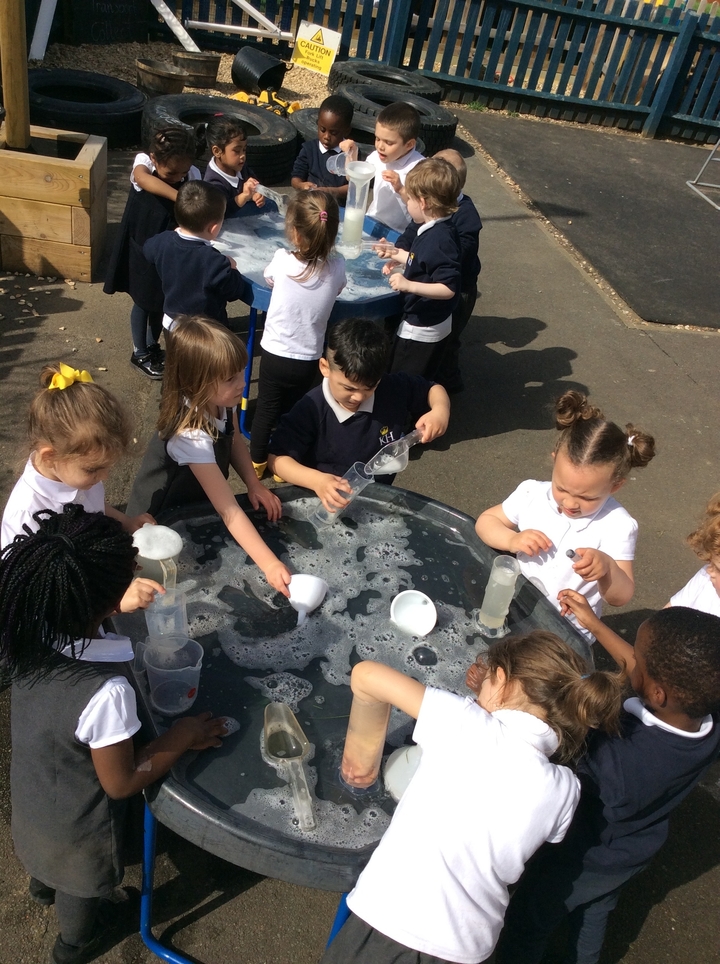 Context
Kings Heath Primary Academy has a strong vision and values that drive all that it offers. This vision is supported by policies, which are well-informed by current educational research and clearly defined in whole school procedures. This secures consistency and coherence across the school and there is much uniformity in the way the curriculum is designed and delivered from class to class across all year groups. Pupils respond well to this high level of predictability, especially the lower attaining pupils, who in these circumstances are mostly able to engage and achieve effectively in whole class lessons. School Special Educational Needs data reflects this. The number of pupils from disadvantaged backgrounds and/or English as an Additional Language families are above the national average, whereas the number of pupils needing Special Educational Needs (SEN) support in the school is below the national average. Struggling learners are further supported by Dyslexia friendly classrooms, de-cluttered learning environments, the attention of learning support staff in lessons, consistent behaviour expectations across the school and a pedagogy that reflects a scaffolded approach to learning
I do, We do, You do
There are two withdrawal specialist support groups available for pupils failing to achieve in normal class lessons, The Heart and Harmony. Pupils normally attend one of these support groups for a specified number of weeks and are provided with a bespoke support programme, after which the expectation is that they will return to normal classroom lessons. Higher attaining pupils can also be supported by learning support staff who work with the class teacher across the curriculum to provide additional challenge in normal class lessons.
Enriched Curriculum
Curriculum content is mapped across the school for all subjects to ensure consistency between classes in the same year group and progression between year groups. Differentiation is the responsibility of individual class teachers who know pupils well and whose lesson plans translate this curriculum grid into practice. Curriculum delivery styles and class learning environments are similarly highly managed at a whole school level. Class teachers can trial change in their own classrooms, but substantial and/or sustained change will need the consent of the Senior Leadership Team in collaboration if it is to be permanent or disseminated more widely across the school. Extra-curricular, enrichment activities introduce novelty into the curriculum, and these are all thoroughly enjoyed by the pupils, with good attendance at voluntary clubs. All teachers deliver a voluntary enrichment club, so there are lots to choose from. Enrichment Days are compulsory and part of the normal curriculum timetable for all pupils. These activities introduce pupils to activities not timetabled as part of National Curriculum lessons, such as sport, gardening, cooking and dance. Enrichment Days also help pupils to make links between activities they enjoy and future employment possibilities. Educational visits (such as theatre trips) and residential fieldtrips (from sleepovers in the school grounds to trips abroad) further enrich the curriculum. The school works enthusiastically to ensure that all pupils' needs, interests and abilities are accommodated within the learning experiences on offer.
Great Family Support
Pupils from disadvantaged backgrounds, pupils with learning difficulties and pupils with English as an Additional Language (EAL) can be offered family support. The school employs two Family Support Workers, who assist families of pupils from disadvantaged backgrounds, with support in the form of foodbanks, clothing, and access to learning support loan resources, including electronic equipment (computers and iPads). The school also supports the communication of pupils and parents with EAL. Older pupils will sometimes perform translation duties and EAL staff will liaise with EAL parents to ensure that school information is accessible and understood. The families of pupils with SEN are supported through the 'statementing process' towards an Education and Health Care Plan and are offered advice and strategies for managing pupils' needs at home.
Successfully Serving a Diverse Community
The composition of the staffing group in school is evolving to reflect the diversity of the community it serves. There is a male member of staff in each year group across the school, staff who have grown-up in the local community and there are several school staff for whom English is an additional language. This helps the local community to identify with their school and encourages their engagement. In primary schools this level of representation is rare. The school's staffing structure is devolved, with the Senior Leadership Team reflecting Curriculum, Care and Welfare. The SENDCo is also the Curriculum Lead and this ensures that the curriculum effectively reflects the learning difficulties experienced by the lower attainers. The SENDCo works closely with the Pastoral Lead and together they ensure that the links between Care and Welfare and Attainment and Progress are secure. The Principal is a valued member of the Trust and her expertise within the Core Knowledge Curriculum is shared more broadly across all 23 primary schools within the Trust, with the Curriculum Lead leading on history specifically. The Principal, Vice Principal, SENDCo/Curriculum Lead and Pastoral Lead form the Senior Leadership Team. A developing Middle Management helps to bridge the gap between the Senior Leadership Team and Class Teachers. Middle Managers lead on specific curriculum subjects, offering planning and assessment advice to teaching staff and auditing resources. All staff understand the staffing structure and know to whom they are responsible and for what. There is a culture of high performance across the whole school, and this is secured with equally high levels of support for staff as well as pupils and parents. Wellbeing levels are promoted across the school, through a variety of activities including Healthy Eating, nurture groups, mindfulness, and meditation sessions. Parents are supported through training sessions in the community room, home visits and communication styles that include visual information and video footage. Unfortunately, some of these parent and community support activities have been put on hold recently due to Covid restrictions.
One Big Family
The Governing Body is supportive and proud of their school. The Chair of Governors is an educationalist and has good insight into school processes and procedures. He describes the school as
"A big family with common goals and everyone looking out for each other".
Governors are kept well-informed by the Principal and Senior Leadership Team and are eager to make an active contribution to the success of the school. The Chair of Governors would like to see more sharing of good practice with other schools, especially feeder secondary schools, where some pupils feel underchallenged. The Principal liaises with the Regional Director and together they keep the Trust informed of school needs, experiences, and achievements. Kings Heath Primary Academy has achieved several awards for curriculum subjects (history, geography, science, arts) and is recognised as a singing school. Links with the Local Authority, the local community and local family support services are well established. The school has much it can share with the local educational community beyond the Trust, but unfortunately this is not currently possible due to Covid 19 restrictions.
Enabling Achievement
Pupils enjoy school, and achieve well over the medium to longer term. From a low starting point, attainment levels improve as pupils make good progress. This good progress is facilitated by the school's focus upon teaching the pupils 'how to learn' not just 'what to learn'. The school places high emphasis upon all pupils developing as effective learners, irrespective of their abilities. Whilst attainment data may lag behind national averages within Key Stage 2, pupils are reducing the attainment gap, building their confidence and broadening their learning capabilities. The Teaching and Learning Lead (who is also the Vice Principal) receives attainment, achievement, behaviour, and attendance data and works closely with other members of the Senior Leadership Team to identify patterns of progress for different groups of pupils across the school. Weekly Team Around the Child (TAC) meetings provide an opportunity for underachieving pupils to be identified and for additional support to be made available at an individual child and family level. Pupil Premium funding is targeted well and provides a range of bespoke support for the pupils in receipt of this funding, this includes access to a breakfast club each morning. A review of Pupil Premium funding is a standing item on the weekly Senior Leadership Team agenda.
Everyone Supported
Parents appreciate the school. A recent confidential, whole-school parents' questionnaire was returned with all parental responses being positive. The most positive response was to the statement:
'The staff care about my children and their needs'
(40% of parents strongly agreeing) with accompanying comments such as:
"Everyone is just so supportive. A big thank you".
Another strong positive response was to the statement:
'I feel listened to over this lockdown by the school'
(40.9% strongly agreeing) and accompanied by comments such as:
"I'm just so grateful for KHPA staff going above and beyond, risking their lives to ensure that my children get their education, and their wellbeing is supported".
None of the parents with whom I met could think of anything that they would like to improve about the school, and all agreed that school staff understood their child, cared for them and that this care extended also to their family. This sentiment was echoed by comments from the pupils I met, all said that the staff cared for them, did their best for them, and worked hard to help them to learn. Like the parents, none of the pupils could think of anything they would like to change about the school. The words 'care' and 'help' were repeated often by everyone I spoke to during the IQM assessment day. Staff feel supported by the leadership and management structure, pupils feel supported by their teachers and parents feel supported by the school. Everyone feels 'cared for' and acknowledges that there are many people in the school who will readily offer help and advice. This truly inclusive school community is also one that is considerate, caring, and supportive. This helps to build resilience and to promote high challenge without fear of failure.
Pupils are Encouraged to Achieve Their Best
The quality of educational provision at the school is at least good and this is reflected in the findings of the school's last Ofsted inspection (2017). The whole school community is eager for all pupils to achieve to the best of their abilities. Teachers, support staff, leaders, and managers and even the school therapy dog, all have a role to play in helping all members of a diverse school community to overcome obstacles to achievement, build confidence, emotional resilience and have high academic aspirations. KHPA is an inclusive school, with a very specific approach to teaching, learning and curriculum provision. In the words of a Y2 pupil:
"You never feel alone at school"
and a Y6 pupil:
"I love when we have Appreciation Week, because we get to show how proud we are of each other and celebrate all the great things that everyone does".
Networking For Success
KHPA has already established a network of links with other local schools both within and beyond the Trust, universities/colleges, family support services and community representatives. This promotes the sharing of multi-agency experiences and expertise and the school welcomes visitors. All staff, from the Principal to the learning support staff, are proud of their school and eager to support continuing improvement. Pupils are proud of their achievements and are developing confidence in their own abilities. From the multi-agency faith room to opportunities to learn Latin with a trainee teacher, the pupils are developing a sense of self-worth and identity in an environment that promotes tolerance and a sense of belonging.
Find out more about the IQM Inclusive School Award
If your school is interested in obtaining the IQM Inclusive School Award or you wish to talk to a member of the IQM team please telephone:
028 7127 7857 (9.00 am to 5.00 pm)
or email: info@iqmaward.com for further details.
Want more information on the IQM Award? Click here to request your free IQM information pack