Kentmere Academy and Nursery, Rochdale in Lancashire, part of the Watergrove Trust, achieves Flagship School status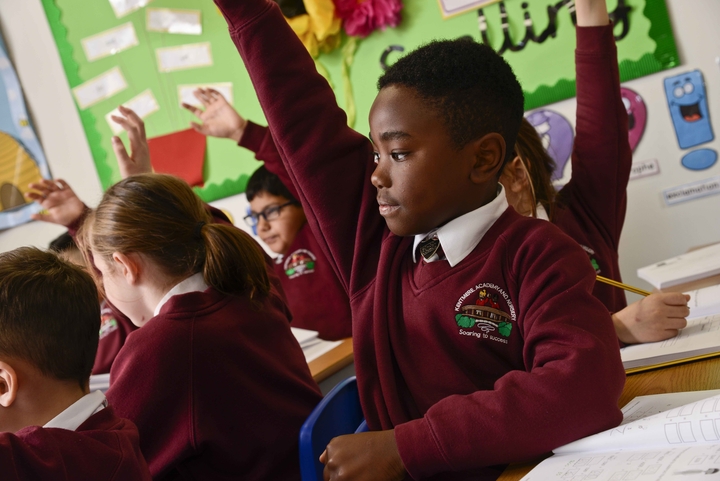 Introducing Kentmere Academy
Kentmere Academy and Nursery has a unique, confident, and inclusive identity within the community. The curriculum and choices made by the inspiring and well-structured Leadership Team reflects the aims they have for a knowledge rich and diverse approach. The choices made by Senior Leaders and all staff in how they implement these, are clearly well-considered, sensitive, and brave. They are proud of the local heritage and the local area and want the children to share this, with a child driven approach, they carefully challenge long-held beliefs and challenge families and the community in a way that promotes aspirations for their children. Within Watergrove Trust they have a strong and unique identity, sense of self and inclusive ethos.
Self-Identity Reflected in Community and Curriculum
The way their inclusive beliefs are implemented is driven by the importance of vocabulary, the words we know, choose, and have access to. The school choose texts based on local news, specific needs and wider cultures and knit them seamlessly into their curriculum. The curriculum is built and curated to give children their own voice and have meaningful discussion from a young age. An example being a Year 6 child explaining the meaning and context of the word 'diverse' and how it applies to the school and another group of children in Year 4 and 5 explaining what the 'Learning Pit' is and the purpose of it, in a confident and clear way. The school do not take the 'safe' option – they welcome discourse and transparency from children, from parents, governors, and all staff. They do not simply want the children to succeed in tests solely, they want to build the 'culture capital' of the children and for them to 'soar to success' and to see themselves within the curriculum. All of this is a choice for the school which is grasped as a challenge.
Dynamic Curriculum
Without comparison of Kentmere to other schools it might be hard to notice that, as well as consistently excellent standardised test results in an area of prominent EAL (English as Additional Language,) the early focus on vocabulary and choosing a diverse and inclusive curriculum is a very strong and decisive choice made by the school. This dedication to taking harder choices for the betterment of the school was consistent across every aspect of the assessment at Kentmere and eschews short term and performative results for long term and long-lasting success. Teachers felt they all had a direct impact on the curriculum and day-to-day running of the school, with staff and phase meetings having a culture of shared responsibility and action. They talked of 'live' adaptation and how they support each other to give the best possible start in life to their pupils.
Going Beyond
Support staff are passionate about providing the community with what they need and speak about the culture of the school leading to them taking part in parent workshops. In fact, all the Teaching Assistants talked about needing to and wanting to 'go beyond' for the children – taking them out and learning life skills, helping the children have life experience at the seaside or at shops (for example.) A Teaching Assistant said that 'Kentmere has an understanding of the children's needs and puts things in place.'
Committed Support
Governors had many of the same themes in their interview as other members of staff, with consistent messages at the heart of the school. They understand and actively take part in the meticulous planning that the Leaders devise – they also put the same support structure in place for children and staff for them to flourish as a community. Governor's attend parent's evening and collate feedback to ensure they share the messages to School Leaders and, like every piece of 'data' collected at Kentmere, this feeds into the support the families get. They have supported and are proud of the fluency of vocabulary growing in the school, the investment in diverse books and have helped discuss mental health support for parents.
Giving Back
Governors have children share their roles in school during governing meetings and have high aspirations for the children when the children report to them. The governors I spoke to talked about 'giving back' and this impact is clear to all within Kentmere. A parent governor commented 'My child knows I'm not a teacher, but I help the school' – this shows the transparency and commitment at Kentmere. Parents who were interviewed echoed this, with a parent of a child with special education needs saying, 'I know they are there if I need them.'
Confident Communicators
Children confidently say of their teachers 'they coach you,' they love their roles on the Eco Council and in brass bands and beyond! A Year 4 child said they enjoyed 'the new learning' showing their understanding of a flexible and child centred curriculum at their level. A Year 6 child said she could 'express her feelings' and a Year 4 child knew exactly what to do if he was 'having trouble' – not just in how to engage with adults but solving problems for himself asking for trips to 'The Rainbow Room.' The early support in language and inclusivity is clearly paying dividends already! Reading strategies are research based, reading behaviours are modelled. For such a seamless and multi-faceted approach to reading, to be so consistent – a shared responsibility of all staff has been taken and staff have clear strived for this over many years. The rigour of the organisation from Leadership to class-based staff is noteworthy.
Aspirational Provision
Within the social and cultural context of Kentmere Academy a hard path was chosen and not a path of least resistance. Leaders and staff are determined to provide a caring and aspirational hub for their community, they don't shy away from explaining their choices with openness, sensitivity, and care. Kentmere wants to give their children the best life experiences, vocabulary to succeed and the kindness to make sure when they leave Kentmere they leave with the opportunity to flourish and help others.
Find out more about the IQM Inclusive School Award
If your school is interested in obtaining the IQM Inclusive School Award or you wish to talk to a member of the IQM team please telephone:
028 7127 7857 (9.00 am to 5.00 pm)
or email: info@iqmaward.com for further details.
Want more information on the IQM Award? Click here to request your free IQM information pack