Keir Hardie Primary School in Newham achieves Flagship School status.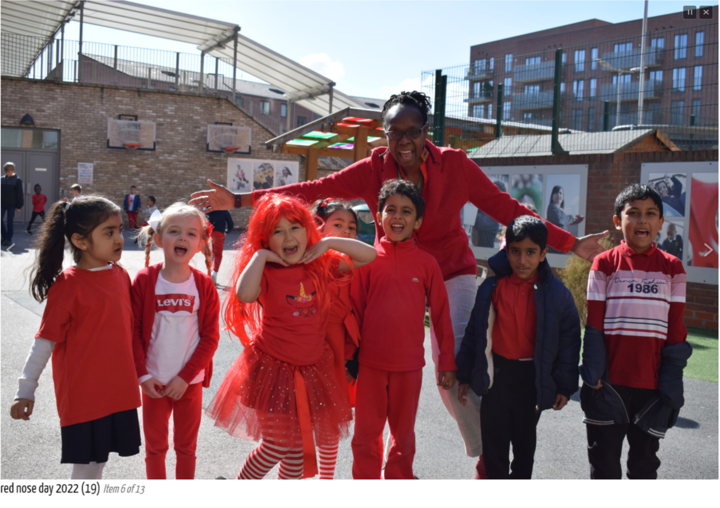 Welcoming and Inclusive
Keir Hardie school is a very welcoming and inclusive school that works tirelessly to ensure that all pupils achieve well and enjoy their learning. The inclusive vision was ever present throughout the day, even evident in the organisation of the visit as pupils were given the opportunity to speak, in collaboration with school staff, about each of the previous year's targets and give their opinion on the school's progress. The focus on inclusion starts from 0-3 years in the Children's Centre, which starts the Keir Hardie journey for families.
Passionate about Inclusion
The Senior Leadership Team is passionate about Inclusion and put it at the forefront of all policies and decisions. The Headteacher, Deputy and Assistant Heads are a strong, cohesive, hard-working team, who lead by example. This moral purpose was also apparent in Middle Leaders and all staff in the school. The school respond well to the school's context providing a free breakfast club as well as organising a walking bus to help parents who find it difficult to get their child to school on time. The extensive range of after school and lunch time clubs as well as residential trips are free for all pupils.
A Credit to the School
The two Year 6 Prefects who conducted the tour of the school, were rightly proud of their school and their knowledge of the curriculum, the premises and the displays were very impressive. They spoke articulately and with great enthusiasm about all the opportunities that have been given to them by being pupils at Keir Hardie Primary School. They are a credit to the school and show how much the role of Prefect has developed their confidence within the school setting.
Behaviour for Learning is Exemplary
Behaviour for learning is exemplary. All pupils who spoke to the assessor were polite and eager to explain their views of their school and why it is so special. A group spoke about their roles as Prefects, School Council members, School Champions and Lunchtime Helpers. They were articulate, speaking with pride about their school and the importance of their leadership roles. They reflected on how much they enjoy assemblies, where adhering to the MAGIC rules and gaining a certificate means that you can choose a special reward.
Personal Development Work is Outstanding
Personal Development work is outstanding with staff having a thorough understanding of the pupils' emotional needs: a School Counsellor works with pupils two days a week, and an artist in residence has helped support the pupils to produce beautiful, thought-provoking displays. A Covid poetry display helped the pupils to express their views about the pandemic. During the pandemic, staff worked tirelessly to ensure that all pupils' needs were met. Learning Mentors are highly valued by parents too.
Support and Dedication
Four pupils, who had little to no English in September, were able to hold a conversation about how much their language skills have developed and how much they enjoy their sessions with their EAL teacher. This group of children now teach English to their own parents yet still understand that their home languages are valued. A parent spoke about how she couldn't thank the school enough for the support and dedication they had shown her children to make sure that they learn English as quickly as possible on entry at the school. She appreciated the additional online learning during lockdown and the hard work of the EAL teacher. The EAL teacher was observed introducing three young children to the vocabulary around rooms and furniture in a house – functional key vocabulary that was pitched at their level. They were enthusiastic and smiling throughout the session, testament to the welcome and attitude of staff.
Modern, Airy and Purpose-Built
The building is modern, airy, and purpose-built. The school vision is displayed in all classrooms and is lived by all the children who have an annual input into its development.
Good Use of Space
Good use is made of space with the roof garden being used by Years 4 and 6 as their playground. Daffodils and crocuses, grown in planters, help bring nature to this urban setting. It is a valuable resource for autistic pupils who enjoy having gardening lessons in the greenhouse.
High Quality Displays
Displays are all linked to the curriculum and are of a high quality, supported by the external art specialist who works with the pupils to make and design beautiful 3D structures and creative art work.
The Inclusive Nature of the School
The inclusive nature of the school is apparent in every interaction that staff have with pupils, as well as the timetable of activities that is offered to all, according to their specific needs.
Inclusive Ethos in Action
"Let's get moving" sessions to help pupils with autism regulate each morning, books in pupils' home languages and school funded residential trips for Year 9 to Wales are just a few examples of this inclusive ethos in action.
It was a pleasure to watch an Attention Autism session, delivered by a highly skilled specialist. The pupils were fully focused on the session and got a lot of enjoyment out of the multi-sensory activities. The teacher was ably supported by her support staff.
Learning Journeys
Learning journeys have been developed for each subject using the mnemonic "Keir Hardie" to ensure that lessons are effectively sequenced. Subject Leaders have developed a very inclusive and exciting curriculum that meets the needs of all learners. They have worked collaboratively, using new technological advances such as Google Slides and Google Docs so that they can work together in real time and make progress swiftly. Subject Leaders spoke about how they have become more confident about their subjects, how they are encouraged to explore CPD opportunities and stretch the children.
Reading is a High Priority
Reading has a high priority in the school. Physical copies of books are kept near displays so children can find them in the well-resourced library to maintain their interest in different topics and extend their reading skills. Phonics and reading for fluency take place each morning and children who need additional symbol support use and understand widget symbols.
Find out more about the IQM Inclusive School Award
If your school is interested in obtaining the IQM Inclusive School Award or you wish to talk to a member of the IQM team please telephone:
028 7127 7857 (9.00 am to 5.00 pm)
or email: info@iqmaward.com for further details.
Want more information on the IQM Award? Click here to request your free IQM information pack