Jubilee Academy Mossley, Bloxwich in Walsall, part of the Academy Transformation Trust, has achieved Flagship School status for the first time.
Enabling Pupil Success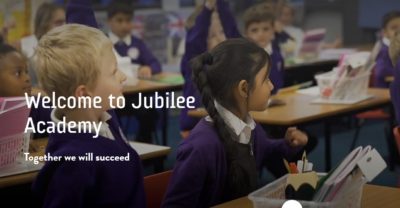 Jubilee Academy Mossley is small primary school based in the town of Bloxwich, catering for children from 3-11 and pride themselves on their strong relationships with the local community. They have a very clear mission statement, reflecting their strong moral compass. Their motto
'Together we will succeed'
is at the heart of all their work. They believe that every child is important and deserves a first-class education. In their firm belief that every child has hidden potential to be uncovered and nurtured. They are extremely proud of each of their children, as they inspire every child in their school to succeed through the provision of opportunities to develop to their full potential. They pride themselves on their innovative, varied, enriched curriculum that instils confidence and achievements of their pupils. They want the children who attend Jubilee Academy Mossley to leave with the skills and positive thinking needed to achieve their ambitions and to lead happy and successful lives. There is a high level of deprivation in the local area, with significantly more pupils being pupil premium than the national average. At Jubilee Academy Mossley children are reported to perform in line with their peers, as the school work tirelessly to remove barriers, with the majority of funding being spent on additional staffing to support learning in the classroom and targeted interventions.
Positive, Engaged Pupils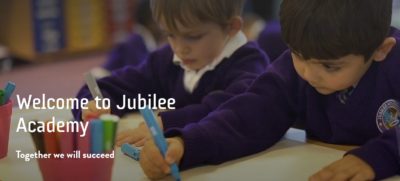 Pupils' attitudes to learning are consistently positive, which impacts the progress they make. The academy's open culture promotes all aspects of pupils' welfare and pupils therefore feel safe and are safe. This sense of safety allows the learners to feel they can take risks and have a resilience, that enables them to persevere through the learning journey. Staff reward positive behaviour though class Dojo and have invested in a book vending machine where they can trade Dojo points for tangible and meaningful rewards. They have also secured funding to replace the library books. There has been a great commitment to improving the learning environment since the appointment of the new Head. She has refreshed some of the tired furniture, giving classrooms a new lease of life. She has inspired colourful, joyful, celebrations of learning and achievement. The learning walls are thematic across the school ensuring an equality of provision of key themes such as word of the day, colourful semantics, or simply a commendation of the work and the behaviour of the pupils. The children respect their environment and are actively involved in improving their school, such as raising money for the new playground equipment. The children are proud of their school.
Training to Meet Need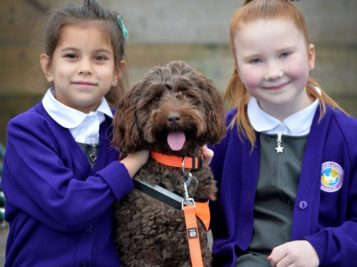 The Academy strives to meet a spectrum of needs due to the vulnerabilities of the community it serves. Currently over 50 families, encompassing 67 children receiving support through informal support, Early Help and CIN. They have established a trust in the community through dialogue that centres on in house support and engaging with external agencies on a personalised basis, explicitly explaining the benefits and the outcomes of such support. SEND pupils are also supported through an established SEND department of 2 Assistant SENDCos on the leadership team alongside a SENDCo. This investment in time and resources has led to 9 new EHCPs gained in last 2 years with 5 more currently being assessed for EHCPs and a greater level of support of those at school support stages on the SEND register. Consequently, through collaboration with advisory services, 4 children have transferred to specialist settings. There are external and internal support systems for those with social, emotional, and mental health needs that has ensured there has only been one permanent exclusion in the last school year. The leadership has ensured that all staff, including the support staff have had access to bespoke, high-quality training, which has meant that the teaching assistants leading interventions are highly trained and skilled in their area and are demonstrating continuous impact, closing the gap for key cohorts of children.
Pupil Voice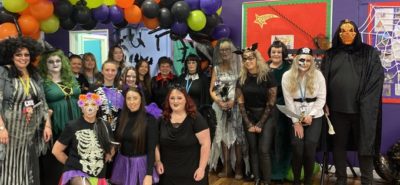 An excellent example of the academy striving for inclusion has been their work with pupils in raising the profile of students with hidden disabilities. Year 4 has a high number of children with hidden disabilities were one child, was struggling to accept her diagnosis leading to her becoming withdrawn, an issue identified through expert use of CPOMs. Collaboratively with the pupil and parents, the DSL initially met to discuss her disability and research the condition. This led to the pupil leading her own sessions with other children to make them more aware of her hidden disability and those of others within the class. There is a display being constructed by the pupils themselves to show all the hidden disabilities within the Academy. This has resulted in other children wanting to be involved and share their stories and staff also have an improved understanding of the children and their needs, making transition more effective.
No Child Left Behind
Vulnerable children are tracked and monitored with regular round table discussions helping to personalise support. All interventions are recorded on the Provision Map and impact evaluated and progress shared with the leadership team. There is also an additional spreadsheet for vulnerable children, tracking their academic progress and social and emotional measures, all staff are trained to use CPOMS and the safeguarding team audit provision and concerns to identify trends and pre-empt safeguarding events.
FFT data is also used in tracking and monitoring progress to ensure gaps are identified quickly and interventions are put in place. All teachers and Teaching Assistants hold calendared pupil premium, SEND and safeguarding discussions so no pupil is missed.
This all sits alongside rigorous attendance monitoring and behaviour rewards and sanction tracking. They have procured additional training for staff who are supporting children with significant Adverse Childhood Experiences (ACES). The Senior Leadership team has started to review polices, such as the relationship policies and behaviour polices, with a view to incorporating trauma aware values.
Diversity, Equality and Inclusion
The academy has appointed Diversity, Equality, and Inclusion Champions (DEI). This is not just rhetoric but a fearless campaign to address controversial issues central to inclusion in modern Britain. They have not shied away but invested heavily in this programme. As their staff is not necessarily diverse, they are sharing the experiences gained across the protected groups/characteristics and this will also help us to highlight inequalities and action for equality. They have established a working group across their 3 primary academies in Walsall, feeding into the larger Trust DEI group. They meet on a regular basis to discuss research and current literature surrounding all diversity, equality, and inclusion, which leads to informing policy and practice throughout all their academies. Schools Linking connects a class in their Academy with a class from another setting, creating a year-long, curriculum rich link, between schools across the district, which helps build a sense of togetherness and confidence in contact with others. The programme has the aim of supporting pupils to explore identity, celebrate diversity, promote community, and champion equality, rooted in research into what works in reducing prejudice in children and young people. The impact has been that staff have felt empowered to have challenging conversations regarding protected characteristics, and pupils feel safe to ask questions and explore sensitive issues such as racism, sexuality, and stereotyping.
Provision During Lockdown
During lockdown ensuring that wellbeing was maintained was a challenge, but the staff were adamant that they would continue to shoulder the responsibility through creative thinking. Well-being checks were carried out by phone and in person. Similarly, wellbeing emails/checks for staff were carried out, especially those shielding, working from home, or were struggling with their own families as they navigated their new normal. Checks were increased to daily safe and well checks by phone or home visit to most vulnerable pupils and their families. Daily registration took place on Teams, so children could still see and speak with peers and staff could have open dialogue, checking on how their students were feeling. An onsite food bank 'Jubereats' was created, through Fare Share donations from Asda, to support families in need. For those unable to access the food bank at the academy, food parcels were delivered to family homes. In recognition of the staff going above and beyond, parents and staff engaged in a 'Thank a teacher 'initiative and the staff received positive affirmation messages through Dojo. Moving forward they recognise the levels of deprivation in their community and have acute awareness that the end of lockdown has not brought with it an end to financial difficulty for many of the families. In response they are launching a breakfast club, support through funding from Greggs, and have already revived more than 50 applications for this free breakfast.
Proactive Delivery of Education
Over lock down, Senior Leadership were committed to an equality of education, ensuring all children had access to a varied and relevant curriculum. They used Class Dojo as a digital platform to deliver online lessons. They did not do live lessons, in favour of pre-recorded lessons, after identifying that parents struggle to tune in at a particular time and needed flexibility to complete the learning around different life pressures. High quality videos, PowerPoints and daily live registrations were used to break down the distance barrier, so even when apart, the classes were united together in their learning experiences. Those that needed a more personalised approach were still given 121 appointments, facilitated through Teams, and high personalised paper-based packs. There was also a high level of support for parents who often needed to learn alongside their children. Feedback from work submitted on class Dojo was acknowledged by approving and linking, with personalised comments where appropriate. All children were given written feedback at least once a week. Those not participating were supported through keeping in touch calls and given the opportunity for work to be handed in, in person, when new work was collected.
The staff also delivered and collected work from the homes, issued devices, supported access to broadband, to ensure all barriers to learning were removed. Now the school is fully reopened, they have revitalised the curriculum, to ensure all children can receive a broad and balanced curriculum combined with enrichment opportunities and cultural capital. The leaders are committed to ensure children have access to real life first-hand experiences. They also ensure classroom practice is inclusive through providing quality visuals, modelling, and scaffolding, oral rehearsal, Colourful Semantics, writing frames, and word mats alongside a multitude of in-class support opportunities. They have a whole school writing and presentation agenda, but this has been directed into thinking about intent, implementation, and the impact they want to see.
Pupils as Partners
Pupil voice has also remained a priority, working to further develop the role of the Junior Leadership Team (JLT) as they believe they play a vital and special role in improving their school. At Jubilee pupils' voices are highly valued and they ensure that all pupils are given opportunities to share their opinions regarding decisions which impact upon them and their peers. Their vision is that JLT will support the Principal, Local Academy Committee, all school staff, and their peers to find ways of improving the school experience for all pupils. Their role will include looking at the teaching and learning that goes on in classrooms as well as the more general aspects of life at school, such as school facilities, extracurricular activities, health and safety and the wider community. Their members are representatives and the voice of all pupils to enable them to have a say in improving their own education and developing new ideas for the future.
Children are elected to the role at the beginning of each year. The members of the Junior Leadership Team were chosen during class elections, which reflect their British electoral system and demonstrates democracy in action. Each member of Key Stage 2 was given an opportunity to fill out an application form for their teacher, stating the reasons why they felt they would make an excellent class representative. A handful of successful applicants were then given the chance to make a persuasive speech in front of their classmates, to share their skills and reasons to be chosen. Each class teacher then organised a class election, and the successful candidates were announced during a school assembly. They are now able to meet as a collective group this will enable them to work much better as a cohesive team and have active debate. They aim to elicit pupils' voice around the curriculum and embed their ideas with JLT members assigned to subjects based in the main on their own interests.
Find out more about the IQM Inclusive School Award
If your school is interested in obtaining the IQM Inclusive School Award or you wish to talk to a member of the IQM team please telephone:
028 7127 7857 (9.00 am to 5.00 pm)
or email: info@iqmaward.com for further details.
Want more information on the IQM Award? Click here to request your free IQM information pack