John Henry Newman Academy in Oxford has become a Centre of Excellence.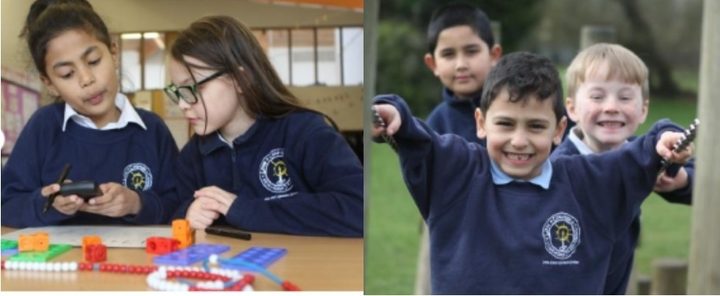 Pupils are Exceptionally Well Known
John Henry Newman Academy's vision states: 'Our vision is to have the courage to let your light shine in our community, to celebrate our successes and differences and to love and respect those around us.' The Headteacher and staff team know the pupils exceptionally well and care deeply about the children and their families. They go 'above and beyond' to guide each child to achieve this vision and to be a kind and caring school community.
A Strong Ethos for Aspiration
The school has moved forward to a 'good' rating from Ofsted in 2018 and is determined to continually review and evaluate the school so that it develops further. At John Henry Newman Academy there is a strong ethos for aspiration and a desire for all pupils to be well prepared for their futures. This is demonstrated in many ways; for example, through targeted initiatives to improve pupils' spelling and writing, also by linking with the University and the local Science Park where pupils may be inspired to look for their future careers. A beautiful picture frame on the playground wall has a weekly inspirational quote and also permanent murals painted by volunteers to support and encourage the ethos of the school.
High Expectations for All
Very good behaviour is a strength of the school and the children receive excellent guidance from the school's strong leadership and staff. The pupils clearly understand the high expectations and a huge amount of support and nurture has created this happy school. There are many positive rewards for the pupils, including lunch with the Headteacher and emails to parents. Pupils say that they are happy at school but they would be able to approach staff if they needed to report any concerns. Pupils who may need support are nurtured and encouraged. The school is able to provide good support internally, but when there is a need for some specialist support, they have proactively worked with external agencies to design and implement and access additional provision.
Importance of Pupils' Wellbeing
The pupils' wellbeing is a top priority and school has been developing opportunities to support all pupils through the new PSHE curriculum. (Personal, Social, Health and Emotional Education.) These weekly sessions are valued by the pupils and achievements are recognised during Fridays' Celebration Assemblies. The pupils are able to nominate their classmates for an assembly award if their behaviours match the weekly theme. Classrooms have special noticeboards to enable pupils to nominate their peers. During the IQM visit the week's theme was about healthy eating and a pupil had been nominated by their classmates.
High Expectations for Attendance
The pupils say that they enjoy school and understand the school's expectations for great attendance. Some pupils attend 'Wake and Shake Club' before school and this has helped attendance to significantly improve. Attendance rewards include class sessions at the onsite Forest School where pupils enjoy outdoor learning. Pupils said that they would like to be doctors and vets when they are older and understand that they need to work hard every day to achieve such goals.
Large and Well Organised Classrooms
One pupil said,
'The teachers teach well and teach us methods that help me a lot.'
Classrooms are large and well organised with displays which both celebrate the children's learning and provide prompts to aid their independence. A range of 'Assessment for Learning' techniques and a clear assessment cycle are used to measure each child's progress. The staff are flexible and adjust their teaching accordingly for example, in EYFS 'in the moment planning' is rapidly moving on the learning and initiatives such as Helicopter Stories are resulting in many more boys wanting to write.
Children who have SEND (Special Educational Needs and Disabilities) are very well supported by the school and parents highly praise the school's practice. The staff are willing to be extremely proactive on behalf of the child and their parents, leading to families feeling reassured. The Special Educational Needs Coordinator has a phenomenal understanding of the pupils' needs and is now sharing her expertise with another school. Her team includes a specialist administrator and a team of valued support staff. The whole team work with a wide range of external agencies to deliver many relevant programmes and interventions, such as Speech and Language and Time to Talk. There are regular training sessions to continually develop the skills needed to meet the needs of the pupils.
Approachable Staff
Parents say that they find the staff approachable. They commented on how much they value the Headteacher and the staff being on the playground in the morning. They recognise that there are many ways to communicate with the school and enjoy engaging with Facebook, Tapestry and regularly receiving their child's assessment results. One parent who has been involved with the school for several years said,
'I can see the children are doing better now than ever before.'
Extra-Curricular Activities
They enjoy the special weeks such as Science Week and Grounds Week. There are opportunities for a wide range of clubs and out of school activities, including relaxing with a film on Fridays after school. Other popular clubs include the 'How to cook club' which pupils recognise as a skill for life and is based on 'Bake Off.' There are many sports clubs including 'girls on the ball' which is a football club involving tournaments with eight other schools.
Find out more about the IQM Inclusive School Award
If your school is interested in obtaining the IQM Inclusive School Award or you wish to talk to a member of the IQM team please telephone:
028 7127 7857 (9.00 am to 5.00 pm)
or email: info@iqmaward.com for further details.
Want more information on the IQM Award? Click here to request your free IQM information pack.