Hoxton Garden Primary School, London, part of The Viridis Federation of Primary Schools, has achieved the Inclusive School Award with Flagship status.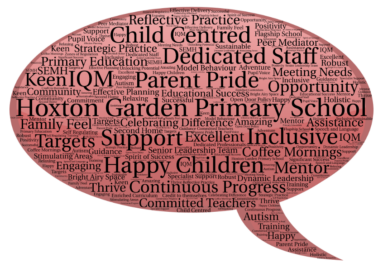 Context
The school is like a second home to my child – the school have created an environment where he feels loved." Parent of Year 3 child.
Hoxton Garden Primary School is an exceptionally inclusive school where pupils thrive and adults enjoy their work and feel very supported. Parents described how much their children have progressed since starting at the school. They feel that their opinions really matter and that they are fully involved in their child's education. The school collaborates with parents, one example is where parents of children who have recently been diagnosed with Autism attend some sessions to work with their child, the Learning Mentor, and a Psychologist in a spirit of co-production. One particular parent found the sessions very useful. Another parent said that the school were exceptionally well-organised and supportive during the Covid pandemic and the assistance from the Senior Leadership Team and all the staff was amazing.
Communication is Key
Weekly newsletters, staff being available to meet parents each day and weekly coffee mornings means that everyone knows what is happening. Parents particularly appreciate the coffee mornings which start with them reading with their child, then having the opportunity to find out about what their child is learning at school and different ways to support them. The coffee mornings are well-attended. Parents and staff appreciate the visibility of the Senior Leadership Team and remarked on their open-door policy and the inclusion values that they promote.
The school has excellent communication channels for staff in the school, whether this is in the way that weekly planning sheets are sent to all Teaching Assistants before the lessons or the half termly CPD programmes that show everything that will be happening so staff can prioritise their own workload.
Enabling Staff
New members of staff say that they feel very well prepared for their role. Weekly training sessions on a range of pertinent topics such as how to mark effectively, reading strategies or advice on how to work with particular pupils mean that new members of staff can be delivering effective support from a very early stage.
'Growing their Own'
Support staff spoke about the career progression opportunities- a Learning Mentor had joined the school as a TA, then an HLTA before taking on her current role. Learning walks take place where SLT check how the interventions are progressing; support staff find the guidance and support to be useful for themselves and the children.
Positive Role Models
Children see the positive modelling that is done by all staff, ensuring that there is a family feel to the school where all children are happy. Children say that their teachers are helpful and kind. Subject Leaders take their role very seriously and are on hand to support teachers when needed.
"Unlocking Potential"
The school has a robust programme of support for pupils who have SEMH needs. The school buy into the "Unlocking Potential" programme run by a health charity. They follow a holistic and sustainable model. This means that there is at least one therapist on-site each day of the week in school. They offer targeted therapy sessions as well as therapy from a Speech and Language Therapist or an Occupational Therapist where needed. Children can self-refer. Parents have access to a 10-week online programme. The charity supported teachers with resources and strategies during Mental Health Week. The school value the programme which helps children to regulate their emotions and be ready for learning.
Cultural Capital
The school enrich the curriculum by offering the pupils a range of educational visits and opportunities to discover what London has to offer. Recent trips have included visits to a local farm, fire station, The British Museum, orchestral performances, and a trip to the Museum of London.
Community Hub
Parents love being invited into school to attend assemblies, they have also come into school for Families Week, bring a significant male/female to school day, grand-parents tea party and world week where families make food from their own cultures. They feel very included in school life and that the school is part of the community.
Leadership Opportunities
Two School Councillors and a Peer Mediator where a credit to the school when they conducted their tour of the outdoor spaces. The large garden area, full of a range of herbs and vegetables is inspiring to the children – they spoke about the bio-diversity workshop and gardening workshop that they have just undertaken.
Outdoor Learning
They enjoy playing in the woodland space. Pupils were engaged in a wide range of activities, sports, relaxing under the pergola, climbing in the adventure area. It was pleasing to see younger pupils keen to engage with the Year 5 peer mediator.
Zones of Regulation
Pupils spoke about caring adults and how much they all enjoy school. They were able to talk about particular interventions that they access and how they have benefitted from this additional or different support, whether it was individual therapy or 1:1 reading or a session on learning about different people's perspectives. One girl spoke about how the introduction of the Zones of Regulation approach is used in her class and how it has helped her identify her feelings and think about different strategies she can use to feel better and ready to learn. They like circle time – the kindness catcher and the worry catcher!
Find out more about the IQM Inclusive School Award
If your school is interested in obtaining the IQM Inclusive School Award or you wish to talk to a member of the IQM team please telephone:
028 7127 7857 (9.00 am to 5.00 pm)
or email: info@iqmaward.com for further details.
Want more information on the IQM Award? Click here to request your free IQM information pack