Horton Grange Primary School in West Yorkshire has achieved the Inclusion Quality Mark's Inclusive School Award with Centre of Excellence status.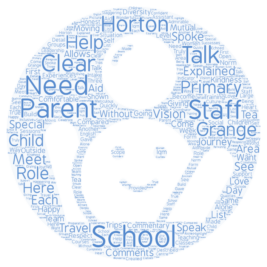 The School's Vision
The preparation and level of detail Horton Grange Primary School had made was a clear indicator of the meticulous and completely inclusive heart of this large three form intake school. The school's journey has created a wonderful culture of being able to celebrate and build on successes in a confident and truly reflective way. The IQM coordinator at the school helped highlight the school's qualities and gave a clear and open picture of their vision and the true scope of how they are deeply at the centre of the community. The Headteacher had a refreshing self-awareness of her role and the role of the school and that was echoed in her staff.
Relationships with Parents Are Vital
The Headteacher explained that consultations with parents had been a vital part of the school's growth and the high levels of trust they have earned within the local area. This has been achieved through the dedication and hard work of her and her staff and together they have built 'working parties' to make decisions, they've sought out and built community links and left 'no stone unturned' in this process to provide inclusive care for their pupils and the families of their pupils. Horton Grange provides long-lasting support for those who need it – from entry to school all the way to adulthood. Helping families with everything from food parcels to developing skills for job opportunities! Meeting her was important to measure if her intentions were matched by the motivation and actions of her leadership team and school teams – and it was clear they have all invested in and have ownership of that inclusive message.
Each Area is Used to its Potential
Both learning walks throughout the different Key Stages showed the same consistency of message, despite over 700 pupils and multiple sites, the organisation was clear that each area was used to its potential, both logistically and to enhance the learning of the children. They have built links with the other educational facilities near to the school, to have enhanced play areas, hall space and intervention space – all with child-based benefits they have earned through building relationships.
Pupils Are Delightful
Pupil meetings were delightful, with each child from Reception to Key Stage 2 being able to and wanting to explain how 'I'm proud of my English.' like one Year 2 child said or 'It's a great school, we learn more' as a Year 1 child happily shared. The work on the curriculum is clearly 'bearing fruit,' as alongside reciting maths facts, the children talked about sports skills and their love for art. The younger children explained how they liked 'correction time' as they can bring in homework and discuss it with an adult. A very mature approach to learning for a Key Stage 1 pupil and it is carefully instilling a lack of fear and an exploratory approach I could see in the Key Stage 2 lessons.
Diversity is Important
That 'through line' approach was evident and children in Key Stage 2 could talk about the standing of the school by saying with passion:
I love how it is diverse, that's when you are included, you can all do the same things and we don't judge'
they also made it very clear they like putting their plans into action, building periscopes, circuits and discussing their artwork saying 'I'm proud of my artwork – how we set it out.' Book scrutiny again flowed nicely into these comments with reflective writing next to artwork saying, 'my wallpaper design went amazingly well when we high pressure blended.' – this shows the skills and training of staff being taken on by the children and leads to children feeling challenged and engaged with a clear sense of pride on reflection.
Governors are Inspirational
Governors are inspirational figures who work diligently for the betterment of the school community. Their passion for their roles and their standing in the community is fantastic and evidence of their actions shows aspirational people for the children to learn from and emulate. They are forward-facing, and gain parental opinion and trust. They fundraise and add to the transparency and openness the school leaders are cultivating. Governors spoke about how 'the school addresses challenges' and both governors I spoke to discussed issues the Headteacher and Leaders had addressed earlier as an example of how they are growing the parent network and how trust has been built on solid foundations through the brave actions of the school leaders. The evidence for each element demonstrates the school's commitment to the long-term support for their school family and when they are needed the school has plans in place to support the most vulnerable. Governors are aware of this and take an active part in it.
Parents Are Happy
Parents' comments almost speak without commentary as they said they 'travel to here because of the diversity of the school and kindness of staff' they compared experiences with each other and from moving into the area a parent explained 'Horton Grange Primary School allows us to be comfortable talking to staff, we have mutual respect, they help us outside of school and my children are happy to come to school – they are giving me training as I want to become a teaching assistant,' another parent spoke of the special needs journey of their child, they explained that they see the leadership team every day and they are 'there if you need them' and spoke of 'Tea and Talk' sessions where they could meet staff and other parents in the same situation as them. It is clear at Horton Grange Primary School if a child has special needs, they are quickly shown they are not alone. They described staff as 'honest' and love going to women's groups and meetings. The list of support provided to parents was staggering, with 8-week courses in English and Parent's Social trips all happening alongside First Aid and Parenting classes. This is needed, admirable and beyond the norm.
Teachers Have Job Satisfaction
Teachers spoke of their experiences, how hard they work with support from peers and their teams, the responsibilities and training they receive – how many came as students and were determined to stay. They spoke of job satisfaction and how their mental health was cared for. None of the teachers reached their roles in exactly the same way, some began as Learning Support Assistants and some through teaching courses and many were trained by Horton Grange teachers who were developing their own skills by becoming mentors. Even during the trying times of the last few years – young teachers were thankful with how transition for them into certain roles was 'built in' and how it was well considered. It was tangible how the experiences of recent times were used to gently shape them into the teachers they are now. The range of employment backgrounds and routes to teaching is a fantastic example for the children to aspire to when aiming for their desired futures. Teacher training, career progression and development allow for such a large school to maintain its identity and have 'succession planning' between staff who share the same vision.
To Sum Up
The final meeting with the School Council summed up the assessment visit in a clear and open way that only a child could do. After discussing peer mentoring – a young member of the School Council from Key Stage 1 simply said:
'We are a big kind school'
and I would suggest that says it all!
Find out more about the IQM Inclusive School Award
If your school is interested in obtaining the IQM Inclusive School Award or you wish to talk to a member of the IQM team please telephone:
028 7127 7857 (9.00 am to 5.00 pm)

or email: info@iqmaward.com for further details.
Want more information on the IQM Award? Click here to request your free IQM information pack