Holy Cross Catholic Primary School in the Wirral has achieved Flagship School status again.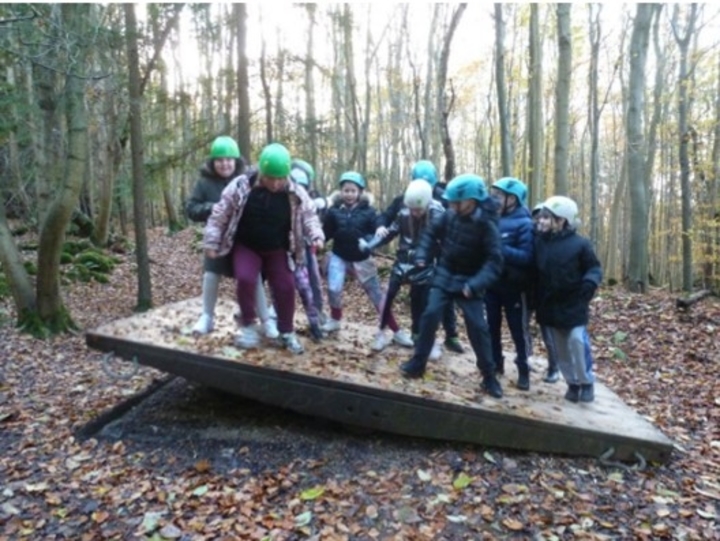 Committed to Inclusion
Holy Cross Catholic Primary School is a smaller than average Primary School with 151 pupils on roll, situated in Bidston, North of Birkenhead on the Wirral Peninsula. The School is situated in an area of high social disadvantage with many of the pupils and their families facing a range of issues and needing a great deal of support. The school aims to give their pupils the best education possible and a superb level of pastoral care so that they learn well and are happy in school, through its outstanding commitment to providing a highly inclusive teaching and learning environment for all pupils and staff. It is a superbly inclusive, enjoyable and friendly place for all to come to work and learn. Everyone involved with the school believes in and works hard on a daily basis with the pupils to ensure it happens. This is truly a school where every pupil really does matter and is valued for who they are and who they will become. This is fact I can attest to from the evidence of the review and from discussions with stakeholders. Everyone involved with Holy Cross is committed to providing the very highest standard of teaching and learning experiences which not only develop the pupils' knowledge and skills, but an enjoyment of learning as well.
Inclusive, Enjoyable and Friendly School
This is a school that firmly believes that 'Every Child Matters.' Where the Headteacher states very clearly,
'it is our aim to raise standards by promoting a school ethos which is underpinned by core values. These values support the development of the whole child as a reflective learner within a calm, caring, happy and purposeful atmosphere. It is our mission to create opportunities which enable each person to recognise a sense of their own worth and that of others'.
This is an inclusive statement that I fully concur with from the evidence of this review and previous reviews. Supported by their mission 'Loving and learning together in faith' which underpins everything that happens in the school and is enacted through their catholic ethos. All staff are directed by, and supported by, the Senior Leadership Team that encompasses the Headteacher, Deputy Headteacher and Inclusion Manager who are affecting rapid change and continuing to drive everyone involved towards excellence and all the while ensuring that the school is a superbly inclusive, enjoyable and friendly place for all to come to work and learn. This is a fact recognised by Ofsted in the school's most recent report in November 2018 where they stated, 'the appointment of the present Headteacher at the start of the academic year has brought about much-needed stability and staff morale is high. She is supported well by the newly appointed senior leadership team. Governors and staff share her drive to improve standards in the school quickly and raise expectations of what pupils can achieve. This superbly caring, inclusive environment ensures each pupil receives the best education possible, delivered by highly dedicated staff. This is a school that is very keen to continue to be at the heart of its community and meet the needs of its changing population of pupils, parents and families as a truly inclusive community school, supporting not only their pupils, but their parents and their families. Inclusion is a natural part of the very fabric of the school and a place where superb levels of care, nurture and support seem to naturally occur but is the result of the continued and ongoing high levels of hard work and dedication of the staff and governors.
A Superb Learning Environment
Visitors to Holy Cross experience the same calm, yet stimulating, vibrant learning environment that the staff and pupils experience on a daily basis. It is contained but not bounded by its superb learning environment that focuses on helping children to develop the skills, they need to be active participants in their community and in society. The school environment is superb and is full of vibrant carefully thought out and prepared displays that celebrates what the school does best, valuing everyone and including all children in the life of the school. The school's learning environment while small, is simply outstanding. Every aspect of the interior, every nook and cranny, is seen as a valuable space to aid the learning process, with a considered purpose. Pupils observed during the review in classes, at play and during lunch were extremely well behaved and there were superb positive and supportive interactions seen between pupils and between pupils and staff. Pupils through a wide variety of different opportunities that include School Council, Inclusion Council, Play Leaders and Subject Leaders have a strong voice. Parents are well informed of their children's progress and what they can do to support the school and their child's development. This partnership is a very real and key strength of the school, with everyone actively involved in shaping and developing the vision of the school and communicating extremely effectively through its website, letters, texts and social media.
Dedicated and Aspirational for All
As with the previous IQM reviews it is clear to see that the school's actions to care for and nurture pupils in my judgement is superb. The staff at the school are clearly dedicated and aspirational for all who are lucky enough to be educated at the school. The staff 'know their pupils' exceedingly well. Every member of staff from the Headteacher down has a fantastic depth of understanding and knowledge of the pupils in their care and the pride they show in their pupils and their achievements shone out in every conversation and in the way they spoke about them during the review. It was very humbling and inspirational to hear them talking about their school and their pupils and this often extends to pupils who have left the school and moved on who may still need their support. This is a fact I experienced during a discussion with the Headteacher and the Inclusion lead during the review. Everyone involved at Holy Cross should be extremely proud of what they achieve on a daily basis and the emphasis placed on ensuring everyone is nurtured and included.
Superb, Positive and Supportive Interactions
There is an exceptional work ethic and ethos at Holy Cross that drives everything the school and staff are doing for their pupils and families, coupled with a ferocious drive to improve what is offered and extremely high aspiration for their pupils to succeed. Pupils observed during the review in classes, at play and during lunch were very well behaved and there were superb, positive and supportive interactions seen between pupils, staff and between pupils and staff. The behaviour and safety of pupils seen during this review was exemplary. Everyone involved with the school should be immensely proud of the way they conduct themselves around the school.
No Barriers and No Outsiders
During the review process I talked to a variety of staff and pupils frankly about their school and what was offered to support pupils and their families. Everyone without exception was extremely positive about the school and they highlighted the fact that in their opinion the school was naturally a very inclusive setting. It was clear from the conversations that everyone involved in the school was highly empathetic and understood the needs of the pupils and the needs of their colleagues and supported them extremely well. It was very clear from what was said and what was seen during the review that there are no barriers and no outsiders at Holy Cross, everyone is included and looked after to the best of their ability demonstrating the school's superb level of inclusivity.
Children Actively Engaged in Signing
I undertook a tour of the school the Head Boy and Head Girl who were superb ambassadors for the school, observing lessons and talking to teachers, support staff and pupils. I was able to watch a Ukulele lesson and also watch Foundation 2 using signing to greet each other and perform two songs. it was a pleasure to see them actively engaged in signing. I was privileged to observe a 'Personal Best' session delivered by Essential staff that the school have bought in. It is a programme that utilises the power of being physically active and achieving their own Personal Best to make positive changes to the emotional, social and mental health of young people, where groups take part in a carefully designed activity that focusses on social, emotional and mental health. The key message is always about each young person challenging themselves to be the best they can be. The groups may include those who struggle to engage, have increased anxiety, a lack of confidence or self-belief and a lack of enthusiasm towards being active. At the start of each programme, young people set themselves personal goals that they self-assess at the end of each week. A fantastic programme that is having a great impact on the pupils involved. I was also able to watch a 1:1 intervention session with a support worker and a non-verbal pupil who is making great progress and is supported by signing as part of the school's ongoing research project.
Wide Ranging Pupil Leadership Opportunities
It was evident from conversations with the pupils during the tour and with representatives of the School Council that they have a real sense of belonging and pride in the school and their achievements and that they have wide ranging opportunities to be leaders in the school. Evidence of this was apparent in the new signs around the school and the displays in the learner friendly classrooms and displays about growth mindset that pupils designed. It was very clear from the conversations that they are regularly consulted and have a very strong voice. The school registered with the Junior Award Scheme for Schools (JASS) in 2018, a progressive learning programme for young people that recognises wider achievement that will support and enhance what the school offers, similar to the D of E Award. It is evolving and could well be used to document and accredit pupils' leadership skills. During lunchtime I was able to visit 'The Sanctuary' which is a lunchtime club for identified vulnerable pupils where they can sit quietly, read or be involved in playing games. Pupils are actively encouraged to participate in games with staff and learn to take turns and socialise. However, it is also a safe space for pupils who do not or cannot access the noisier areas of school such as the playground at lunchtime.
Ongoing Inclusion Journey
It was a real pleasure to revisit Holy Cross Catholic Primary School and see the progress that they had made since their last review and follow their ongoing inclusion journey. This is a superb setting committed to providing the very highest standard of teaching and learning experiences for all involved. Fantastic care, nurture and support that are the foundations of inclusive practice and are a natural part of the school's fabric and that are enshrined in all elements of the IQM Award are at the heart of everything that happens at the school and this is what makes Holy Cross such a special place and everyone involved should be commended for their superb efforts in this respect.
Find out more about the IQM Inclusive School Award
If your school is interested in obtaining the IQM Inclusive School Award or you wish to talk to a member of the IQM team please telephone:
028 7127 7857 (9.00 am to 5.00 pm)
or email: info@iqmaward.com for further details.
Want more information on the IQM Award? Click here to request your free IQM information pack.