Holtsmere End Infant and Nursery School Achieves the Inclusive School Award with Centre of Excellence status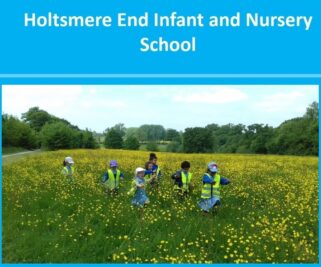 Context
Holtsmere End Infant and Nursery School's building is all on one level so is entirely accessible, and the outside area includes a playground with a number of quads and a large field in vicinity. The school is fortunate to be surrounded by extensive grounds, which have been utilised for outdoor activities ranging from a daily outdoor play at breaktimes for all pupils to the designated learning spaces for planned lessons. At the time of an assessment, the school was developing the area dedicated to the Forest School; other grounds are used regularly for sport and outdoor learning.
Learning Through Play
It was evident that pupils and staff are using the outdoor space effectively and are familiar with equipment and activities. The pupils were freely engaging in play and enjoyed toys and every day equipment, all of which were accessed in a safe way. It was a pleasure to witness the children's curiosity when they explored how various pieces function and discover the variety of things that they can do with them. Such experience is invaluable, especially for children who live in flats and are unable to explore free play outdoors regularly.
Bright, Attractive Environment
Leadership pays attention to the interior of the school as they believe in maintaining a good balance between a usual primary school outlook with essential displays and information whilst still having an inviting and attractive space. There is emphasis on tidiness, functionality, and pleasant aesthetic look, which is achieved through using natural, when possible, material like hessian fabric to back the display boards and simple, appropriate furniture.
Creating a Calm Environment
All classrooms are of average size, apart from two, recently converted into the classroom small spaces to provide specialist provision for SEND pupils. Classrooms are tidy and well organised to help promote a calm atmosphere with interactive and informative displays, which evidence the learning and ethos of the school. There is evidence of a meaningful curriculum and activities to develop in children appreciation of the values the school stands for. The inclusion agenda is echoed in many words and in pieces of pupils' work on display in each classroom. The school is well equipped including the library, to be able to create an inclusive learning environment that serves the school's needs and reflects its values.
Inclusion at the Core
Holtsmere End Infant and Nursery School is committed to deliver on its values and ethos, both of which are engrained into the school's fabric; inclusion permeates every aspect of this vibrant learning community. This commitment was evident at the outset of the visit during an informal observation of parents and children on arrival to school and continued through the rest of the day in professional meetings and conversations. Visitors, in line with Covid protocol, are warmly welcomed by all the staff and children, and there is a happy atmosphere with positive vibes of energy and positivity.
Confident Communicators
The children are enthusiastic about their learning and enjoy their school; they value and praise their teachers and adults who work with them. They feel safe to confidently engage in conversation with unfamiliar visitors. Children stated that: "teachers help you by helping you to focus on what you are doing, not focusing on someone else's work" and "they tell you not to copy other's work because they might get it wrong." Pupils spoke confidently about their work and opportunities they have to extend learning beyond the structured lessons, like going on trips. It was particularly pleasing to hear the children echoing their understanding of assessment for learning when they explained how they know their work is good: "by checking if it makes sense," and "reading it over again." The pupils were adamant that they need to listen carefully to learn.
Positive Global Citizens
Holtsmere End Infant and Nursery School is clearly a place for children to develop their personality, learn about how to conduct themselves in a range of situations knowing that they are safe and cared for by all professionals. This awareness of feeling safe and accepting the necessary boundaries when learning and playing came across strongly in observations during the course of the assessment day.
Cohesive Collaboration
SLT are united in their desire to create a happy and safe place for children to thrive; they know the community they serve and believe that every child in the school should have opportunities to learn, experience a rich curriculum and to feel included. The school was graded "good" in the last short Ofsted inspection and staff have worked hard to develop their practices under the leadership of the current Headteacher and her team. Together they all work tirelessly to continually drive the school forward and to overcome difficulties that the pandemic and changing population poses on all stakeholders. This was evident from the discussions with the Headteacher who took upon herself IQM Lead responsibility, SENCo, Middle Leaders, and the Chair of Governors, and confirmed by subsequent conversations with members of staff. Further evidence was seen during the school tour where newly created areas to provide for pupils with specific SEND were pointed out and the leaders explained how the space was utilised to accommodate intervention like Speech and Language Therapy.
Structured and Responsive Support
There are clear structures and procedures in place at the Holtsmere End Infant and Nursery School and the Headteacher is ably supported by her SLT including SENCo, who plays a pivotal role in ensuring that pupils with SEND and additional social, emotional, and other needs are provided for. Her extensive knowledge of the needs of SEND and vulnerable pupils is exceptional, as is her relentless pursuit of ways to address emerging issues like a child being at risk of exclusion or having specific barriers to learning like speech disorder.
Planning for Success
There is a collaborative feel at the Holtsmere with everyone contributing to the vision and strategic planning for the smooth running of the school and to secure its successful future. Leaders communicate clearly and openly with staff and care for wellbeing of all. This caring attitude contributes to high staff morale, so obvious in how staff interacted and related to each other, treated children, and responded to visitors.
Dynamic Senior Leadership
The Headteacher and SLT have reflective skills that guide them in their leadership, they want the best outcome for all pupils and staff regardless their individual needs and stage of development or professional destination. It was a pleasure to meet with leaders and witness their hard work and determination combined with sense of purpose; they demonstrated resilience, resourcefulness and research informed knowledge about educational matters that sets them on the road to achieve further improvements and raise standards for all. Though working in a demanding and dynamic environment, they demonstrated a serious professional demeanour with a touch of humour that staff and children related to very well and appreciated.
Find out more about the IQM Inclusive School Award
If your school is interested in obtaining the IQM Inclusive School Award or you wish to talk to a member of the IQM team please telephone:
028 7127 7857 (9.00 am to 5.00 pm)
or email: info@iqmaward.com for further details.
Want more information on the IQM Award? Click here to request your free IQM information pack