Herbert Morrison Primary School in Lambeth has achieved Flagship School status.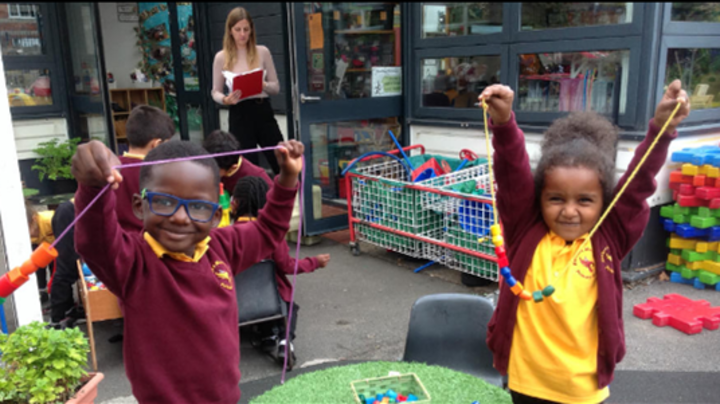 Fully Committed to Inclusion
I met with the SENCO to discuss the arrangements for the day. She is now in her sixth year at the school and completed her SENCO training in her previous school. She is part of the SLT and inclusion is central to the whole school ethos and vision. She said it helps that the Headteacher was the previous SENCO and so has a very good understanding of the barriers and is fully committed to the inclusion agenda.
Background
The school is a one-form entry school with just over two hundred children. There are two/three children with autism in each class and the school has developed a real knowledge in helping these children overcome the barriers to their learning. The SENCO explained that the start of term had gone very well and there was a smooth transition from lockdown (for many) to school for all. She said that quite a few children were attending the school during lockdown along with the vulnerable and key worker children. They ran this provision from a Hub in one of the other Federation schools and there was a staff rota to ensure the children were familiar with the staff who were looking after them.
Behaviour is a Strength
The AHT has been at the school for more than twenty years and he is the Behaviour Lead. Whilst not boasting he told me that behaviour is a real strength of the school and it continues to go from strength to strength. He explained the policy 'It's Good to be Green' and it was as a result of the Pupil Voice that changes were made. They told the school that many of them felt they were not recognised for being well behaved all the time as in the old system. The same children appeared on both the sad and happy side of the board and the rest did not really feature. In the new system all children start on a 'Green'. The system is modified for children with behavioural difficulties and they have three chances to do the right thing. Around 80- 85% of children stay Green and are rewarded for their behaviour, the rewards were suggested by Pupil Voice. There is a system of Pupil Ambassadors in the school and the AHT has several Behaviour Ambassadors, they suggested the school developed a Silver Level Award.
Return to School
The AHT and Year 2 Teacher explained that pupils had settled when they returned after the summer holidays. Considering all that had happened school staff were really surprised that they were not displaying more worrying behaviours. Even with the COVID-19 regulations children did not have to deal with children with anxiety or undue stress, they just got on with it. They were so glad to be back to their normal (nearly normal) routines.
Supporting During Lockdown
During lockdown work was sent home via Teacher Blogs where they set work every day. Children checked their relevant blog every day and there were activities based on their normal school timetable. Children were able to send teachers messages and ask them questions about their work, they could write emails and the teachers could respond to them. They monitored those who were engaging and intervened when they found some were not participating. Phone calls were made to parents to check up with wellbeing and to encourage pupils to complete the work.
Supporting Staff
I asked if staff were anxious coming back to school and they told me that some were very worried especially if they had personal circumstances that made them vulnerable. The AHT explained that the Headteacher and Senior Team regularly spoke to staff during the lockdown period and there were daily (then weekly) risk assessments and everybody was involved in deciding what needed to be done to make the school safe. When they were made aware that somebody was struggling they reacted quickly and offered support and signposted people to counselling and other services.
Supportive Parents
The SENCO explained that the school had a lot of support from parents and external agencies who work with the school. Relationships with parents have been strengthened as a result of the efforts made by staff to communicate with families over lockdown and since children returned to school in September. The school employs a Play Therapist to work with children and work with Art4Space (a charity who work with children in developing confidence) which has made a big impact on the pupils who receive this support. In addition, the Chandran Foundation, who fund breakfast club and after school learning programmes delivered online sessions for children during lockdown.
Safeguarding is a Priority
Safeguarding is a priority at Herbert Morrison Primary School. The Headteacher takes on the role of Designated Safeguarding Lead but since the pandemic, she has been supported by others on the Senior Team (who completed the necessary training). Concerns around safeguarding have been heightened during the pandemic.
Supporting Additional Needs Children During Lockdown
During lockdown weekly phone calls were made to parents of SEND children, activities and materials were sent home and staff even provided visual timetables for some of the children who found this helpful to organise their days and to know what their day at home would involve. Helping them to structure the day for their children was a way of reassuring parents that what they were doing was fine. Some families needed more support and this involved a conversation a couple of times a week.
Wellbeing is Integral
The AHT told me that wellbeing is integral to the school ethos and is 'intrinsic in what we do' however, she comments that the pandemic threw up even more issues for them to consider and implement. She explained that there are a range of social and emotional interventions employed in the school. She talked about the way Zumos supports the children's mental health and wellbeing and helps them develop strategies to help them cope.
Staff Wellbeing is Very Important
The TA has been working at the school for nearly thirty years and has developed an expertise in supporting children with social and emotional needs. She works with small groups of pupils to deliver emotional interventions with them. When the school came back together in September the staff identified those children that would benefit from additional support. She said all staff completed an online Trauma Informed Training programme helped to enhance their practice. Staff aim to work with children to help develop their resilience. She told me that staff have their own anxieties and there are always people in the school, but there is a lot in place to support them. She explained that there have been lots of training opportunities during lockdown and the majority of staff benefitted from completing these. There is continuous training and development for staff at all levels and this investment in staff has helped to promote staff wellbeing. She points out that adults (in the school) set the tone and lead by example so their wellbeing is very important.
Staff Voice is Strong
Staff voice is strong and in terms of curriculum development and pedagogy, all staff are expected and invited to discuss different policies as they are developed or updated. Additionally, adults are expected to look at it through the lens of different children, staff and parents. Performance Management and Appraisal systems are in place for all and staff co-create their performance targets. Wellbeing is part of all Performance Management and Appraisal processes and targets.
Supporting the Headteacher
My next meeting was with the Co-opted Governor and the Headteacher, they told me how the Federation was set up and how it supports the school. It started as a soft Federation to support the five schools that are all within ten minutes distance from each other. The schools are all primary schools and include special provisions for Autism and Speech and Language. The Headteacher told me that headship can be a lonely job and it is good to be backed by the Federation and supported by the Executive Head and the Heads in the other schools. This has been particularly important during the pandemic. She explained that she has a great Senior Team around her and they are able to support each other and the rest of the staff and the pupils. She stated that staff at every level have come together to make sure pupils needs are met.
Supportive Governors
I spoke with the SEND Governor, he meets regularly with the SENCO to support and challenge her in her work. He said in normal times Governors visit the school regularly and work closely to keep the work of the school under review. He talked about the way the school had operated during and since the lockdown and about the way staff had been supported by the Headteacher and her team. He commented that the Headteacher had empowered her team to do their work and to support the rest of the staff. She does not micromanage the team but shows trust in them and this is empowering. He explained that the Black Lives Matter movement was pivotal and something for the school and Governors to address. They work hard to ensure Governors are reflective of the community they serve and they all recently completed anti-racist training to ensure recruitment practices were appropriate and fair and that they could support the school in its anti-racist work. Governors have good relationships with staff at the school and come in on focussed visits and meet with individuals with responsibility for different areas. They know the school well and are able to provide appropriate support and challenge.
A Sanctuary for Pupils
It is clear that Herbert Morrison Primary School is a truly inclusive school that provides a sanctuary for pupils in their community. The village feel and small school ethos ensures that everybody knows each other and works collaboratively to meet the needs of the children. Nothing is too much trouble and staff at all levels support each other. There is a feeling of trust in the school and the Headteacher and her Senior Team set the tone. They are a remarkable school and have a great deal to be proud of.
Find out more about the IQM Inclusive School Award
If your school is interested in obtaining the IQM Inclusive School Award or you wish to talk to a member of the IQM team please telephone:
028 7127 7857 (9.00 am to 5.00 pm)
or email: info@iqmaward.com for further details.
Want more information on the IQM Award? Click here to request your free IQM information pack.