Harold Court Primary School in Romford has achieved the Inclusive School Award again.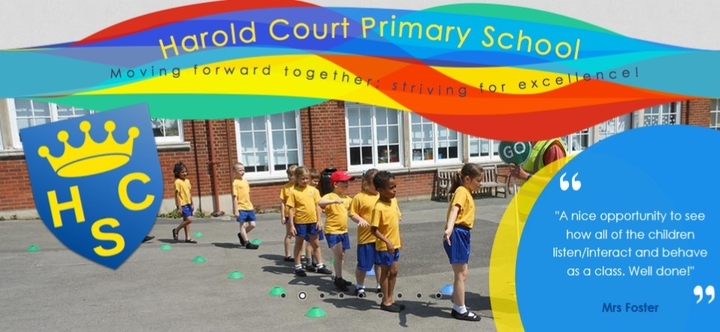 Context
Harold Court Primary School is a two-form entry primary school serving families in Harold Wood, Essex. It has 407 children on roll at present and the numbers are rising. The catchment of the school is also changing with a more affluent, middle class set of parents moving in to the area. The school was judged 'Good' in all areas by OFSTED (May 2017). Two of the areas for development from this Ofsted report, to rapidly improve attendance and to improve the progress made by disadvantaged pupils in reading and writing at greater depth, are areas which are addressed in the COE action plan for 2018/2019. There has been a change of Headteacher since the last assessment in November 2017 with the Deputy Headteacher being appointed Headteacher after the previous Headteacher was appointed Executive Head of two local schools. From the experience of this assessment it is clear that this has been an excellent choice with the school continuing to focus on ensuring the Harold Court Way is promoted to the exclusion of any stereotypical schemes or philosophies. It means that the curriculum developments are targeted at the needs of the children at Harold Court Primary School and hence the Leadership Team extrapolates the most appropriate strategies from any educational theories and uses them to further enhance the programme of study at the school. Obviously, there will be changes in emphasis with a new Headteacher, but the Assessor was reassured that the guiding principles that made this such a stand out school in terms of inclusion have and will continue. One comment from a senior member of staff reflects well on the newly appointed Headteacher who is very experienced and knows the school well,
'We don't take people at face value – we need a Headteacher who understands our children and their changing circumstances'.
Children are Fully Supported
Harold Court Primary School is a fully inclusive school. The Headteacher and the SLT ensure that all children are fully supported to achieve their full potential and they set the framework in which all the work in the school takes place. Children are valued as individuals within a caring atmosphere and there is a celebration of the cultures of all the school's pupils in order that they feel understood. Teachers and TAs know their pupils well and have an excellent rapport with their children. The role of the additional adults in supporting learning and supporting individual children cannot be underestimated. Attendance is a continual focus and a robust and consistent approach is in place to reduce persistent absences as well as increasing whole school attendance.
A Focus on Attendance
Currently, attendance has increased and met national averages. This is a key feature of the school's action plan for 2018/2019. The senior leadership team has a strong vision of inclusion and all staff have similar aspirations for children at the school. There is an excellent rapport between adults and children at the school. The 'meet and greet' at the school gate once again epitomised this rapport. A mixture of teaching and non-teaching staff at the school gate on a cold morning made parents and children welcome. They were also able to provide support where needed and this was reciprocated by smiling faces and grateful adults.
Best of British Week
A 'Best of British Week' this term was a great success. A whole corridor of linked displays gives a flavour of its content. Displays on British values, 'where do we belong?' focusing on the United Kingdom, Harold Court's Greatest Hits focusing on attendance, behaviour and expectations, Remembrance Day and links to the immediate environment with displays celebrating the House Captains, prefects and play leaders are all well executed and a balance between children's work and school and UK priorities. A display in the same corridor which emphasises the poverty in the world as a whole asks the question 'If the world were a village of 100 people?' It then starkly outlines how 67 would be nonreaders, how two thirds of women would not be able to read, only 1 would have a college education and how there would only be one teacher at the school. Children were able to articulate this quite readily in terms of how advantaged they are in comparison to other children in the world.
Strong Pupil Voice
Pupil Voice is one of the strengths of the school. The House Captains, Play Leaders and School Parliament provide a platform for children to take on responsibilities and feel that they are making a difference to their school. The Parliament has its own manifesto, participates in interviewing staff for jobs, shadows the Headteacher, Secretary, Governors and Assistant Headteacher. Members of the Parliament interviewed the candidates for the recent Headteacher appointment. At an interview with the Assessor they spoke maturely about their expectations of a new Headteacher, but realising that they are only a small, but vital part of that process. They spoke about their support for other pupils in the school, how important it is to take their roles seriously and what a crucial part they believe they play in running the school. One of the children spoke sincerely about it being a 'warm hearted school' and their maturity and eloquence reinforced that image to the Assessor. They recognise their responsibilities and articulate these roles maturely. They also have a very friendly way with staff which is reciprocated.
Extra-Curricular Activities
Sports Coaches continue to provide a wide range of activities before, during and after school. Two sports coaches will have been employed for two years in February 2019 working in school with a wide range of extra-curricular activities available to all children. A discussion at lunchtime with one of the coaches who was supervising a group of children playing football centred on how the coaches try to offer a range and diversity of sports to meet the needs of all pupils. They are also making every effort to maximise the use of the playing fields, school grounds and building during the evenings and during the holiday periods.
Play and Learning Opportunities
The KS1 and KS2 playgrounds and field are well planned to provide children with excellent play and learning opportunities particularly at lunchtime. The EYFS outdoor environment is well set out and provides an exciting, spacious learning environment in all weathers. There are also a number of rooms around the school used for small group activities. The home hub, the enterprise suite with a range of iPads and laptops, which are also available in class, and a cooking room are just some of the spaces available to enhance the curriculum. The KS1 and KS2 libraries have a wide range of books to engage all readers.
Rules and Expectations
The Harold Court Way outlines the rules and expectations of all pupils and, although there may be a very friendly atmosphere in school, this is all the result of careful consideration to the needs of the children and involving children in understanding the needs of others and of their environment. 'Moving forward together striving for excellence' is instilled in all children.
Inclusive Values
The Parent Teacher Association has raised an amazing £11,000 since its launch last year. It has moved forward under the leadership of a Chair who is committed to the inclusive values of the school and the need to integrate the range of families from within the community and to involve them in its activities. The governors also have moved on from their difficulties in initial recruitment of the Headteacher and now 'Work together as a team' and are looking forward to working with the newly appointed Headteacher.
The Learning Environment
The quality of display and the care and attention to the learning environment in general and the range and accessibility of resources ensure children have every opportunity to succeed. Displays have a consistency and balance between the celebration of children's work and a focus for learning both in classrooms and shared areas. They are of high quality.
RE Week
A RE week took place in the summer of 2018. On each of the days all year groups learnt an aspect of a different religion and children expressed their knowledge through art and writing. This was extremely successful and to embed RE week, the school intends to invite different religious groups to provide workshops for children and for children to have the opportunity to visit a range of religious places of worship. There would also be a drive to further develop children's experience with different cultures through inviting visitors to school including parents coming to school to talk about their culture. The school still has a language of the month which celebrates one of the languages spoken by the children in school.
Pupil Progress Meetings
Pupil progress meetings and half termly 'data drops' at subject level ensure that all children are reviewed and no child is allowed to slip back. The expectations of quality first teaching with 100% of teaching good or better and a monitoring programme which reinforces that expectation ensures children make consistent progress. The Assistant Headteacher and SENDCO supports teachers by providing good provision mapping and there is a regular review of interventions to ensure that they are appropriate. There is good liaison with TAs, HLTAs and other adults who are closely involved in the learning process. Interviews with the lead teacher for English and the lead teacher for maths reinforced the school's commitment to increase reading and maths at greater depth. Both members of staff spoke convincingly of the efforts that are being made to continually improve standards in their subjects.
Meeting Children's Needs
Harold Court Primary School is an example of a school committed to meet the needs of its children and is outstanding in its commitment to and implementation of inclusive practice.
Clear Commitment to Inclusion
The school continues to be well led by the newly appointed Headteacher who knows the school and its catchment. The SLT has a clear commitment to inclusion and supports staff well. All adults within the school subscribe to the enthusiasm for the inclusion agenda and staff are extremely well supported in all aspects of their work. Good progress has been made on all targets since the last assessment.
Find out more about the IQM Inclusive School Award
If your school is interested in obtaining the IQM Inclusive School Award or you wish to talk to a member of the IQM team please telephone:
028 7127 7857 (9.00 am to 5.00 pm)
or email: info@iqmaward.com for further details.
Want more information on the IQM Award? Click here to request your free IQM information pack.