Greenhill Academy in Oldham achieves Flagship School status for the second time.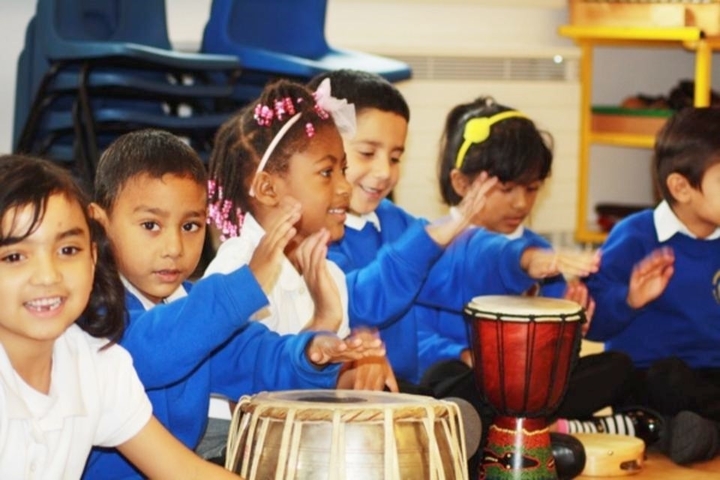 Friendly and Welcoming
Greenhill Academy is a friendly and welcoming learning community. There is a fully inclusive ethos that permeates the school which is evidenced through stunning displays in corridors and classrooms and through policy documents and discussions with staff and pupils.
Background
The school converted to Academy status in February 2014 and is the lead school in the Harmony Multi Academy Trust consisting of twelve schools in the Oldham and Derby Opportunity Areas. Greenhill Academy is a National Support School and has sustained excellence in attainment and educational opportunities over many years.
Context
Greenhill Academy is a larger than average primary school in an urban area which is extremely complex in terms of its context. Children who attend the school live in some of the most deprived wards in England and the proportion of pupils with SEND is very high. Over 90% of pupils have English as an additional language (EAL) and 72% of pupils are of Pakistani heritage, 25% are of Bangladeshi heritage and 3% of other nationalities; 98% of pupils follow the Islamic faith.
A Very Welcoming School
First impressions more often than not are accurate. The communication prior to my visit was excellent and the welcome upon arrival was warm and friendly, yet professional. There were lots of smiling faces and a feeling of genuine warmth. You are certainly made to feel very welcome in this highly inclusive school.
An Excellent Learning Environment
The school building and grounds are very well maintained and provide excellent accommodation for the pupils including those with physical disability. Corridors and classrooms are bright and are spaces where examples of the pupils' work are proudly displayed. The school also has a Multi-Use Games Area (MUGA) and a garden area. Movement around the school is well managed and the behaviour of pupils is exemplary be it in classrooms, corridors, play areas or the dining hall.
Working in Partnership with Parents
The school is rightly proud of its work with parents and the local community. All parents receive a weekly newsletter and use is made of social media to tweet about events at the school. The website is informative and easy to navigate. The school also uses Parent Mail to communicate with parents. Parents are invited into weekly celebration assemblies and to read with their children one day each week. The school library is also made available for parents to visit and read with their children. The school employs a Family Support Worker who liaises with parents and provides workshops for parents to help them support their child's learning at home. The school also holds a Parent Forum each term at which the Executive Principal, Head of Academy, Parental Involvement Lead and the Trust CEO attend.
Supporting EAL Learners
The school uses Communication in Print to support its EAL learners and International New Arrivals (INA). This has now been established after a successful implementation a few years ago. Further developments over the past year have seen the introduction of Word Aware which has come about from the work of a senior leader who has been conducting an EAL project looking to 'Develop and consolidate a whole school approach to scaffolding language with a focus on language structures and word awareness.' A full evaluation is due to take place in January, however, interim assessments show positive impact.
Broadening Experiences and Aspirations
There is a good range of co-curriculum activities and experiences available to all pupils and this year, the school, along with the other schools in the trust, has implemented the Harmony Trust Pledge which consists of 10 points: be safe, be healthy and happy; be a fundraiser; be a performer; be an eco-warrior; be respectful; be a volunteer; be democratic; be an adventurer; be an expert learner; be workwise. The aim is to broaden experiences and aspirations so that pupils will become "…lifelong learner(s) where you can always BELIEVE, ACHIEVE and SUCCEED no matter what you choose to do in later life."
Robust Assessment and Tracking Systems
Assessment and tracking systems are robust and thorough and they are used to inform teaching. Teachers use these internal tracking systems to identify and support pupils who start to fall behind. Of course, the systems merely provide the information whereas, it is the quality of the teaching and support that makes the difference. Teachers and teaching assistants have high expectations of themselves and the pupils and consequently pupils make very good progress. Additional funding such as Pupil Premium and Sports Funding are used effectively and also help to boost progress.
IQM Cluster Group
Staff from the school actively engage with their IQM cluster and during the past year they have attended all their cluster meetings and attended an additional meeting at another cluster. They intend to host a cluster meeting this year with a likely focus on their Flagship project and the implementation of Word Aware.
Exceptional Features
Exceptional features of this school include the overall ethos of including and supporting all children and their families; the excellent behaviour and positive attitudes of pupils, their awareness of the individual needs of others and the excellent teamwork and reflective practice of teaching and support staff.
Find out more about the IQM Inclusive School Award
If your school is interested in obtaining the IQM Inclusive School Award or you wish to talk to a member of the IQM team please telephone:
028 7127 7857 (9.00 am to 5.00 pm)
or email: info@iqmaward.com for further details.
Want more information on the IQM Award? Click here to request your free IQM information pack.