Granard Primary in Wandsworth has been assessed for and achieved the national award for inclusion.

Educational Gold
Granard School is a busy metropolis of people, children, families and buildings that sits in the middle of a housing estate and despite its identity and size, could be missed in amongst everything else that surrounds it. It is a tucked away between roads, houses and flats and yet to find it is to find educational gold, as Granard School offers many riches in the form of multi-culturalism, community and inclusion.
One Community
The school is as large as it is diverse, 520 children spread across several buildings and made up of a wide range of ethnic backgrounds, including British White, Pakistani and Black Somali. All of this makes for an exciting melting pot of a myriad of backgrounds, perspectives and circumstance, what Granard does is to take all of these threads and bind them together as one community. There is a tangible and genuine sense of togetherness in the school, from staff sharing in a similar philosophy to the children feeling that they can have a real input and influence on their school and their future. Indeed, the school suggested in its comprehensive self-evaluation report that Granard is "more than teachers and children; we are the inclusive hub for local families and the local area." Nothing embodied this more than watching the school come to life in the morning, as parents and families teemed around the buildings, children skipped happily in through the gates and a range of user groups from pupils-on-roll to babies and toddlers accessing a "Free to Move" session came together in the spirit of learning and of community cohesion. Inclusion is an ideal lived and breathed by this school and to witness it is a humbling experience.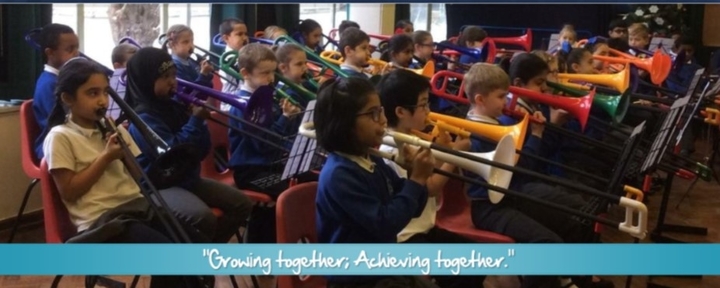 Emotional Impact of the School
In one class, a young boy had been tasked with writing about a topic that "made his blood boil." Beside the fact that his writing was technically proficient and included some very mature language and vocabulary, his chosen theme of not wanting to move house anymore was emotive and emotionally charged. It was a moment in the IQM assessment that perfectly illustrated not just the social mobility of the school population, but also the emotional impact of that on the learners who make up the school community. This is what Granard deals with and it does not shy away from doing so.
An Inclusive School
From the moment one arrives at Granard, it is clear that you are entering an inclusive school. From the warm greeting at the main reception desk to the immediate "family feel" that is sensed as you come through the doors, Granard shouts "WELCOME." It is an outward facing school that embraces visitors, visits and partnerships. As one school governor said, "we do not exist within a bubble – you can't be inclusive if it's just about you."
Strong Inclusive Practice
There are many examples of strong inclusive practice in the school, which include, but are by no means limited to:-
– High levels of enjoyment and engagement of the children as learners.
– Embedded practice in phonics and reading which is having a high impact on children's learning.
– Involvement and engagement of parents in the daily life of the school.
– Strategic and operational excellence in inclusive practice, from governorship (Children and Families Committee) to clear safeguarding leads: from a team of highly effective SENCOs, to phase leaders; from clear philosophical beliefs and values in staff to good quality teaching in the classrooms.
– "MiniPru" provision in the Learning Support Unit which caters appropriately for children who need to access the curriculum in a different way.
– A strong, cohesive and valued staff team with a good attitude for developing their practice.
– The inclusive feel and ethos that permeates the school – a real "family" feel. The staff know the children and readily share and celebrate their successes.
The School Council Zings with Enthusiasm
Pupils and parents are proud of their school. The school council is a large group that reflects the diverse range of cultures and abilities of the pupil population, but it is a group that zings with enthusiasm and a desire to grow and promote the school. The group of parents who met with the IQM assessor were incredibly supportive of the school and felt that so many inclusive aspects – such as communication, relationships and provision – were "exceptional."
Extremely Thorough Documentation
The Inclusion Quality Mark Co-Ordinator, Monika Zielinska-Pietruszka, has been instrumental in co-ordinating the IQM self-audit process and must be praised for the professional way in which she has led on this programme throughout the school. The documentation was extremely thorough and articulated the school's inclusion journey accurately, fairly and clearly. The assessment days were well planned and well managed, a further example, should it have been required, of the diligent and professional approach that Monika brings.
Find out more about the IQM Inclusive School Award
If your school is interested in obtaining the IQM Inclusive School Award or you wish to talk to a member of the IQM team please telephone:
028 7127 7857 (9.00 am to 5.00 pm)
or email: info@inclusionmark.co.uk for further details.
Want more information on the IQM Award? Click here to request your free IQM information pack.