Gothic Mede Academy, Arlesey in Bedfordshire, part of BEST Academies Trust, achieves the Inclusion Quality Mark's Inclusive School Award with Centre of Excellence status.

Context
Gothic Mede Academy is part of the Bedfordshire Schools Trust (BEST), which consists of two nurseries and nine schools, cumulatively providing all through 0-19 education for children in local communities. Gothic Mede Academy is a larger than average lower school, with 12 classes of children aged 3-9, caring for 331 pupils at the time of assessment. The school is located at the centre of an ancient parish of Arlesey in Central Bedfordshire. Many children who attend Gothic Mede Academy, live in the village, and walk to school. Arlesey has a diverse population, which includes socially and economically deprived families and two traveller sites.
Superb Facilities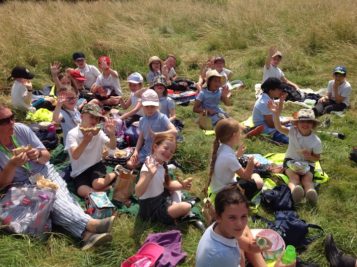 The school is a two-form mixed gender lower school provision serving predominantly white local community, with a small number of pupils from ethnic groups. Gothic Mede Academy building is all on one level so is entirely accessible (this is especially important as there is one pupil in a wheelchair) and there are outside grounds including a playground with several quads and a large field in the vicinity. The field which belongs to the school but is separated from the main site by a public footpath is used regularly for sport and outdoor learning. All classes are smaller than average; they all have direct access to outside areas, which are utilised as a learning space when appropriate. Classrooms are tidy and well organised, helping to promote a calm atmosphere, with interactive and informative displays evidencing the learning and reflecting the ethos of the school. Pride is this year's value for the school, and it was visible and documented in each classroom. The pupils were engaged in work that helped them to understand the meaning of this abstract concept. Thus, the school provides plenty of opportunities through its meaningful curriculum and activities to develop in children an understanding and appreciation of the values they stand for and are guided by. Gothic Mede Academy has a very well equipped, well-designed wet room and a recently added library; it has an ICT suite and a music room. In two years time, the school is hoping to relocate to newly built premises that would provide, in the words of the Leaders, further opportunities for creating an inclusive learning environment that will serve the school's population's needs and reflect its values.
Welcoming Environment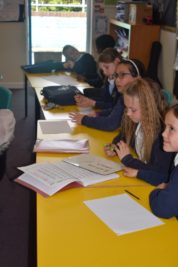 Gothic Mede Academy is committed to deliver on its ethos and values which are ingrained into the fabric of the school; inclusion permeates every aspect of this vibrant learning community. This commitment was evident at the outset of the assessor's visit during an informal observation of parents and children arriving at school and continued through the rest of the day in professional meetings and conversations. Visitors are warmly welcomed by all the staff and children and there is a happy and productive feel to the school with an atmosphere of energy and positivity.
Enthusiastic Engaged Children
The children are enthusiastic and enjoy their school; they value and praise their teachers and adults who work with them. In the meeting with the IQM Assessor, the children stated that:
"I had my say"
it is
"a learning school"
and
"We have fun and interesting learning takes place."
The pupils spoke confidently about their work and opportunities to extend learning beyond structured lessons. They also were keen to engage in discussion about the ways they learn and how the school celebrates them as individuals. This is clearly a place for children to develop their personality, learn about how to conduct themselves in a range of situations knowing that they are safe and cared for by all professionals. This awareness of feeling safe and accepting the necessary boundaries when learning and playing came across strongly in observations during the assessment day.
Place to Thrive
The school Leadership and staff form a strong team, united in their desire to create a happy and safe place for children to thrive; they know about the area they serve and believe that every child in the school should have opportunities to learn, experience a rich curriculum and feel included. The school was graded "good" in its last Ofsted inspection (June 2017) and staff have worked hard to develop their practices under the Leadership of the Principal and his Senior Leadership Team. Together they all work tirelessly to continually drive the school forward and to overcome difficulties that the pandemic posed to all stakeholders. This was evident from the discussions with the Principal, SENCO with IQM Lead responsibility, two SLT and the Chair of Governors, and confirmed by subsequent conversations with members of staff. Further evidence was seen during the school tour where a newly developed area was pointed out to me, and the Leaders explained how the space was utilised to accommodate interventions and peripatetic music lessons without disruption to structured group lessons.
Excellent SEND Provision
There are clear structures and procedures in place at the Gothic Mede Academy and the Principal is ably supported by the SENCO, who plays a pivotal role in ensuring that pupils with SEND and additional social, emotional, and other needs are provided for. Her knowledge and understanding of the needs of SEND and vulnerable pupils is exceptional, as is her relentless pursuit of inclusion funding to address emerging issues like a child being at risk of exclusion or having specific barriers to learning like a speech disorder.
Challenge Brings Growth
The school is proactive in supporting families who struggle financially or have problems that disadvantage children when at home. For these reasons and others, a significant number of pupils were in school during the lockdowns and all teachers taught full time. Though the pandemic restrictions brought some difficulties, the school recognised that there were unexpected benefits for SEND pupils too. Having found themselves in smaller classes, those pupils gained in confidence. Quiet children opened up when accessing mental health parts of the curriculum. These experiences were noted and discussed, and effective strategies, methods and resources have been retained for the future. All SEND pupils within the provision are integrated with the rest of the pupils, which impacts positively on their wellbeing and teaches other pupils' tolerance and acceptance of differences and individuality as described in the school's ethos and values. This means that all pupils are catered for, they become confident and enjoy learning and being together.
Well-Being Focus
There is a collaborative feel at the Gothic Mede Academy with everyone contributing to the vision and strategic planning for the smooth running of the school and to secure its successful future. Leaders communicate clearly and openly with staff and care for wellbeing of all, including themselves. There is regular two weekly, or as often as necessary, check-ins for members of staff with their line managers and SLT are offered supervision too. This degree of support helped the team to overcome difficulties caused by the pandemic, at work and at home. Staff were extremely praiseworthy of the Leadership and appreciated the genuine support offered: "we could say when we felt unwell, and it was accepted without a judgement." This caring attitude contributed to the high staff morale that was so obvious in how they interacted and related with each other and treated children and responded to visitors.
Fostering Resilience
The Principal and SLT have reflective skills that guide them in their Leadership, wanting the best outcomes for all pupils and staff, whatever their individual needs and stage of development or professional destination. It was a pleasure to meet with Leaders and witness their hard work and determination combined with a sense of purpose; they demonstrated resilience, resourcefulness and research informed knowledge about educational matters that sets them on the road to achieve further improvements and raise standards for all. Though working in a demanding and dynamic environment, they demonstrated a profound professional demeanour, with a touch of humour that staff and children related to very well and appreciated.
Find out more about the IQM Inclusive School Award
If your school is interested in obtaining the IQM Inclusive School Award or you wish to talk to a member of the IQM team please telephone:
028 7127 7857 (9.00 am to 5.00 pm)

or email: info@iqmaward.com for further details.
Want more information on the IQM Award? Click here to request your free IQM information pack