Garlinge Primary School and Nursery in Margate has achieved IQM Centre of Excellence status.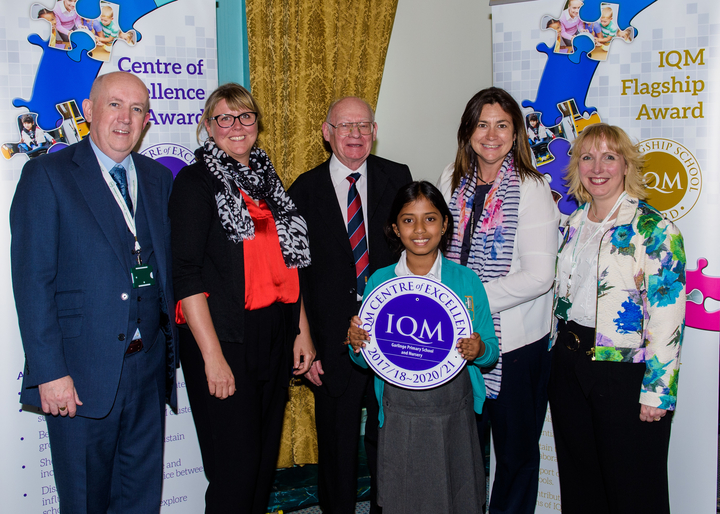 Inclusion is Central
Garlinge Primary School has Inclusion at its heart and Inclusion in its heart!
Making a Difference
Garlinge Primary School and Nursery believes that their school makes a difference to the pupils and their community, and it does! Through the dedication of the Leadership, staff team, Governors, and other specialist staff, Garlinge succeeds in providing an 'Inclusive' learning environment where everyone, pupils and staff, are helped to succeed.
Opportunities to Learn
The Head Teacher and Inclusion Team are passionate about the area they serve and believe that every child in the school should have opportunities to learn and feel included. The Senior Leadership Team, SENCo, staff and governors share this aim and work together to ensure that the school is "A place for everyone to succeed and thrive with inclusion at its heart".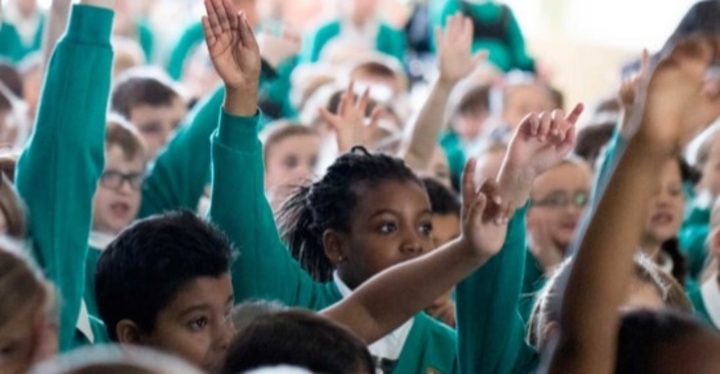 A Diverse Population
Garlinge Primary School and Nursery is a very large primary school, that is bigger than some of the local secondary schools. The school has a diverse population of pupils, from a wide range of backgrounds, with a high number of the children in receipt of Pupil Premium. As well as this, there is a larger than average number of children with Special Educational Needs and Disabilities. This all has an impact on the class and school environment, but Garlinge has high aspirations and commitment to helping all their children progress, creating an inclusive school for all.
Very Well Resourced
The school is very well resourced, which includes outdoor space, ICT equipment and specialised staff, and these are used to their greatest effect. Garlinge has an 'Open Door' policy and provides support for parents. This was reinforced by the parents that I met, who were very grateful for the support they received from the school.
Staff Value Learning
Staff at the school value learning and are supported by the Head Teacher to develop their own skills. Garlinge is an SRP for the PI and a is working closely with the Specialist Teaching and Learning team to develop outreach and training from within the school.
Truly Inclusive for Children with Physical Needs
The specialist teachers that I spoke to praise the team at Garlinge for their commitment to supporting children with PI and confirmed that the school is truly inclusive for children with physical needs. The school utilises a number of other specialist staff from the Local Authority that support teachers and TAs to assess and provide intervention and support for its pupils, so that they can succeed in their learning. These include the EP service and Speech and Language therapists as well as support from a special school in the local area. There is a real team effort, and together with the school they work hard to support the children and the teachers to improve outcomes for these groups of children.
Governors Support Effectively
Governors support the school effectively and are knowledgeable about the strategic plan for the school. They understand their role and use this to drive and hold staff accountable for the progression of the pupils at all levels. They are a dedicated team who know the school and community well. They work closely with a group of local schools known as GELA – Greater Enterprise Learning Alliance. The Governors explained that this group of schools had worked closely together and are building a Co-Operative Governing Body. The schools involved in the co-operative also share training and expertise.
A Very Comprehensive Audit Document
The IQM Co-ordinator produced a very comprehensive Self Evaluation Report with the support of the staff and provided a selection of documentary evidence to support all elements of the IQM Report. Along with Deputy Head, who has overall responsibility for inclusion, these two members of staff have a real enthusiasm for the school, pupils, parents and staff which means the school's provision for SEND is a high priority and they are dedicated to providing an environment where everyone is able to achieve and where progress is a high priority.
Sources of Evidence
I was also able to verify the information contained in the report during my visit through interviews that had been arranged. Meetings were organised with: –
 The Head Teacher/Deputy Head for Inclusion/SLT.
 IQM Coordinator/SENCo.
 Class Teachers, Learning Mentors and Teaching Assistants.
 Governors.
 Specialist staff working with or in the school, i.e. the Specialist Teachers for Physical Needs.
 Parents.
 Pupils of the School Council, Head Boys and Head Girls
I was also able to go on learning walks and have lunch with the staff and children and watch some of the inclusive sports day.
Pupils are a Real Credit
The pupils are a real credit to the school. They confidently speak about their school and what it does to help them feel included and valued, as well as how they learn. They are proud of the school and what it offers them as pupils. As a result of how pupils are treated at school, they in return, support each other and value the differences they have.
Helping All Children to Make Progress
During the learning walks I was able to see how strategies had been put in place to help all children to make progress in their learning including those in the most vulnerable groups, and children with disabilities. Classroom displays and resources were used to support learning and teachers used a variety of teaching methods and strategies. Interventions and planned adult support were used to develop and enhance children's learning from their individual starting points. This allowed for progress to be made. The school ensures that as much learning takes place in the classrooms as possible and that all children are taught as part of first quality teaching. This does not mean that groups or interventions do not take place. On my tour of the school I was able to see a very effective Nurture style group in progress, that was with a small group of pupils.
Behaviour for Learning
The behaviour in classes was very good and demonstrated behaviour for learning. The children were engaged in the activities they were doing and understood what they were learning. Children with additional needs are planned for using a number of strategies and interventions, where appropriate.
Highly Regarded by Parents
The school was highly regarded by the parents that I met, they were grateful and spoke confidently about the levels of support their families had received from it. They felt that the school understood what they, and their children, needed and was able to approach the staff whenever they needed to. I was able to witness this for myself, when, on the tour around school first thing in the morning priority was given to the parents and children's wellbeing.
Welcoming, Friendly and Open Atmosphere
I would like to thank all of the staff, governors, parents and children for their welcoming, friendly and open atmosphere, which made my visit so very enjoyable.
Well-done Garlinge Primary School!
Find out more about the IQM Inclusive School Award
If your school is interested in obtaining the IQM Inclusive School Award or you wish to talk to a member of the IQM team please telephone:
028 7127 7857 (9.00 am to 5.00 pm)
or email: info@inclusionmark.co.uk for further details.
Want more information on the IQM Award? Click here to request your free IQM information pack.