Footsteps School in the Cayman Islands has achieved the Inclusive School Award.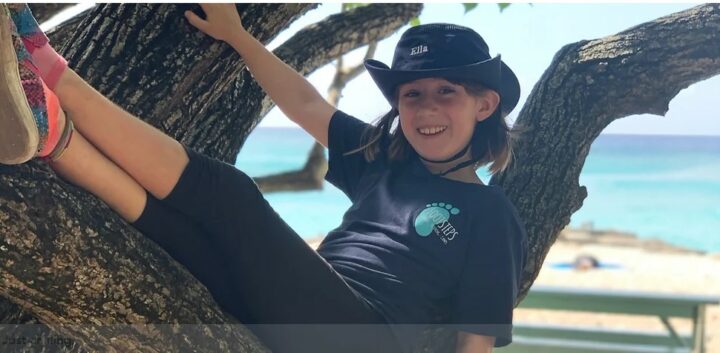 Context
Footsteps Cayman School opened in September 2020 having been through an extensive renovation process. The School follows the UK National Curriculum and is located in central George Town. There are currently 79 pupils on roll and 30 pupils with a variety of special educational needs. 30% of the pupil population is Caymanian. Non-Caymanian pupils come from the USA, UK, Mexico, Canada, Ireland, Jamacia, Australia, Romania and Brazil. The school is well-resourced in terms of staffing with 14 (full-time and part-time staff) and 7 support/administrative staff.
A Welcoming School
Footsteps is a very welcoming and warm, friendly school and this is apparent from the outset. There is a calm, happy, purposeful atmosphere and the environment is bright and very positive throughout the School with beautiful displays in the corridors and classrooms. The building consists of classrooms for each of the classes as well as two libraries, a studio and a dining room.
Learning Through Play
The School has an outside garden equipped with artificial grass and a small woodland area. There is a concrete area for ball games and ample shade to protect the pupils from the sun. The outdoor areas are very much an extension of the indoors and pupils are encouraged to continue their learning through play whilst in the garden. There are two other smaller garden areas that are used for the pupils to plant a variety of herbs, vegetables and flowers to support their learning of nature and their environment.
Promoting Respect
The staff have created a safe, stimulating and supportive atmosphere where pupils can love life, learning and play. There is a clear ethos at Footsteps which has a focus on 'nurture through nature' where pupils explore their natural environment through their regular visits to the local beaches. It enables pupils to make deep and meaningful connections to the wider world. The School's inclusive model promotes respect for the community and its environment.
Committed To Succeed
School leaders at all levels set the tone for the supportive, caring, inclusive framework. They are committed to helping every pupil succeed, whatever their background or ability. They collectively lead by positive example with very high ambitions for their pupils and believe all pupils can succeed while ensuring all aspects of inclusion and pupils' individual needs are focused on.
The Caymanian Culture
Footsteps School has a child-centred focus on education with a curriculum that inspires, motivates and empowers the pupils to develop into resilient, independent and confident learners. The curriculum is culturally relevant and incorporates many facets of the Caymanian culture. This contributes to the richness of the curriculum. It was clear that the school's core values are fully embedded in the heart of the school: 'Ambition, Belonging, Commitment' (ABC).
Pupils Are Supported
The pupils at Footsteps School are fortunate to belong to such a highly inclusive school. They are happy, respected and valued by all the staff. The Leadership Team and all staff share an inclusive ethos that pervades throughout the school. The pupils are strongly supported in all areas of the curriculum by passionate and dedicated staff led by strong leaders who share a determination that all stakeholders should be listened to and work relentlessly to provide equality of learning opportunities for all pupils in school regardless of gender, race, age, or disability.
Passionate Leaders
The dedicated LSAs are passionate about the School and felt proud to work at Footsteps. They are a highly skilled team that know the pupils, supports them well and are in tune with their needs and responds to those learning needs in a timely and well-managed way. One LSA said,
"This school is really special and there is an inclusive ethos that lives and breathes in every corner of the school. We have the children's best interests at the forefront of everything we do so that we can make every child shine!"
Communication Is Excellent
Parents feel that they are listened to, and the school has fostered a real partnership ensuring both parties share the process of educating their children. Parents commented that communication between home and school is excellent. If parents have any concerns, they are confident staff will take them seriously and act immediately. One parent spoke eloquently about the progress her son had made at the School and appreciated the support given by the very approachable staff. She stated,
"this is a great school and the staff provide fantastic support. It is fully inclusive and the school leaders are very hands-on and really approachable. Nothing is ever too much trouble for them."
Another parent said
"everyone at Footsteps goes above and beyond to make sure the children are included and valued despite any special needs they may have."
Pupils Are Proud
Pupils felt that they were supported appropriately in the lessons and that their teachers and teaching assistants had high expectations of them with differentiated challenges. As a result of the planning of the curriculum and an inviting environment, pupils' attitudes across the school were very positive. The pupils were extremely respectful of each other, happy, polite, articulate, friendly and enthusiastic. They spoke very highly of their school and its staff and they know they are listened to and cared for. One child said,
"I love this school because every day is an adventure!"
Pupils are rightly proud of their school and enjoy the opportunities provided for them.
A Family Feel
School leaders are mindful of staff work-life balance and there are appropriate strategies in place to ensure that all members of the School Team have opportunities to express any concerns or worries together with being linked with a well-being buddy. Teachers appreciate that leaders have an open-door policy and there is a 'family' feel to the School where everyone feels confident to ask for help and support. There is a real culture of knowledge sharing and respect for each other's skills within the whole school team. Exceptional features of this School include the very strong, collaborative leadership leading to an excellent staff team. This is coupled with exemplary pupil behaviour and attitudes together with excellent teaching and learning, high aspirations and expectations for all pupils within an inclusive framework.
Find out more about the IQM Inclusive School Award
If your school is interested in obtaining the IQM Inclusive School Award or you wish to talk to a member of the IQM team please telephone:
028 7127 7857 (9.00 am to 5.00 pm)
or email: info@iqmaward.com for further details.
Want more information on the IQM Award? Click here to request your free IQM information pack