Finham Park School, Coventry, part of the Finham Park Multi Academy Trust, has achieved the Inclusive School Award with Centre of Excellence status.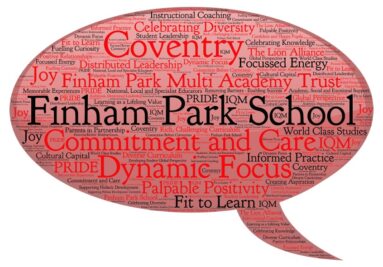 Introducing Finham Park School
Leadership of Finham Park has recently invested heavily in developing its Inclusion Agenda and Provision with commitment and care, thus creating an ethos of respect, opportunity, support, and achievement for all. The Vice Chair of the Governing Body, who has had connections with the school since 2009, remarked on the journey she has witnessed and 'the buzz' evident in the increased diversity of the cohort and the provision available in attempts to address the broader education of individual young people and to acknowledge and celebrate diversity. Students of all ages and abilities agreed that the 'togetherness' of Finham Park is extremely positive in promoting wellbeing and learning, that
'teachers genuinely care about individuals'
and that 'teaching is well targeted to students 'needs' as 'teachers use lots of different ways to help people understand'. Consequently, there is a strong sense of the school living its values in an environment where all stakeholders feel unique, respected, valued, and consulted with.
Dynamic Focus
The sense of positivity at Finham Park is almost palpable. Energy is overt, yet focussed, and drives an ongoing desire to constantly review and develop practice pastorally, to ensure that students are 'fit to learn' and can, therefore, access an ongoing evolving, broad and deep curriculum offer, which is delivered using an increasing range of pedagogical techniques.
Strategic Approach to Delivery
A redesigned Senior Leadership Team has facilitated distributed leadership and systems and structures, enabling a rigorous strategic approach to identifying and addressing the needs of students and to review impact in order to inform practice. This is underpinned by a commitment to developing the quality of teaching by ensuring that educators have a wide range of techniques in their 'pedagogical toolboxes.' Hence, Finham Park has introduced a programme of instructional coaching, rooted in educational research, in order to improve learning for all. As the founder of The Lion Alliance, comprising a group of skilled, experienced, and expert National, Local and Specialist Leaders in Education, Finham Park is able to draw upon high quality CPD and support for all staff. This is in addition to the co-constructive approach taken to developing practice within the Multi Academy Trust, including schools with different social and economic demographic to that of Finham Park.
Word Class Studies
A key strength of the school is its rich, challenging curriculum which is continuously being developed and adapted to meet the needs of all students. The school has successfully created a culture of celebrating knowledge and learning as having a lifelong value, in addition to creating more personal pathways to apprenticeships and universities. A formal, timetabled curriculum enhancement programme, based on 'World Class Studies' ensures that students gain basic knowledge and experience of a wide range of subjects, in addition to those studied at examination level. This builds cultural capital, whilst fostering curiosity, appreciation and understanding of knowledge, skills, and various cultures. Leadership is looking to further expand the diversity of curriculum content in learning journeys, subject by subject, as well as matching topics within a cross curricular framework, to help consolidate and enhance students' understanding, in its action planning for further development.
Cultural Capital
Enrichment and extension activities provide opportunities for students to have 'the time of their lives.' Students and parents reported on the range of experiences which they have been able to access. Despite limitations imposed during the pandemic restrictions of the last two years, the school has been quick to plan for the reintroduction of activities and trips. Funding allocated for 'Memorable Experiences' ensures that no child is financially excluded.
High Quality Support
Finham Park's successful embedding of WAGOLL (What A Good One Looks Like) practice for all stakeholders facilitates frequent sharing of teaching and learning strategies and general good, broader educational practice. This encourages ongoing refinement of pedagogy in striving to meet the needs of all students and promote achievement. The school's use of 'Google Classroom' prior to lockdowns, enabled online teaching to take place as soon as possible. Staff and students were familiar with the practice and the school has continued to develop a blended approach to learning which supports students of all abilities and backgrounds. Consequently, students enjoy learning and continue to make good progress. A 'glass ceiling' is put on no-one as described to me by Year 12 Student Leaders, one of whom, from a non-White British, PP background, when asked what her plans were Post 18, was justifiably proud to tell me that she intends to apply to Imperial College, London to study Aerospace Engineering. Another student expressed his appreciation for how well he has been encouraged and supported in his wish to apply to Oxbridge. Meetings with students identified as having SEND were equally positive as they explained that they feel very well supported academically, socially, and emotionally, both in the Personal Learning Centre and in main classrooms and are positively enabled and encouraged to play a full and equal part in student leadership opportunities, in addition to all other aspects of school life. Commitment to high quality support of appropriate transition pathways for all individuals is demonstrated by Finham Park's work in developing strong external links in order that students can embark upon prestigious and high-quality Apprenticeship programmes at the end of KS4 and KS5.
Removing Barriers – Enabling Success
The progress of students is clearly monitored using a range of formative and summative methods to identify gaps in learning and implement appropriate interventions. Pastoral, academic, and integrated structures are in place to ensure that the wellbeing and learning of students are regularly reviewed to identify and address any potential barriers to the progress of individuals or identifiable cohorts. Leadership is continuing to develop robust approaches to ensuring that the progress of less able students is carefully monitored and well supported in all mixed ability groups.
Positive Relationships
Engagement, mutual respect, personal responsibility, and positive relationships facilitate good behaviour for learning at Finham Park. The atmosphere is calm and purposeful. A culture of 'connection before correction' has been established and staff understand that engagement of students and a mutually respectful relationship with each individual student are important in maximising learning. This is underpinned with a clear and comprehensive Rewards and Sanctions Policy, which is appreciated and understood by students.
Supporting Holistic Development
The school fosters the personal development of all students via its full and discrete PSHSRE curriculum, assemblies, and the wealth of opportunities to practice leadership, to work with outside agencies and institutions and to have a voice in the development of Finham Park. There is a comprehensive and integrated approach to promoting and supporting the holistic development of students, according to their personal needs, experience, interests, talents and aspirations and all stakeholders spoken with understood their roles in 'developing the whole child.' The example of the establishment of a school 'PRIDE' group for students is testament to Finham Park's commitment to promoting support and a voice for all students, including those identifying as LGBTQ+. Presentations to staff and governors by some of those students involved are driving understanding of issues and inclusivity, thus informing further developments for the whole school and across the Multi-Academy Trust.
Parents in Partnership
Parents with whom I met could not speak more highly of the support they and their children had received from staff at Finham Park. There was agreement that communication with parents in order to genuinely work in partnership with them in the best interest of the child is excellent. There was much appreciation for the manner in which both practical and pedagogical adjustments are made to provide access to a full curriculum and include their children in all aspects of school life. Engagement with parents begins before children start at Finham Park in order that transition can be as smooth and comfortable as possible. They feel well consulted and stated that response is swift whenever they contact the school. Another parent endorsed that
'staff are exceptionally good at listening, and they always follow up with action. Nothing is ever too much.'
All spoke of how confident and happy their children have become. Parental surveys are generally positive, confirming that they feel involved in their children's school and also have trust that it is doing its very best for all students.
Global Perspective
As an accredited 'World Class School' Finham Park students have access to a wealth of opportunities to engage with groups and organisations. Although there have been some restrictions during the pandemic, every effort has been made to maintain and rekindle links as much as possible. These enrich the classroom curriculum, provide specialist professional expertise, create aspiration, develop students' global perspective, support personal development and employment skills whilst fuelling curiosity and enriching and enhancing the holistic educational experience for all.
Stakeholder Satisfaction
As a consequence of all the above, it is not surprising that there is an inherent 'joy' in all stakeholders at Finham Park School and that it is oversubscribed. Students cannot help but be inspired by and engaged in their formal and informal learning experiences. They feel secure, supported in their learning, and appreciate the opportunities provided for them to have fun! This is driven and underpinned by the humble, ambitious, determined approach of leadership to ensuring that its inclusion agenda continues to evolve through careful review of its own systems and structures and an ongoing desire to learn from others. Senior Staff are aware of actions they wish to take in further developing inclusive practice.
Find out more about the IQM Inclusive School Award
If your school is interested in obtaining the IQM Inclusive School Award or you wish to talk to a member of the IQM team please telephone:
028 7127 7857 (9.00 am to 5.00 pm)

or email: info@iqmaward.com for further details.
Want more information on the IQM Award? Click here to request your free IQM information pack