Fairchildes Primary School in Croydon achieves Flagship status for the third time.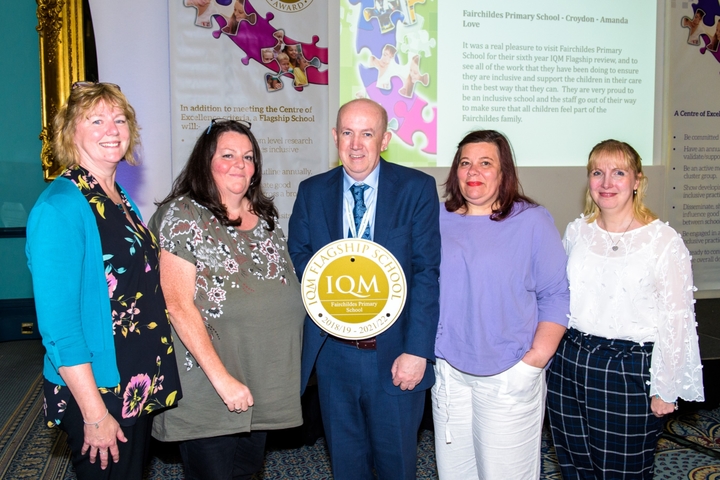 Proud to be an Inclusive School
It was a real pleasure to visit Fairchildes Primary School for their sixth year IQM Flagship review, and to see all of the work that they have been doing to ensure they are inclusive, and support the children in their care in the best way that they can. They are very proud to be an inclusive school and the staff go out of their way to make sure that all children feel part of the Fairchildes' family.
Sources of Evidence
The school achieved Flagship status in 2013 and since their last review in May 2018, the school has continued to build on their inclusive practices through their Flagship targets. During my visit I was able to talk to a number of members of staff and different groups of children, as well as taking a guided tour of the school and its grounds. I was able to confirm the impact of the school's IQM targets that had been accurately set out in the Flagship Review document.
Passionate about Inclusion
During my visit it was clear to see that the staff were passionate about their school and its inclusive practices. The children were articulate and spoke very highly of the opportunities that they had been given by their teachers and what it meant to them. One of the Year 6 children that I spoke to said that without the support of the school, and the programmes they were able to offer her and her family, she would not have been able to go to the secondary school that she wanted, so that she could fulfil her potential. This is what Fairchildes offers; a chance for everyone to fulfil their potential!
Dedicated Staff
As well as being able to observe their inclusive practices, I am always glad to hear music of various kinds, floating through the corridors in the school, from keyboard lessons to singing and steel drums. Fairchildes offers its pupils a lot of extracurricular activities and all pupils can take part in music, P.E and creative arts activities, as well as learning how to grow fruit and vegetables in the school's edible garden. These activities need to be celebrated and staff praised for their dedication.
IQM Cluster
Through my discussions with the school about the progress made since the last IQM Flagship review and their plans for the future, I am of the opinion that Fairchildes Primary School should continue to hold Flagship status and be reviewed again in one year's time. The next review will look closely at how the school has interacted with its Inclusion Cluster group and promoted continuing outreach and in class research. Evidence of Cluster working will underpin the capacity for the school to maintain its Flagship status.
Find out more about the IQM Inclusive School Award
If your school is interested in obtaining the IQM Inclusive School Award or you wish to talk to a member of the IQM team please telephone:
028 7127 7857 (9.00 am to 5.00 pm)
or email: info@iqmaward.com for further details.
Want more information on the IQM Award? Click here to request your free IQM information pack.