Eldon Primary School, Preston in Lancashire, achieves Flagship School status for the second time.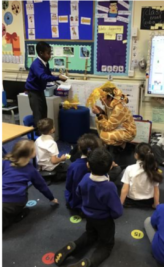 Welcome, Comfortable, Safe and Valued
Eldon Primary School is an inspiration to anyone joining the school or visiting. They have this year celebrated their '135th anniversary of serving their community.' They refer to themselves as being a 'special place', one that ensures all members of their community feel welcome, comfortable, safe, and valued. A place where they can take part in every aspect of school life being supported, challenged, and enthused.
It is an 'exceptional school' that, having gained an impressive reputation year on year, is now enjoying being recognised by outside agencies being nominated and winning a large number of local, regional and national awards. This demonstrates how well it has, and continues to, serve its community and during the current pandemic it is evident that this has not stopped them, they have carried on impressively with 'business as usual.'
Involving Everyone
When faced with difficulties or sudden changes in guidance the creative team have been innovative in finding ways to get around them and carry on. Helping to support their 135th Birthday, it was impressive how the Nursery pupils taught the whole school to sign along to an amazing song, totally involving everyone.
Passion and Determination
As you are encouraged and welcomed to delve further into their work you instantly become aware of the strong inclusive ethos within the school and that there is a huge 'PRIDE' in belonging. There is a passion and determination from the adults to work as one team, totally inclusive and nurturing, so that they develop pupils who have a lifelong love of learning. This means that equality and diversity for all is at the heart of everyday life at Eldon and cascades out into the community. Staff, regularly encourage parents and children to have high aspirations and facilitate learning to ensure that they have access to opportunities to reach their fullest potential developing learning, social and life skills. Aspiring to this, they place an emphasis on all becoming confident, independent learners, who are aware of their own mental health and wellbeing needs and therefore well prepared for life in an ever-changing world.
Broad and Meaningful Learning Journey
'Eldon Expects the Best' and pupils attending the school develop a love of learning experiencing a broad and meaningful learning journey that celebrates their individuality, with challenge that inspires them to be very best that they can be. Stakeholders are rightly proud of the cultural and linguistic diversity the school community enjoys. There are currently over 20 languages spoken within the school, and this is actively celebrated. The assessor during the visit was shown a clip of a well-known book being read by the children, using every language currently used within the school. It was created to celebrate 'Mother Tongue Day 2021' and a delight to watch, bringing a tear to the eye, as the pupils were obviously delighted and proud to contribute in their mother tongue.
Staff Morale is High
Staff morale is high, and teachers feel well supported, regardless of if they may have been at the school for a number of years or are relatively new. Senior and middle leaders are empowered to lead their areas of responsibilities and have strong aspirations for the school to succeed. During the last year, the Inclusion Lead has ensured that the Inclusion Quality Mark project did not stop but continued to move forwards and its self-evaluation shows strongly how the eight elements of the IQM award were not only maintained but continued to develop. The team was well prepared for the IQM review and totally dedicated to supporting the school to continue to maintain and move forward to achieve the set aims.
World of Wonder
Diversity and uniqueness are celebrated at Eldon, individual pupils' work, and thoughts are celebrated in poignant, high-quality displays on walls and corridors across the school. This was supporting children in building motivation to have work included on them, and the 'National Story-Telling Week' display was particularly eye-catching, celebrating individuals' own choices of what they were particularly proud of. There were also other, one-off, unique displays, which embrace the encouraging of kindness and compassion, in particular the 'Tell Me a Dragon' which was a wonderful whole school writing project from Nursery to Year 6 based on a high-quality text. The environment is spoken of by staff as a 'World of Wonder', allowing pupils to develop their inquisitive minds. Each year something new has been added and it is amazing how so much can be put into such a small area in the middle of a city.
Proud Pupils
Pupils say that learning and teaching at Eldon is fun and that they enjoy coming to school, a comment given from a pupil who was asked what had changed with the pandemic and replied,
'Nothing, our teachers have always been there for us and are helpful.'
During the day, a stakeholder spoke of the wide variety of virtual visitors to the school, visits off site to 'The Burrow' and how they loved going there. They are encouraged to develop good leadership skills in various roles, for example as school councillors and Values ambassadors. Visiting the school's Twitter site there are tours and presentations given by pupils, whose confidence, insight, maturity, and pride in their school shines throughout. It was humbling to hear how much they loved the school and how many memorable experiences they have had from being a pupil there. It is obvious that pupils and staff at Eldon appreciate and have a capacity to listen to each other.
Governors' Continued Support
Governors visit often and play a full and active part in the life of the school through taking link roles. They speak of their belief that the voice of their pupils is integral to the ongoing development of their vision, and how they regularly monitor their own particular focus areas. They commented how they, and parents, appreciate how the staff are always prepared to go the extra mile to ensure the needs of each child are met. The governors have continued to visit the school during the pandemic, and this has given them a firsthand experience on how difficult subjects and current initiatives, such as mental health, and wellbeing awareness are approached and delivered.
Acts of Kindness
Helping other people is seen by Eldon as a great way to improve one's own wellbeing. It is not necessarily financial help; it is that you give a more precious commodity, 'your time.' Pupils are encouraged to become involved within the school and local community at any opportunity. High on the agenda is always to take part and win when they can! They have taken part in producing art for the Dementia Ward at the Royal Present Hospital, Remembrance Sunday, sending cards and singing videos to those in Care Homes to ensure they feel connected, crocheted hearts for the NHS and regular donations to their families. They constantly fundraise for local, national, and international charities, often linked to national awareness days and they ensure it is always given a link to learning. This helping of others is because they see their adults doing just this, all pupils on 'World Book Day' were left a small gift of a book and chocolate bar tied to the school railings for them to come and collect during the recent lockdown. Acts of kindness like this has seen the school being given a Coronavirus Pandemic City Hero award, in particular for distributing food bags to those in need during the pandemic. While awards are great to receive, this is not why the school do what they do but do this as a fantastic illustration of while we all lead busy lives, sparing some time to volunteer or help others is important and we should all be encouraged to do so as it results in positive feelings and a sense of reward in one's self.
Above and Beyond
It is clear that, at the heart of the Eldon family, is 'inclusion'. It is the inspiration of the strongly cohesive group of professionals, who go above and beyond to ensure the values of the school are truly shared and not just seen on paper. We live in an ever increasingly hectic world, with all the associated pressures, however, through their rigorous and relentless drive to provide the very best experiences for their pupils, Eldon has continued to move from strength to strength in terms of its inclusive practice this year.
Find out more about the IQM Inclusive School Award
If your school is interested in obtaining the IQM Inclusive School Award or you wish to talk to a member of the IQM team please telephone:
028 7127 7857 (9.00 am to 5.00 pm)

or email: info@iqmaward.com for further details.
Want more information on the IQM Award? Click here to request your free IQM information pack