Edith Kerrison Nursery School and Children's Centre achieves Flagship School status.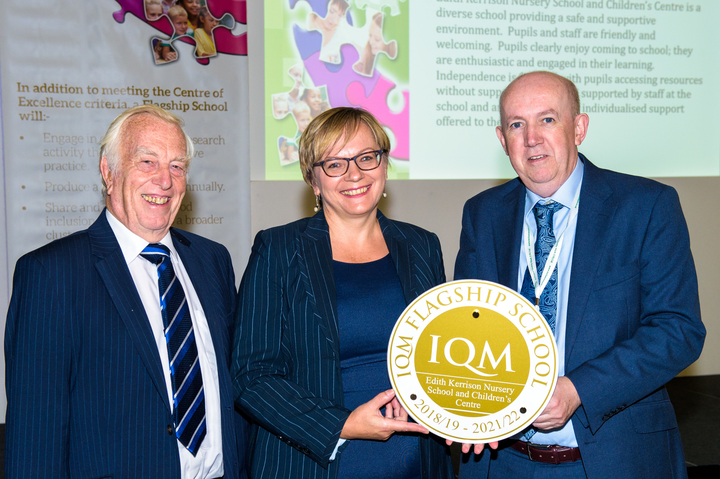 A Safe and Supportive Environment
Edith Kerrison Nursery School and Children's Centre is a diverse school providing a safe and supportive environment. It has many pupils who have English as an Additional Language, Special Educational Needs and Disabilities. This visit was the Year 3 IQM Centre of Excellence review. On my visit to the school, I had the opportunity to verify information provided on the Centre of Excellence Action Plan, conduct learning walks, meet with staff from the nursery school and Children's Centre, pupils and parents. In addition, discussions with the SENCO and Senior Leaders took place to review the school's work towards the Action Plan and next steps. Prior to my visit to the school, its website provided key information about the school's policies and practice.
Friendly and Welcoming
Pupils and staff are friendly and welcoming. Pupils clearly enjoy coming to school; they are enthusiastic and engaged in their learning. Independence is fostered with pupils accessing resources without support. They are taught to use a knife to cut up fruit for snack time. Pupils, including those in the two-year-old provision, free flow between classrooms and the outdoor space and work well together collaboratively.
Parents Feel Supported
Parents feel supported by staff at the school and are grateful for the individualised support offered to their children. Parents report that they don't feel judged by staff at the school and that they are supported with their children.
Parents Trust the School
They trust the school to meet their children's needs and value the provision that is on offer as some have had negative experiences in other educational settings with their other children. They are pleased with the progress their children are making and recognise that staff training e.g. signing is having a positive impact on their children.
Some parents' comments about the school include:-
"The staff really care about the children."
"The school has given us the confidence to take our children out on our own."
"Whatever the school do, they involve us so we can do the same at home."
"The support I get here helps me to support him."
"It's a non-judgemental environment."
"The school is there for the children and the parents."
"It doesn't work if you don't work together."
"The school is always there for me for each problem I have."
Drop-In Workshops
There is a wide range of drop-in workshops on offer to parents: Messy Play, Reading, Outdoor Learning, Block Play, Small World Play, Playdough, Sensory Play, Funky Fingers, Healthy Eating and Dialogic Reading.
Training Courses for Parents
The school offers a PICL (Parents Involved with their Children's Learning) course that is a ten-week course focussed on child development and what learning looks like in the early years. Videos of children's learning is used to help parents to understand what they can to do support their children to develop new skills. Parents make special books in the sessions which they can take home to share with their children. Parents who have attended the PICL course have shared their experiences at the Early Years' conference.
IQM Cluster Group
Edith Kerrison Nursery School and Children's Centre continues to strive to enhance its inclusive practice. The school welcomes visits from other schools to showcase its work and is keen to learn from other schools. Staff have engaged with, and shared practice within, the IQM hub.
Find out more about the IQM Inclusive School Award
If your school is interested in obtaining the IQM Inclusive School Award or you wish to talk to a member of the IQM team please telephone:
028 7127 7857 (9.00 am to 5.00 pm)
or email: info@iqmaward.com for further details.
Want more information on the IQM Award? Click here to request your free IQM information pack.