Discovery Special Academy in Middlesbrough achieves Centre of Excellence status.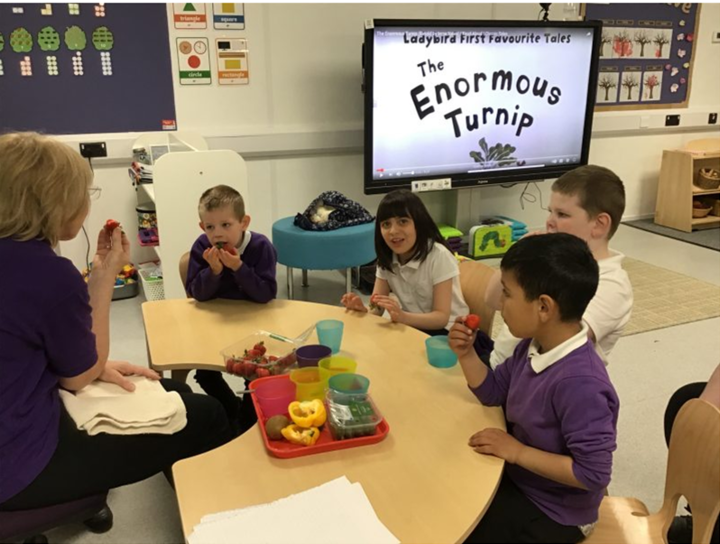 Improving Pupils' Outcomes
The Leaders of Discovery Special Academy are committed to continually drive the academy forward to improve the outcomes for the pupils and establish the school within the local community. They discussed their journey so far and demonstrated the determination and a clear vision and the direction they need to take to fulfil their aims and meet expectations set out for themselves and the Trust.
Sources of Evidence
The assessment was the school's first review conducted via Zoom due to the Covid 19 pandemic restrictions and attended by the Headteacher, Deputy Headteacher, various members of staff including the business manager, a junior class of children assisted by their teacher and teaching assistants, and a parent.
Context
There are 60 pupils on roll at the Discovery Special Academy now but once the new building is complete, the academy will have a maximum capacity of 84 children aged from 4 years through to 11 years (Reception to Year 6), thus serving the primary age pupils. All children admitted have moderate or severe learning difficulties, alongside communication difficulties as well as/or physical, sensory and medical needs that are specified on each child's EHCP. Discovery Special Academy serves a culturally and ethnically diverse population with a significant number of single parent families and asylum-seeking families. 32% of pupils have English as an additional language, and the numbers of children starting school with severe communication needs and non-verbal is proportionately high. The school attracts pupils from a range of backgrounds. Currently, there are 8 children who have an allocated social worker, 2 children with support from disability services, 2 children benefit from early years' support and 12 need help from a pastoral team. Also, there are post CLA pupils.
Supporting Pupils and Families
Before the pandemic, a significant number of disadvantaged families received extra support from school, where staff would make regular home visits and advise on educational and basic life skills matters. As this was not possible to conduct in the same manner due to the Covid-19 restrictions, the school had to look out for different routes to continue with the support. For instance, the support was provided by level 3 Teaching Assistants who phoned the parents more frequently to advise, or an ethnic minority team was deployed to make sure that the pupils, they know very well, were equipped to access learning; all adults worked together to make sure the children were safe.
No Additional Safeguarding Issues
Despite the lockdown and predominantly home schooling for some children, there were no additional safeguarding issues. However, the school provided extra support for some families who had economic issues.
Supporting Staff
During the consecutive lockdowns, the school provided support to staff who experienced anxiety due to Covid-19; two people took time off and an option to work from home was available to all who needed it, alongside access to counselling services.
COVID-19 Regulations
Staff who were not on school premises were kept abreast by regular Zoom meetings and stayed connected. The pupils who attended the school were organised in small bubbles with playtime and lunchtime staggered to minimise human contact. Further precautions were taken such as additional and more frequent deep cleaning to keep the school safe and virus free.
Whole Child Agenda
In the conversation with me, staff reflected that they "missed not being able to be with each other" but confirmed that during this difficult time, the whole child agenda remained weaved into the daily practice and the school operation.
Investing in the Staff
Staff at Discovery Special Academy feel valued and supported; there is a clear sense of the school investing in its people as one of them said:
"A year ago, I started with no qualification but now I have a Level 3 Teaching Assistant qualification and a Diploma in Art Therapy".
They spoke warmly about being part of the community,
"we support each other"
and the opportunities they have for professional development:
"a door is open for professional development".
Staff quoted a number of training options available that range from informal colleagues' conversations about tasks they perform to the in-house updates (Makaton), the online specialist courses (Safe Recruitment, Central Single Record) and ongoing formal training to expand their knowledge and enhance existing skills, especially with regard of provision for pupils with complex needs.
A Collegiate Approach
The published documents stating the school's effectiveness and the conversations with leadership and other stakeholders support the articulation of the inclusive ethos that is evidenced in the collegiate approach to policy making, curriculum planning and was demonstrated by upholding shared values such as respect for all. In particular, during this difficult academic year the emphasis on staff and pupils' wellbeing has proved to be an integral part of the school daily practice; help received from a specialist counsellor and from the Trust's wellbeing services were appreciated by all members of staff.
Commitment to their Pupils
The school's commitment to their pupils is well expressed and captured in the quote from Rita F Pierson: "every child deserves a champion, an adult that will never give up on them" and is echoed in their daily attitude and practice.
Consolidating and Developing their Practice
The Inclusion Quality Mark's Centre of Excellence Award project has commenced with the school reflecting and describing its inclusion practice to create a fully inclusive academy for pupils with learning difficulties and other additional needs. The school is moving towards consolidating and further developing their practice in conjunction with moving to a purpose-built new accommodation. This will undoubtedly have a positive impact on the children and their progress and support development of the new leadership team, teaching and support staff.
Find out more about the IQM Inclusive School Award
If your school is interested in obtaining the IQM Inclusive School Award or you wish to talk to a member of the IQM team please telephone:
028 7127 7857 (9.00 am to 5.00 pm)
or email: info@iqmaward.com for further details.
Want more information on the IQM Award? Click here to request your free IQM information pack