Danum Daisies Day Care in Doncaster has achieved the Inclusive School Award.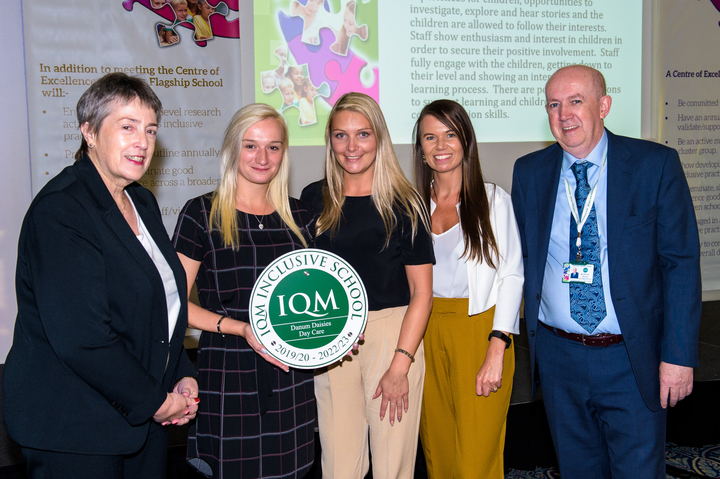 Background
Danum Daisies nursery is an enhanced setting within Doncaster Metropolitan Council and seeks to provide a secure environment in which the children can learn. Staff work hard to enable children to achieve the best possible outcomes.
Mission Statement
The nursery mission statement is fundamental to the beliefs in the setting, "Our aim is to be the most loving and caring home from home nursery in our local area." This view is shared by the owners and manager and permeates the whole of the setting. This is posted around the setting as a reminder to everyone.
Expectations are High
Expectations are high; the nursery team aim to improve at all times. The setting has engaged in reflection, carrying out audits of practice to enable a review of Safeguarding and the Quality of Teaching and Learning. There is clearly a good working relationship with the Local Early Years and Inclusion team to support and review practice. Early Intervention funding is used to good effect, mainly directed towards additional staffing and resourcing. The Nursery has well organised SEND documentation, including a chronology of interventions clearly understood by all involved.
Stimulating Learning Experiences
The setting provides stimulating learning experiences for children, opportunities to investigate, explore and hear stories and the children are allowed to follow their interests. Staff show enthusiasm and interest in children in order to secure their positive involvement. Staff fully engage with the children, getting down to their level and showing an interest in the learning process. There are positive interactions to support learning and children's communication skills.
Ensuring Independence is Fostered
The setting team ensure children's independence is fostered. Children have resources at accessible heights for ease of access, this is evident throughout the nursery both indoors and outdoors. For children to become independent, offering a range of choices is important. Already, self-service snack time within the rooms for the older children is working successfully.
The Learning Environment
Children at Danum Daisies are happy and involved in activities. The baby, toddler and pre-school rooms offer organised learning environments and visually stimulating displays. Display boards are at a low level so even the youngest of children can see the photos and vocabulary displayed thereon. The environment is stimulating and interesting for the children, thought has been given to both celebratory and informative displays. The learning environment reflects the diversity of language represented in the setting.
The Outdoor Environment
Equally, much thought had been given to the outdoor environment and children benefit from opportunities to access the well-planned outdoor space. The outdoor area contains well planted raised beds, a construction area with items from the world of work including drainpipes which the children lift and manoeuvre as they take risks and explore. A mud kitchen and bug hotel is sited in a separate area of the grounds. Parents clearly share positive comments about the setting. The nursery tries to engage with parents and is seeking to improve communication with them, engaging them in the learning process. Already, Facebook, newsletters and meetings are used to share information.
Active Listening
The team of enthusiastic practitioners ensure that children with a variety of needs are welcomed at Danum Daisies, parents appreciate the support their children have been given to enable them to progress. Carers and parents talk of the 'open door' policy that is welcomed and valued by all. It is evident that a clear 'two-way' level of communication exists between parents and setting through active listening on behalf of the setting. Managers gain feedback from parents. This approach was seen on the day of the visit when parents drop off children and when they ring up for information.
Transition Arrangements
The setting tries to make transition arrangements matched to the needs of the child, supported by staff phone calls and a staggered intake.
Meeting Children's Needs
Group tracking enables SLT to identify if there are gaps in attainment and work towards meeting those needs with staff.
Learning Journeys
The SLT have a proactive role in modelling and monitoring individuals and groups to support staff. It is clear that regular input and use of learning journeys ensure sharing of information; in addition, parents appreciate the opportunity to talk with staff and to make comments. The children's progress is evidenced through learning journeys and activities are based on interests. There are clear detailed SEND records with a chronology of interventions in place.
Polite and Respectful Children
Children are encouraged to be polite and respectful to adults and to one another. Expectations for children's behaviour are high and the atmosphere is purposeful, children are clearly 'on task'. The manager responds quickly and in accordance with policy if any incidents occur, using the record keeping systems in place. Positive behaviour is encouraged, and rewards are offered through stickers and sharing of special moments, the rewards' system is in the process of being embedded. A positive behaviour policy is in place and positive attitudes are role modelled at all times including snack time and lunch time.
Effective Behaviour Management
Effective behaviour management exists as a result of the application and demonstration of a positive approach, offering praise and reassurance. Positive behaviour is underpinned by clear and revised policy.
Tracking Individual Progress
There is evidence of tracking individual progress. The management of this is currently in the process of change as the nursery moves towards 'In the Moment' planning as researched from the work of Anna Ephgrave.
Interests and Development are Recorded
It has been decided that staff will focus on nominated children each week so that a record of interests and stages of development is recorded.
Appraisal System
The owner works on the appraisal system and ensures this is maintained in an appropriate manner. She wants to encourage a self-reflective approach.
Sample of Evidence
The content of this document is based on only a sample of the evidence presented and observed.
Open and Honest Opinion
My thanks go to everyone who generously gave their time during the IQM assessment. Everyone gave open and honest opinion.
Find out more about the IQM Inclusive School Award
If your school is interested in obtaining the IQM Inclusive School Award or you wish to talk to a member of the IQM team please telephone:
028 7127 7857 (9.00 am to 5.00 pm)
or email: info@iqmaward.com for further details.
Want more information on the IQM Award? Click here to request your free IQM information pack.