Crown Lane Primary School achieves the Inclusive School Award with Centre of Excellence for the third time.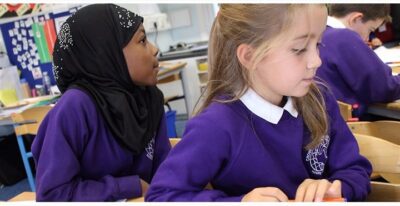 A Warm Welcome
"Crown Lane welcomes you; it gives you a warm feeling"
Crown Lane Primary School believes that all children understand that they are learners and that they have a role to play as a learner. They believe that children should be taught how to learn and that there are certain skills they can develop which will mean they are more effective and successful lifelong learners. They have developed a set of 'Learning Superpowers' and these can be seen all through the school. These superpowers are connected to the children's learning across the curriculum. One child explained that:
'these learning powers help us with learning to learn and we work hard to use them in all we do.'
The children said the following about their school:
'The staff are understandable; they help with your problems' 'children are treated as individuals.'
Celebratory Displays
The display boards around the school are deliberately functional so as not to overwhelm sensory needs. Classroom displays show the current topic. In the corridor there are displays showing photographs of new starters, the new starters are introduced to the rest of the school in the celebration assembly on Fridays. They receive a new starters certificate, and their 'buddy' gets a certificate for being a good friend.
Parents Appreciate Support
Parents expressed that the school is incredibly supportive of their children's needs and the communication between school and parents is excellent. A parent explained that
'staff model exemplified behaviour to the children, they help the children to achieve their full potential.'
Parents spoke about the school carrying out reasonable adjustments for the children. For example, they will collect the children from the car, reducing the child's time that they spend in school due to anxiety or realising that a child is anxious about taking the bus and offering to take a bus with the mother and child. One parent mentioned the progress that she had seen in her child – non-verbal, now saying 1/2 words. Parents spoke about how the Operational Therapist ran coffee mornings and involved them in planning future topics that would help them and their child such as tying shoe laces and how to play with your child.
"We Are Inclusive and Diverse"
The Resource Base has two classrooms where children have their own workstation, the children have access to a sensory room and their own outside learning environment. To be able to access the base, children need to attend lessons alongside the children in mainstream school 50% of the time. The children receive a tailored plan depending on their needs. Children in mainstream are very accepting of children who come from the base. One child said:
"We have a base where children do different things at their level, we are an inclusive and diverse school."
Children Are Independent
The children across the school are very independent. Resources to scaffold children's learning are accessible to the children on their tables or in their designated place in the classroom. Teachers plan for differentiation and know that all children have individual needs – from needing headphones because the child is sensitive to noise to having sound mats and fidgets on their individual tables. The children have access to iPads in their classrooms. There are a few empty classrooms that the school is currently using for breakout rooms, these are used to deliver bespoke intervention to children.
The Forest School
Crown Lane Primary School is fortunate to be situated near Streatham Common Rookery. The school is working alongside a specialist forest school leader to run various activities and programmes for their children throughout the year. Every child in the Early Years at Crown Lane gets several opportunities to benefit from Forest Learning during their time at the school. During Forest Learning sessions, children are taught safety rules and skills for using equipment and doing activities. This allows them to take risks and push their boundaries in a responsible and controlled way. The children learn about – and to respect – the natural world and get the chance to do activities such as den building, nature hunting and building a fire.
Positive Work
There is so much evidence to support the school's positive work on inclusion and throughout the day, it is shown how much it meant to staff to ensure that the needs of individuals are met. The staff's reflective and thoughtful approach ensures that the school is warm and welcoming and aspires to do the best for each child.
Find out more about the IQM Inclusive School Award
If your school is interested in obtaining the IQM Inclusive School Award or you wish to talk to a member of the IQM team please telephone:
028 7127 7857 (9.00 am to 5.00 pm)
or email: info@iqmaward.com for further details.
Want more information on the IQM Award? Click here to request your free IQM information pack