Crosshall Infant School Academy Trust in St Neots has achieved the IQM Inclusive School Award with Centre of Excellence status.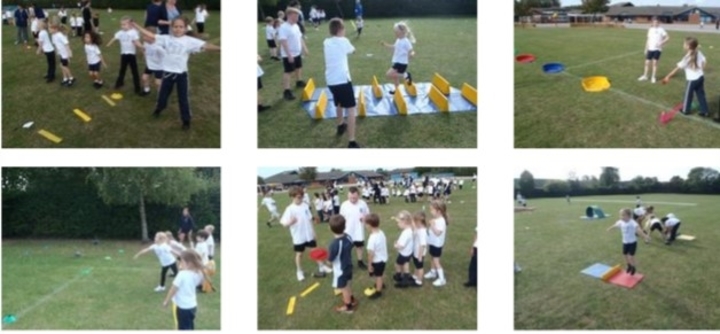 Well Maintained Areas
All areas of the school are immaculately well maintained with classroom areas sharing a common open plan layout. All teaching areas have touch screen interactive IT with children also having access to note books, Kindles and a dedicated IT suite. The displays throughout the school are particularly impressive and include examples of children's work, working walls, reference and information displays and a uniquely designed sensory wall.
Rich with Play Equipment
The outside spaces around the buildings are rich with play equipment, quiet areas, with an adventure playground and painted floor surfaces for games and learning activities. The school is also able to share the playing field belonging to the junior school. There are plans to introduce a Forest School into the outside space and the school is currently visiting neighbouring schools which already operate a Forest School provision to collect ideas for training, the layout and equipment.
A Host of Activities
On the day of my visit there were a whole host of activities running, including a concert for parents, (the hall was full!) transition visits for children moving into the junior school in September and a charity event for the nursery children. An outstanding feature of the school is the clear structure adhered to by all staff, giving a safe and exciting environment for children. All the children I met during my tour were very keen to interact and chat with me and were clearly happy and involved in their learning. Members of the school council showed me some short clips from the video which they have made as an introduction to the school for new staff and children.
Raising Awareness of Issues
School council members are elected from each class and meet regularly. Their role is to raise awareness of issues in the school, help with fundraising events and offer advice where appropriate. They have contributed to the development of some of the outside spaces and have recently been involved in a "taste test" for new items on the school lunch menu.
Meeting the Needs of All
The school recognises individual difference and need and has collaborated with local authority services, outside agencies, specialist teachers, therapist and specialist provisions to present a teaching and learning environment which meets the needs of all whilst encouraging a strong sense of independence and a love of learning.
Strong Links with Parents
The school works hard to maintain strong and effective links with all parents and operates a variety of communication systems. I was fortunate to be at the school for the start of the day and saw the hand over time with parents and staff in the nursery, giving parents an opportunity to speak face to face with staff (and other parents). The school also communicates via "parent mail" on a day to day basis where necessary and this is also as a source of information and signposting. Regular audits and surveys of parental opinion indicates that parents are happy with the current system. The school website is interactive and user friendly.
Growth Mindset Approach
I was particularly impressed by the school's attitude to innovation and "growth mindset" approach in providing the very best possible learning opportunities for all children, whatever their needs. A variety of resources and collaborative partnerships have been established including:-
Mantra Lingua: "Mantra Lingua is a publisher of dual-language children's books and digital resources. Its language range includes German and as many as 65 other languages spanning nearly every corner of the world…." The company has also built interactive technology through its "PENpal, Talking Pen", which allows users to listen to stories in their home language."
Expanded Rehearsal Technique (ERT): "ERT aims to develop rapid recognition of letter sounds, blends and words. It supports pupils by breaking learning down into smaller steps, providing opportunities for frequent repetition and building upon existing knowledge so that the pupils experience success."
Resources Used by Other IQM Schools
During my discussions with key staff members I was asked to include in my report details of resources, software etc as used by other IQM schools which the school may like to investigate. These included:-
1. Kinetic Letters: (kineticletters.co.uk) handwriting programme.
2. CPOMS: (cpoms.co.uk) software application for monitoring child protection, safeguarding and a whole range of pastoral and welfare issues. Working alongside a school's existing safeguarding processes.
3. My Concern: (myconcern.co.uk) is a simple to use, safe and secure software for recording and managing all safeguarding concerns in any educational setting.
4. Flipped Learning: "Flipped learning is a pedagogical approach in which the conventional notion of classroom-based learning is inverted, so that students are introduced to the learning material before class, with classroom time then being used to deepen understanding through discussion with peers and problem-solving activities."
Inclusion is at the Heart of Everything
Inclusion is at the heart of all activities and practices throughout the school, from the meticulous tracking of children's progress, the "can do" attitude reflected by all staff and the well presented teaching and learning spaces.
Find out more about the IQM Inclusive School Award
If your school is interested in obtaining the IQM Inclusive School Award or you wish to talk to a member of the IQM team please telephone:
028 7127 7857 (9.00 am to 5.00 pm)
or email: info@inclusionmark.co.uk for further details.
Want more information on the IQM Award? Click here to request your free IQM information pack.