Coopers Edge Primary School in Gloucester has achieved the award for the second time.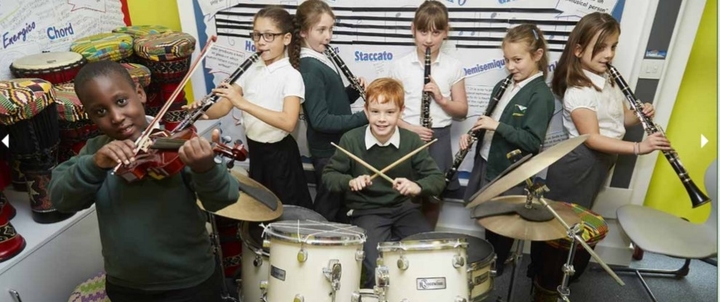 An Established Community School
This was Coopers Edge Primary School's Year 3 Centre of Excellence Review, coming soon after an overall "Good" judgement by Ofsted earlier this year (Feb. 2018). The school has already begun to implement Ofsted's recommendations for further improvement, and the mood in school at present is very positive about achievements and future plans. Coopers Edge is now an established community school with a distinctive ethos centred on Inclusion. Displays of children's work include "All Different, All Equal", anti-bullying posters and "It's good to be Me, it's great that you're You." The school is very much at the heart of its new and still growing neighbourhood, with parents happy to drop in to ask questions or ask for support, and the wider community is accustomed to using the cafe next door which is proudly "Open all Year", with everyone invited to take part in school-organised events such as the recent Circus visit.
Using Local History
Local history continues to be of interest in the curriculum: aeroplane models and army boots, war heroes and famous pilots have been starting points in the children's learning recently, involving families too. A large map of the world shows how many families have links with other countries in every continent. Home cultures are celebrated and enjoyed: recently, a group of parents brought food into school to celebrate Eid. The school follows the International Primary Curriculum and has successfully united its very diverse catchment. "It's a more settled community now" said a member of staff. There is a feeling of fun, energy and shared purpose about Coopers Edge.
Best Possible Academic Results
The school's leadership refuses to allow the school to be drawn by external agencies into a narrow agenda. Much work is done to ensure the best possible academic results; however, art, music, Forest Schoolwork, sports and dance are regarded as equally important. Opportunities for children are wide and varied, with a wealth of extra-curricular activities and visits, and every teacher running at least one club. The school is determined to introduce pupils, many of whom have had limited experiences outside school, to a world of libraries, museums, art galleries, natural countryside, maps and scientific thought. Parents describe their favourite teachers as "amazing", they say their child is "flying" and that the school is "a really good school".
Growing Pastorally
Pastorally, the school is growing its own skilled team which is increasingly effective in reaching pupils facing difficult emotional and social challenges, and which supports parents and carers in their sometimes stressful roles. One member of this team is training as a counsellor. The "Edgy Book of Love" in the foyer displays children's kind thoughts about their friends and remembers those who died in the Manchester bombing last year. Staff members are encouraged to drop a post-it note of appreciation into a colleague's pigeon-hole to "Make someone's day". New ideas are always being trialled, and a Lego "Build to Express" programme is proving highly successful in helping a group of vulnerable children to restructure negative thought patterns in a structured programme of sessions. The school uses other programmes as appropriate, such as "Social Detectives", "Mini-Marines" from 7 years upwards and "Teens in Crisis" for older KS2 pupils. Praise is given, respect is shown to children by adults, including from the cook, who thanked children as he gave them their lunch, "Good manners!". This reflects in the children's behaviour towards staff and each other: they are thoughtful and polite, and no quarrels even of a minor sort were seen on the day of the visit.
Parents' Opinions Matter
Pupils feel that their opinions matter here. The Pupil Parliament children have enjoyed discussing new playground equipment and they have a good understanding of financial and health and safety constraints. They appreciate democratic process and they understand that as Year 5 pupils, they will hand over office to the incoming Year 5 but remain in school to see the effects of their own planning and hard work. They enjoy talking about what they like about the school: interesting school trips figure highly, "even though they can be expensive", and also the friendliness and welcome given to new pupils, they appreciate that "everyone is treated equally", that extra help is always near at hand for those who need it and that the new and well-equipped library "has something for everyone", and "helps you with your dreams". They say they love the opportunity to take up learning challenges in class.
Developing Staff Skills and Expertise
There is a continuing and highly focused development of staff skills and expertise. CPD is well planned and individual members of staff are following courses which will benefit the school and themselves professionally. Teaching Partners understand which pupils have "gaps", and they provide additional targeted support for different groups during daily assembly time or for small parts of PE lessons, for younger pupils in tables practice, spelling help, number concepts and handwriting and for older pupils in comprehension or "Colourful Semantics". They record children's progress and share this with teachers. Teaching Partners also help to ensure children are ready to learn, by sorting out a playground dispute quickly as children come in from lunchtime or by "pre-teaching" when some children lack the vocabulary they will need to access a lesson. They contact parents, meeting them as needed to ensure home and school are working closely together, they have a good understanding of the needs of children with particular medical, social or emotional conditions. They take a real pride in every child's growing independence and they support more vulnerable children to make a smooth transition into the next class.
Professional Development of Teachers
Teachers' professional development is also carefully nurtured, with a Middle Leaders group now being an essential part of the SLT and maintaining rigorous monitoring of Maths and English teaching throughout the school. This team includes the Parental Engagement Lead and the new INCO. The current Inclusion Manager has led IQM progress for some years now and is about to hand over to a colleague so that she can take on Assessment in school. This will ensure that progress tracking of vulnerable groups maintains a strong focus, which will also help to meet Ofsted's requirement to target the achievement of disadvantaged pupils. The incoming Inclusion Manager is now nearing the end of her SENCO accreditation and meets regularly with her mentor at a local school, with the process of transition being very smoothly and calmly managed. The outgoing and incoming INCOs, together with the Pastoral and Nurture Manager, will attend the next IQM Cluster meeting in July and host the October meeting at Coopers Edge of which the main theme will be Managing Mobility, to include therapeutic interventions such as Lego "Build to Express".
Beautiful Buildings and Open Spaces
The school makes the most of its beautiful buildings and open spaces. Outdoors, overlooked by Coopers Hill, wild areas with long grass for hunting with butterfly nets as one class was doing, a fenced area with a waterlily pond containing tadpoles and at least one newt, grassy slopes and shaded seats provide a wealth of play and learning opportunities. There is even a calm and colourful "Zen Garden" built recently by school site managers with funding from a local parish charity fund. Indoors, there are colourful art displays and well-chosen furniture which includes private "pods" for those who work better without distraction. The large atrium is in constant use (including the parking of small bikes for a "Balanceability" lesson), dividing walls which can be opened or closed between classes, the welcoming library and stylish mirrored dance studio, the small offices and break-out spaces all combine to provide a stimulating and multi-purpose centre for learning.
A Caring School
Coopers Edge is a forward-looking and caring school which has genuinely moulded its new and varied community, which is producing pupils who are excited by learning and who have great ambitions.
Find out more about the IQM Inclusive School Award
If your school is interested in obtaining the IQM Inclusive School Award or you wish to talk to a member of the IQM team please telephone:
028 7127 7857 (9.00 am to 5.00 pm)
or email: info@inclusionmark.co.uk for further details.
Want more information on the IQM Award? Click here to request your free IQM information pack.