Clements Primary Academy in Haverhill, Suffolk Achieves the Inclusive School Award with Centre of Excellence status.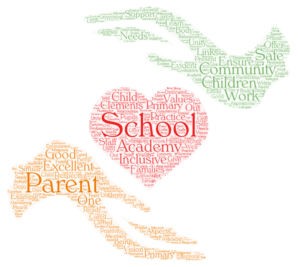 Excellent Inclusive Practice
Clements Primary Academy School is an excellent example of inclusive practice. Inclusion is evident in all aspects of the school's work and there are good links with the community to offer support for families. The Headteacher works effectively with her leadership team, the Governing Body and the Unity Schools Partnership to ensure that all staff have similar aspirations for children at the school. The Academy encourages all children to be Ready, Respectful and Safe. Their vision and values are dedicated to being present and available for children, colleagues and parents, have considerate, professional and respectful behaviours with all members of the school community and ensure a safe school environment by maintaining positive relationships.
A Creative Curriculum
The academy provides a challenging, stimulating and creative curriculum delivered in a calm, supportive learning environment where all pupils are encouraged and enabled to achieve their best and to become independent resilient learners. Pupils have made good progress over the last five years from low starting points and all staff in the school are committed to ensuring individual progress continues to reflect the hard work that has been devoted to developing a broad, balanced, diverse and well thought through curriculum which offers opportunities for every child to progress. Children with special educational needs access the same, but sometimes modified, curriculum as other children in the school and consequently make good progress.
The SEND Hub is Positive
Governors and Trust members are positive and proud of opening a specialist cognition and learning unit. The SEND Hub is for KS2 children and is the model for other SEND Hubs in the Suffolk area. The academy also provides a specialist resourced provision, the ARC, which has 5 children at present. It has been running for 3 years and is housed in an excellent internal and external environment. Self-regulation is the main focus, with children being supported in understanding their emotions. A daily reward system for positive behaviour is instrumental in motivating the children.
Children Support Each Other
Children are encouraged to support each other in many different ways. Whole class marking and talk partners give children opportunities to discuss their work and my turn/ your turn models the next steps for pupils. Scaffolding work is common practice and children use success criteria as a means of reviewing their work. The work ethic of the children, their good behaviour, friendliness and politeness impacts greatly on their engagement with their school work. The atmosphere in classes and in shared areas is calm with children reflecting and valuing the care and attention which all staff show to them. Children enjoy their time in school and consequently, attendance is near national levels with attendance for each class clearly visible outside the class doors for all to see. This is also celebrated in Friday assemblies alongside celebrating good attitudes and behaviours in front of parents and teachers.
Communication is Excellent
Excellent work is carried out with families, pupils and the community generally to ensure that children are cared for and valued. There are good communication systems which give parents and carers confidence in the academy and in its support for their child's needs. Email, texting, newsletters and parent consultations as well as one-to-one conversations keep parents regularly informed about their child's education and needs. Dojo is widely used by the academy as a means of communication for parents. It improves communication and the parents who were interviewed at the time of the assessment could not praise it enough.
'It is very useful-teachers are quick to get back to you,'
was one parent's comment. Another parent said,
'During the pandemic communication was very good'.
Parents commented on how accommodating the academy tried to be. Parents also appreciated the friendly faces at the school office which reassures parents, particularly those who have had a difficult time at school themselves.
The School Have High Expectations
There is a high-quality evaluation that exists in the academy. It is comprehensive and reflects the school. Clements Primary Academy is an example of a school committed to meeting the needs of its children and is outstanding in its commitment to and implementation of inclusive practice. It is an outstanding, caring environment for pupils where high expectations have a huge impact on attainment, progress and wellbeing.
Find out more about the IQM Inclusive School Award
If your school is interested in obtaining the IQM Inclusive School Award or you wish to talk to a member of the IQM team please telephone:
028 7127 7857 (9.00 am to 5.00 pm)
or email: info@iqmaward.com for further details.
Want more information on the IQM Award? Click here to request your free IQM information pack