Claycots School in Slough has achieved the Inclusive School Award.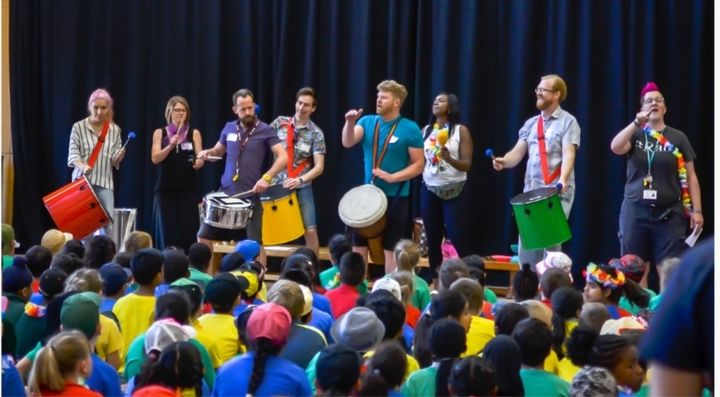 Best Possible Outcomes
Claycots School is a very good example of inclusive practice, this is evident in all areas of the school's work. The SLT and the Governing Body work very hard to ensure everyone has high expectations to achieve the best possible outcomes for the pupils in terms of not only their academic ability but also in terms of their personal, emotional and social development.
Inclusion is Crucial
Inclusion is a crucial element of the school policies. All members of the school are part of the decision-making process. The school's motto 'LIVE' which stands for 'Love learning, lead learning, Investigate and innovate, Value ourselves, each other and our community, Excellence through expectation' underpins their vision and encourages all pupils to do their best to follow the simple ethos of 'hard work, resilience, loyalty and integrity'.
Excellent Relationships
Relationships between staff are excellent and pupils feel cared for and supported in their learning. The staff understand the pupils' needs. There was an excellent calm atmosphere. The pupils were very polite and it was apparent that they felt safe and secure. There was a strong feeling of respect for the school and each other amongst the pupils and staff.
School Context
The school (split across two sites) is made up of 1679 pupils between the ages of 3 and 11. 21.9% of pupils are eligible for Pupil Premium Funding with some groups being higher than others in number for example there 37% in Year 5. 17.3% of pupils are on the SEN list with 1.7% of pupils with an EHCP. Currently 5 pupils are CLA. 62.4% of pupils have English as an additional language with at least 40 different languages spoken.
The Inclusion Team
Disadvantaged children achieve well, Ofsted November 2018 stated "Pupils with SEND are well supported by skilled staff. Consequently, these pupils do well." The school has a dedicated member of the governing body (Chair of Governors) for SEND. The Inclusion Team is led by the Director of Inclusion and Well-being along with two SENCOs who are also all part of the Senior Leadership Team. The two SENCOs are responsible for the operational provision and are based on one site respectively. The SENCOs manage all the support staff across the school. The Inclusion Team also consists of the Community Partnership Manager and the Family Support Workers. The former works across the two sites and like the SENCOs, the Family Support Workers are each based on one site respectively.
Developing the Learning Environment
The learning environment continues to be developed with outstanding outdoor facilities that offer pupils opportunities to develop aspects of sport and learning through play. The expectations in classrooms and corridors ensure that learning environments are being developed into engaging, relevant and accessible areas to all learners to support teaching and learning.
A Wide Range of Digital Resources
The school has a wide range of digital resources including a Digital Media Suite. All pupils from Nursery to Year 6 have access to laptops and iPads. Every class is equipped with an Interactive Smartboard. Specialist equipment is used for those pupils with specific SEN needs.
Inclusive Practice Shines Through
Inclusive practice shines through and individual difference is valued through such activities as:-
• Tailored approach to support vulnerable pupils from TA support in class, to Social Emotional, Literacy and Nurture intervention groups;
• Phonics groups;
• Teaching and learning;
• Weekly Celebration Assemblies;
• Awards Evenings;
• Celebration Days such as 'Claycots Live';
• Reward systems in the form of house points resulting in Bronze, Gold and Silver Badges;
• Excellent work is also carried out with families, pupils' and the community generally to ensure that everyone is cared for and valued.
An Extremely Caring Environment
It is an extremely caring environment for pupils. The pupils performed an exceptional assembly: singing together 'A Million Dreams' from 'The Greatest Showman'. It was a wonderful display of the unity of the school through Music. The Music teacher had a true sense of purpose and passion to ensure everyone was included using sign language to support them in learning the words of the song.
A Culture of High Expectations
The newly formed Leadership Team has created a document 'Claycots School Partnership 2019 Ofsted Improvement Headlines' to ensure collaborative continued development to instil a culture of high expectations in order to have a bigger impact on attainment, progress and well-being for both staff and pupils.
High Quality of Provision
The Self Evaluation Report and the welcome on the Assessment Days reflects the high-quality of provision that exists in the school. Claycots is an example of a school committed to meet the needs of its pupils and in its commitment to, and implementation of inclusive practice.
Find out more about the IQM Inclusive School Award
If your school is interested in obtaining the IQM Inclusive School Award or you wish to talk to a member of the IQM team please telephone:
028 7127 7857 (9.00 am to 5.00 pm)
or email: info@iqmaward.com for further details.
Want more information on the IQM Award? Click here to request your free IQM information pack.