Claremont High School in Middlesex has achieved Centre of Excellence status.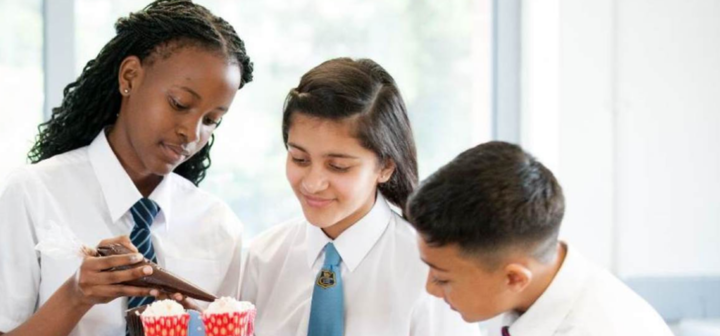 Background
Claremont established the Chrysalis Multi Academy Trust (CMAT) with Sudbury Primary School in 2017. The Trust is responsible for over 2500 students across the two schools and is very subscribed with over 1000 applications for 270 places in Year 7. 10% of places are reserved for pupils with musical ability and the school has a long history of promoting music and performing arts. Many staff members send their children to the school and this is allowed under the admission code. The school was a Foundation School before it became an Academy.
Committed to Inclusion
The Deputy Head/Inclusion Coordinator organised my visit and ensured I met with many members of the school during my visit. I met with her and the Executive Head on my arrival at the school. They told me that inclusion is integral to the Trust and Sudbury School is already an IQM Flagship School. Having a Deputy Head with responsibility for inclusion is an indication of how seriously the school is committed to becoming fully inclusive. Inclusion is integral to the vision and core value and there is a clear understanding that inclusion is never finished – it is always developing and moving forward.
Context
The school population is very diverse and around 70% of students are of Asian Indian origin, with the rest being made up largely of Black Caribbean, Black African and East European students. The school is a multi-faith and multi-lingual and the staff group are equally diverse.
Closing Gaps
The identified underachieving group are Black Caribbean boys and the school is going to great lengths to address this underperformance and they have now employed a Black Caribbean Champion to investigate, research, intervene and advise the school to turn this around. The Inclusion Board look carefully at individuals who are underperforming and decide on interventions. Closing gaps in achievement and progress is a whole school priority.
Safeguarding is a Priority
Safeguarding procedures are another priority and procedures are sound. I was able to speak to the DSL later on in the day and find out more about this issue. There is a school Counsellor on site and staff have been in contact with pupils and families throughout lockdown.
COVID-19
Brent suffered terribly in the first wave of the COVID-19 pandemic but then calmed down over the summer months. The second half of the autumn term has seen a rise in positive tests and therefore the need for more students and staff to self-isolate. Currently, Year 11 are out along with Year 9 and 30 Year 7 students who are self-isolating along with16 members of staff. At one point there have been up to 28 staff out at one time. Staff who are self-isolating are teaching online and the school managed to deliver online live lessons during lockdown using TEAMS. Students who are isolating have registration and have a full timetable of lesson on TEAMS. They are very pleased to have been able to get this up-and-running early on in the crisis. They are right to be proud of this achievement and to be proud of their teachers who have completely changed the way they teach – in a very short time.
Addressing Anxiety
Anxiety amongst staff is acknowledged and has been addressed. BAME staff have had individual risk assessments and great care was taken to ensure those who were deemed clinically vulnerable where reassured and listened to and arrangements were made to ensure they felt comfortable either working in school or at home. Leadership has very good relationships with unions and they are happy with the measures the school has taken in terms of health and safety.
Wellbeing and Mental Health
Teaching and Learning online is new to most teachers and they have taken on the new challenges with great enthusiasm and determination. There was no time for staff training before the pandemic hit and the school was using Sharepoint before they moved to TEAMS. Live lessons were entirely new and it was the Business Studies department who started to deliver live online lessons and shared what they were doing and other departments who took up the challenge. Not only have teachers had to get to grips with the technological issues of TEAM but have also had to develop a new pedagogy to reach students learning from home. The Teaching and Learning Team put together a guide including Top Tips for staff, this was very well received and is being used widely. Teachers are constantly feeling they are not doing things well enough and subsequently trying to do too much. The Leadership Team want to ensure staff do not burn-out and tried to ensure they did not do more than the needed to do. Helping staff at all levels manage their wellbeing and mental health was and is a priority for the school.
Pastoral Support
I met with the Heads of KS3 and KS4 who were able to tell me about pastoral support across the school. Both are DSL trained and form part of the Safeguarding Team as well as the pastoral teams. There are Heads of Year and Deputy Heads of Year in place who carry out the bulk of pastoral responsibilities as well as looking at individual student progress data. There is also a Head of KS5. The role of the Tutor is an important one and is where most of the pastoral care is delivered. The Pupil Support Team deliver a range of interventions for students who are identified by the Head of Year following analysis of the data or behaviour log (including personal knowledge of individual students). The support is very targeted.
Supporting Students
During lockdown, the list of vulnerable students was used to determine the level of support needed and staff were in contact throughout. Spreadsheets were kept to keep track of which pupils and family had been contacted and the Safeguarding Team picked up students who were a CP concern and visited those who could not be contacted. Tutors were given the responsibility to maintain regular contact with their tutor groups. These regular calls strengthened the relationship with parents who were very happy to talk to staff during this time.
The Recovery Curriculum
There was a staggered start in September and different year groups came in one at a time. Pastoral time with tutors was prioritised over the normal curriculum and there were many activities designed to help students talk about their experiences during lockdown and to help tutors pick up on any possible safeguarding issues that emerged. The school started the planning of the recovery curriculum in the summer term and carried out surveys to establish what was needed. This was ready to be implemented when the students returned to start the autumn term.
Supporting Transition
The KS3 Lead is also responsible for Year 7 transition and she spent much of her time (during lockdown) contacting primary schools and collecting information about individual children who were transferring to the school. They were sent out a whole programme of work to complete over the summer and they made telephone calls home to check how they were getting on with it. Only 50% of the Year 6 pupils who could have returned to school towards the end of the summer term actually did. Year 7s, were given two extra days in their form groups and as a result have gelled really well. They are currently being taught in bubbles in a dedicated part of the school and they have separate playgrounds and staggered lunch times so have no opportunity to meet or mix with other year groups.
Supporting Year 11s
Year 11s last year were not ignored once the decision was made that they would not be doing their GCSEs and a lot of effort was put into contacting them to support their mental health needs and making sure they were applying for Post 16 places. Careers support was provided for those who were deemed at risk of becoming NEET. As a result only two students fell into this category and work continues to get them placed in a suitable course or activity.
Embedding Diversity in the Curriculum
Embedding diversity in the curriculum (I was sent the History Curriculum Map) has been a major part of the work of departments and they have (and are) reframing the way they are teaching things rather than changing the curriculum content. The Curriculum Maps show key concepts as they move up the school. The Curriculum Leaders explained that although teachers are given frameworks and guidance to plan and teach they do have creative freedom to plan enrichment opportunities in lessons. As long as teachers broadly meet the requirements of the exam curriculum content they are free to teach in a way that suits them and their students. Departments have looked carefully at the texts and resources they use they use and the English Department made the decision to teach Lord of The Flies, as they it did not match the school aims of developing a diverse anti-racist curriculum.
Online Learning
We discussed the way the school had moved to online learning as the COVID-19 pandemic closed the school to most students. Teachers 'hit the ground running' even though it was all a big shock. Planning lessons to deliver remotely required a lot of thought and collaboration because a different pedagogy was required. Teachers wanted to add in a level of activity (rather that thinking they had to always be online teaching from the front) as they would in a normal lesson. The document produced by the Teaching and Learning Team helped them to plan for this and keep lessons as interactive as possible. Many students don't have the right level of technology to engage and some are too shy to talk to teachers (during online lessons) but teachers and students are working hard to get the delivery right. It's a bit of trial and error but attendance at online lessons has been high. The upper school in particular, have really engaged in online learning.
Performance Management
Performance management and accountability structures in the school have continued but formal observations (except for NQTs and trainee teachers) and Learning Walks have not taken place this term. The Leadership is aware of the anxiety these may cause amongst teachers at this time and they will probably introduce these later in the year. Accountability structures are very stringent, although the Curriculum Leaders told me that they are generally seen as supportive and teachers feel trusted to do their job.
Safeguarding is a Priority
Safeguarding is a key priority in the school and I met with the Lead and Deputy DSL Leads who told me they work within a Safeguarding Team as it's a big job and one that takes its toll on those carrying out the role. As well as the core team all Pastoral Leads have had Level 3 safeguarding training. There is also some administration support to ensure records are kept safely. The school is using CPOMS and different colleagues are allowed different levels of usage (carefully managed) so that relevant staff can add additional information. There is a DSL email address where staff can pass on concerns. If something is urgent they can contact one of the team in person. The MASH Team are contacted for advice where needed and the team discuss possible actions if they are unsure about the right course of action. The team (as well as the Pastoral Team) do have professional supervision sessions from an external provider and many have used this service on a regular basis.
Reviewing Policies
When lockdown hit all safeguarding and support policies were reviewed including Bereavement, Remote Learning and Safeguarding and updated according to guidance and systems for monitoring these are in place. A list of vulnerable students was RAG rated to see exactly how vulnerable they were and what level of support they might need. There was provision for vulnerable students in school from the first week of lockdown and the numbers attending varied as lockdown went on. Those who attended enjoyed the mix of work (they accessed the online learning in school) and physical and fun activities provided.
Diversity Action Plan
The school provided me with a copy of the Diversity Action Plan, which outlines their bid to become an Anti-Racist School and I spoke to the Deputy Head who is leading on work around decolonising the curriculum and on developing racial literacy across the school. The Diversity Board has been set up and includes a cross section of staff who have something to contribute but all staff will be consulted as the work goes forward. We discussed how students can be involved and contribute and whether they should be members of the Board. I was assured that they would be fully involved later on when the initial work has taken place. Individuals can be invited to attend meetings as guest attendees if they have something particular to share.
Ground Breaking Work
The work around ensuring Claremont High School Academy becomes an anti-racist school has been taken up by staff at all levels and has the potential to reach every aspect of the school and the community. This will take time but is a very exciting development that should be shared as far and wide as possible. This is ground breaking work.
Support Staff's Experiences
Inclusion is about staff as well as students and parents and I was able to speak to a number of support staff about their experiences working in the school. We talked about their roles in the school and how these had changed and developed over the years. We talked about their experiences during lockdown and since they all returned to school in September and about how the school looks after their wellbeing and mental health. They told me about the support they had provided to students during lockdown and the many conversations they had with parents during this time.
Staff Feel Valued
Staff said they feel valued in the school and that they believe their individual contribution is appreciated and that they do make a difference to the lives of the children they support. They told me that everything that happens in the school is all about meeting the needs of students. They care about them and want to do a good job to help them achieve their potential.
Protecting Staff During COVID-19
During lockdown staff were in regular contact with students and Team Leaders and Senior Leaders were in contact with staff to check that they were doing all right and to touch base with them. There were regular TEAMS meetings to ensure everybody knew what was going on and regular surveys and questionnaires were sent out to gather information from staff during this time. Risk assessments ensured that staff who were clinically vulnerable were protected as far as possible and could work from home and not be included in the on-site rota. The risk assessments are updated regularly to ensure staff are as safe as possible. They are confident that the leadership have taken every possible measure they can to ensure the school is COVID-19 safe. If they have a concern they can voice it immediately and they will be listened to and the issues raised can be addressed.
Supportive Leadership
Support staff have many training opportunities and they can ask for particular courses if they think it will enhance their work. They are a part of the appraisal system and they stated that the regular meetings help keep them on track and help them set appropriate targets. They feel able to make requests and ask for support if they need it and the school leadership is approachable.
Students' Experiences
Schools exist to serve the students and I was very pleased to have the opportunity to meet a group of six Year 7 students who told me about their experiences since they arrived at the school in September. They told me they had all come from different primary schools and only one of them had visited the school prior to choosing it. This was not down to the COVID-19 restrictions but rather because they had siblings in the school or they knew people who went there and they (and their parents) did not feel the need to visit. Some were pleased and some were angry that they were not able to do the SATS but they said they did CATS tests in October. In addition, they had been doing assessments in different subjects but they felt these were not too hard and were to help the teachers find out what they needed to teach them.
Very High Expectations
The students told me that the teachers at Claremont High School Academy have very high expectations of them in terms of their work and behaviour. They told me about the Consequence Ladder in place if they misbehave and if you have misbehaved you may get a detention on Friday. They said that reward postcards are sent home if they have done something good and they can collect reward points from their Head of Year. The top three in each year (who get most points) get a letter from the Head of KS3.
COVID-19 Restrictions
The students told me that the COVID-19 restrictions meant they were taught in year bubbles and were confined to their part of the school and playground and had to follow lots of additional rules. However, they understood the reasons for this and had accepted that this was the way things had to be. As they are near the end of their first term at the school it was clear that students are very adaptable and are just keen to get on with their school life. They know this is the 'new normal' and is the way things have to be.
Developing Curriculum and Pedagogy
Claremont High School Academy is a busy place and has not stood still during the COVID-19 Pandemic. They have (and continue to manage) the school as the virus rages around us but have also pushed forward with developing their curriculum and pedagogy and ensuring that high quality teaching is the best way to include every student. The work they are doing to become an anti-racist school is really impressive and will be a very powerful agent of change. This is something to be very proud of.
Find out more about the IQM Inclusive School Award
If your school is interested in obtaining the IQM Inclusive School Award or you wish to talk to a member of the IQM team please telephone:
028 7127 7857 (9.00 am to 5.00 pm)
or email: info@iqmaward.com for further details.
Want more information on the IQM Award? Click here to request your free IQM information pack