Church Road Primary School, a large primary school in Bolton has achieved Centre of Excellence status.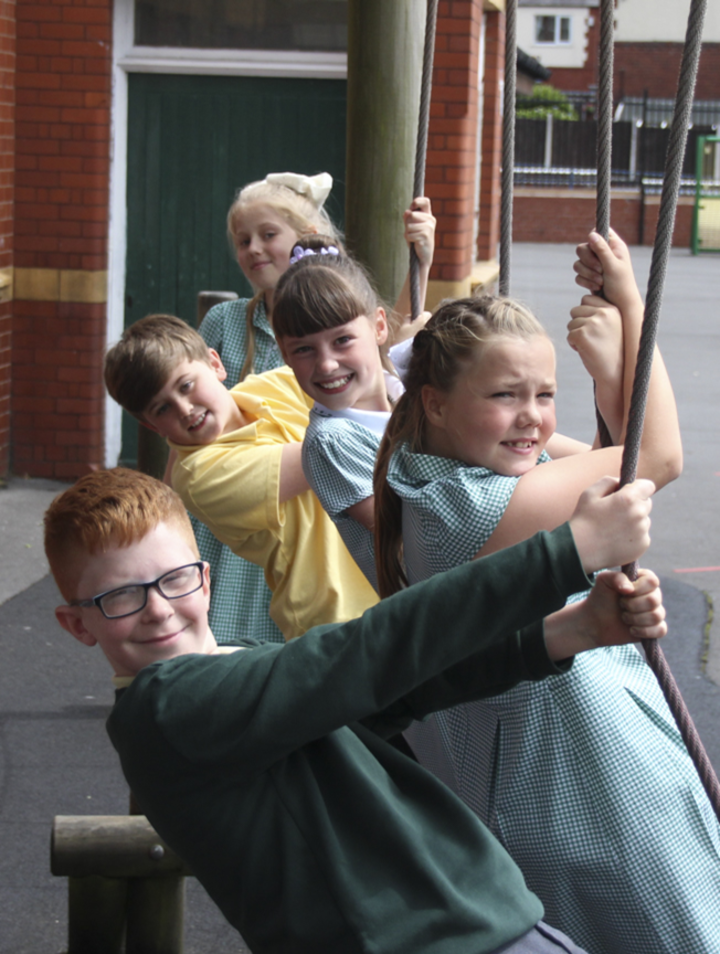 Greater Cultural Diversity
"School is where you know you are perfect just the way you are" (Year 6 child).
Church Road Primary School is a larger than average-size, two-form entry, primary school in Bolton. The school's demographic is very polarised, so whilst the area is predominantly quite affluent, it also incorporates an estate that is in one of the 10% most deprived areas in the country. It also has greater cultural diversity than other schools in the locality with 19% of pupils from minority groups and 16% identified as having English as an Additional Language (EAL).
Context
Of the 430 pupils on roll, 121pupils (28%) are eligible for the Pupil Premium Grant (PPG) which is above national average. 22% of children are identified as having Special Educational Needs and/or Disabilities (SEND), with 20.9% with SEN without disabilities and 1.3% with Education Health Care Plans (EHCPs). These figures are greater than national averages and may be explained by the large number of children (36% of SEND) identified as having Speech, Language and Communication Needs (SLCN). The school reports that there has been a shift in demographic over recent years with an increasing number of New Arrivals and it is recognised by the Local Authority that the school's reputation for quality inclusion has drawn parents to the school.
Expected Standards
The overall percentage of pupils at Church Road Primary School meeting expected standard in reading, writing and maths 2017-19 shifted from below to exceeding local and national averages. The percentage of disadvantaged pupils, or those with EAL meeting expected standards or achieving high standard is less than local and national comparisons. The latest Ofsted inspection was in February 2020 with an overall judgement of 'Good'. Attendance continues to improve, despite COVID-19 school disruptions and in the past term was broadly in line with national averages (accounting for online learning engagement.)
Ofsted
Church Road's recent Ofsted (2020) attests to the inclusive nature of the school, citing 'high expectations' of all and how children are effectively taught to "appreciate the differences between people''. These findings were echoed in the virtual tour and meetings held as part of this assessment. "Leaders have high expectations for every member of the school community…have ensured that all pupils, including those pupils with special educational needs and/or disabilities (SEND), access a wide and balanced curriculum." (Ofsted February 2020.)
Children are at the Heart of Everything
One LA representative summarised the Headteacher's 'moral purpose' as,
"Let's see what we can do to flex our provision to meet their needs".
The Governors spoke passionately about the school as a whole as well as their interactions with children, staff and parents. The Inclusion Leader and the team she manages place the child at the heart of all they do. Staff show clear dedication and expertise in ensuring that each child accesses a full and relevant education. When asked about her role and how it supports whole school inclusivity, one of the PSHE Leaders responded,
"I love it! It's everywhere. Every lesson. We do it anyway. We need to get this right before anything else."
Supporting Children and Families
The whole school approach to supporting the children and their families over the past year bears testament to the true nature of Church Road as a school that takes responsibility for those in its care. They embody the spirit of the Belonging in Bolton remit.
A Strong Emphasis on Differentiation and Personalisation
Church Road offers a vibrant thematic curriculum that all children access. The curriculum is ambitious and the school has high aspirations for all children, encouraging them to be confident well-rounded learners. The approach taken towards children with additional needs is that they access the same curriculum with a strong emphasis on differentiation and personalisation of activities where needed. Opportunities to develop inclusive attitudes are threaded through the curriculum but are particularly evident within RE and PSHE.
Children are Active and Engaged
The school environment is orderly and calm, whilst children are active and engaged in their learning. Indoor and outdoor environments are stimulating with a strong emphasis on celebrating achievements. Teaching strategies are carefully targeted and multimodal resources empower children to be independent learners and to develop a sense of self-worth. Interventions are targeted and closely monitored and adaptations are made where needed. Staff take personal responsibility in ensuring that every child is supported and nurtured to be the best they can possibly be. Staff go above and beyond to support the children (and families) in their care.
Authentic and Respectful Relationships
"In response to the first lockdown, the Governors have been amazed by the steps staff took to make sure the children felt safe, and that progress continued."
Children enjoy being part of the Church Road community. They and their families feel contained and safe as a result of authentic and respectful relationships with school staff. Diversity is embraced and there is a strong sense of trust between children, their families and the school as a whole. Children talked about their own experiences of being encouraged to know what you can do. One commented,
"They identify differences to help give the right support so you know what you need…The way in which children are given self-worth and confidence is really a strength" (Chair of Governors).
Very Positive Support from Parents
Parents speak incredibly highly of the school. In all aspects of schooling, including the support offered during this very challenging year, parents expressed consistent praise for the openness, communication and responsiveness of staff. Staff are sensitive, knowledgeable and honest in their interactions. Parents feel that they can approach staff and are actively encouraged to be part of the wider school community. Parents were particularly grateful for the emotionally intelligent approach taken to various lockdowns. They felt that the variety of subjects and activities offered for remote learning helped their children to engage. They also appreciate the way in which the school signposted families to online mental health support and that staff hand delivered resource packs to everyone. Further comments included:
"Open, inclusive and wonderful."
"I haven't got a bad thing to say."
"The school couldn't have done any better."
"I don't think they could have done any more, and if we'd needed more, I know they would have done it." (Parent of a child with SEN)
Strong Links with Local Organisations
Church Road is an active member of the local community that has forged strong links with a range of organisations in the locality. There are some well-established links with sports clubs and organisations and long running traditions of both performing for and opening its doors to, the wider community. A Youth Minister and regular community visitor stated,
"I feel welcome and appreciated by the school. Staff and children know my name and greet me enthusiastically when I visit."
Headteacher's Passion for the School and the Children
When speaking to the LA representative and link for the school, she spoke about the passion that the Headteacher has for the school and the children. It summarises the school's dedication and desire to reunite their 'flock'. To her, upon discussing the full return of all pupils in March 2021, the Head rejoiced,
"The noise of the place has returned to normal!"
Palpable Warmth and Openness
In summary, Church Road Primary School is a welcoming school where inclusivity comes as a result of authentic relationships with the children, families and wider community. Here they feel valued, respected and happy. Despite the remote nature of this assessment, there was a palpable warmth and openness conveyed throughout the 'visit'. It is a school where staff recognise the importance of truly seeing and hearing the needs of children and their families, which results in high responsiveness, dynamism and ultimately adaptations that support the children in their care to become the best they can be.
Find out more about the IQM Inclusive School Award
If your school is interested in obtaining the IQM Inclusive School Award or you wish to talk to a member of the IQM team please telephone:
028 7127 7857 (9.00 am to 5.00 pm)
or email: info@iqmaward.com for further details.
Want more information on the IQM Award? Click here to request your free IQM information pack