Christ the King Catholic Primary School, Wavertree in Merseyside achieves the Inclusive School Award with Flagship School status.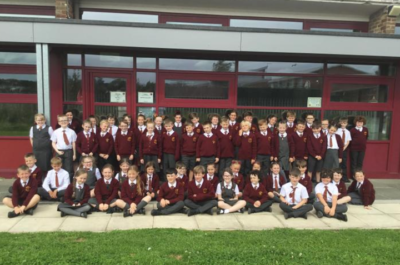 Context
Christ the King Catholic Primary is a larger than average-sized school situated in the Liverpool district of the Archdiocese. There are currently 398 children on roll, most of whom have been baptised Catholic and their values and mission statement is stated as
'We love, aspire and serve with Christ our King and in this we learn, grow and play together.'
Christ the King's leaders and teaching staff throughout the assessment discussed and showed evidence of how they provide a dynamic and vibrant environment where every pupil acquires a high-quality education and an unforgettable childhood experience. It was clear that the people make Christ the King special; they talk passionately about the inclusion journey they have been on. It is a school that quickly shares with you how they see everyone in their school as one of their huge inclusive family, the 'Christ the King Family.' This is a family where excellence and enjoyment are embedded in all they do together and this in turn encourages them to believe that anything is possible when a community works as a team. Speaking to members of the community it was clear that all were contributing to ensure that inclusion is at all levels and that there was a desire to ensure
'all can learn and be recognised as unique thus developing skills to enable them to be an active citizen in service to the world, through aspiration, determination and fulfilment.'
Passionate and Consistent Leadership
Inclusive practice continues to be of a high standard at Christ the King and through passionate and consistent leadership over their three years of a Centre of Excellence school in the IQM family, inclusion is described by staff as something they do naturally now, but
'we always strive to continue to improve so that all our learners continue to access a high-quality educational experience.'
Professionals understand well the school's catholic ethos and ensure
'all achieve what they are capable of.'
Clear visions of the school are to be a caring school, one that is imaginative in their approach, pioneering in ambitions, inspirational to people, effective in their outcomes and challenging in aspirations while giving a knowledge and love of Christ.
Driving the IQM Action Plan
A considerable strength of the school is the talented and dedicated professionals who recognise that they have the permission to be creative in how they approach and lead their areas of responsibility. The Inclusion Lead has ensured that there was an attention to detail within the Inclusion Quality Mark Action Plan and has modelled a strong 'capacity to listen' to both children and adults. With the support of a well-established team, they continue to drive the IQM Action Plan making it fun and interesting for all to be involved. Staff spoken to were relentless in setting clear success indicators from the outset, the whole team were able to share the way that they have co-operated to ensure that inclusion is in all subjects. The evidence presented and willingness of all to discuss their continued learning and share their work showed a consistent approach to the ethos of being a school where all are valued for their individuality and how they continue to respond to the growing complexity of their community.
Fresh Ideas and Continued Support
They demonstrate a strong commitment and desire to continue the journey with IQM to ensure all needs of their pupils are supported. One staff member was keen to ensure that I knew
'Christ the King Catholic Primary is a truly special place where no one is left out, adults and children all walk hand in hand in their learning journey.'
Examples of this were given on how there were no real staff absences during this Covid -19 pandemic and little things like having tea made by the catering staff for staff to take home, a 'Hug in a mug' which was passed on weekly and treats like a crunchie bar to say 'It's Friday – Thank you!' supported by showing that there was a realisation of a need to support staff's work life balance in unprecedented time.
Creating a Bespoke Learning Environment
Governors understand how critical it is to create an inclusive environment and they understand and demonstrate an in-depth knowledge of the unique community they serve. They have created a bespoke learning environment that supports all their pupils and the diverse range of abilities they have so that there is now a rich and engaging curriculum that provides innovation and challenge. Pupils enjoy memorable experiences enabling them to acquire a multitude of skills and allowing them to succeed as individuals. The concentration and enjoyment are evident on their faces in the virtual tour where senior pupils guide you through a range of diverse and enjoyable learning lessons that are shared with all on the school website and You tube. A well respected, established Governor spoke of how the school had worked to create
'a complete family ethos, with a long-standing understanding of values that resonates with individuals that cross the gate, born out of a Christ centred approach.'
Strong Supportive Team
Support professionals within the school are highly valued and they are being developed to become a strong supportive team who work to ensure pupils have access to resources that support their learning. They provide them with explicit strategies, with examples to scaffold their learning and to integrate related concepts to aid their understanding. Pupils who face barriers to learning benefit from this growing team of excellent support professionals who tailor provision ensuring that children achieve their potential.
A Strong Sense of Belonging
This safe and welcoming environment supports the development of a lifelong love of learning, the pupils develop curiosity and inquisitiveness while being guided and encouraged to reflect and take the next steps in their learning. Pupils have a strong sense of belonging to this close-knit school community and are loyal and a proud member of it. Pupils I met were cheerful, considerate, and articulate, they are great ambassadors for their school both virtually on the virtual tour and when you meet them.
Talents are Nurtured
Christ the King Catholic Primary offers a broad and engaging curriculum taught through active participation as equal members of their community. This ensures that pupils can foster a passion for learning and curiosity of the world around them. Exploring the school website, it was clear that this approach develops high aspirations and a lifetime of memories. Pupils, regardless of need or ability, receive a well-rounded curriculum, where individual talents are spotted and nurtured to ensure that all children experience success and reach their full potential. There is a strong 'Pupil Voice,' where they are encouraged to have their voices heard. They can take this opportunity through their given roles and responsibilities to express their thoughts and ideas and feed into the supporting councils. This ensures that they are involved in decisions that impact upon them. Through this approach behaviour is exemplary and children work positively with each other and school management.
Connecting Learning to Real Live Cultural Experiences
Learning is well planned, and time is never wasted. Pupils have access to appropriate materials and practitioners that model energy of creative thinking, drawing everyone on board. Impressively they embarked in 2018 on professional development through evidence-based work linked to John Hattie's 2008 study of 'visual learning'. They work tirelessly to see learning through the eyes of the children and apply the techniques learnt from this to encourage pupils to think and discover answers for themselves as well as with them as their teachers together. They have a skill in connecting learning to real live cultural experiences and this is a driving force as to why the school enjoys an excellent reputation within the local community. They regularly encourage visitors to enhance the curriculum and have been innovative in practice to ensure that this continued during the recent lockdown periods. There is an impressive and extensive offer of extra curriculum clubs and pupils have a choice about what they participate in. The focus is one of enjoyment and opportunity, which will allow children to excel, club choices range from gardening, mindfulness and self-care activities, musical theatre, bench ball, brass club, choir, cookery, quiz, collaborative art, worship group and multi-sport to name just a few.
Everyone is Involved
Another important aspect of an inclusive environment is providing opportunities for parents, carers, and guardians to be fully involved. Leadership realised how crucial during partial lockdown it was to maintain contact with families, providing remote support and advice. There was a discussion on the kindness and helpfulness of staff and how they work to connect with every child and adult and how they firmly believe that education is a partnership between home, school, and parish. A staff member commented on how parents and carers are an active partner in their child's education and how staff value their interest and support.
Find out more about the IQM Inclusive School Award
If your school is interested in obtaining the IQM Inclusive School Award or you wish to talk to a member of the IQM team, please telephone:
028 7127 7857 (9.00 am to 5.00 pm)

or email: info@iqmaward.com for further details.
Want more information on the IQM Award? Click here to request your free IQM information pack