Canterbury Nursery School in Bradford has achieved Centre of Excellence status.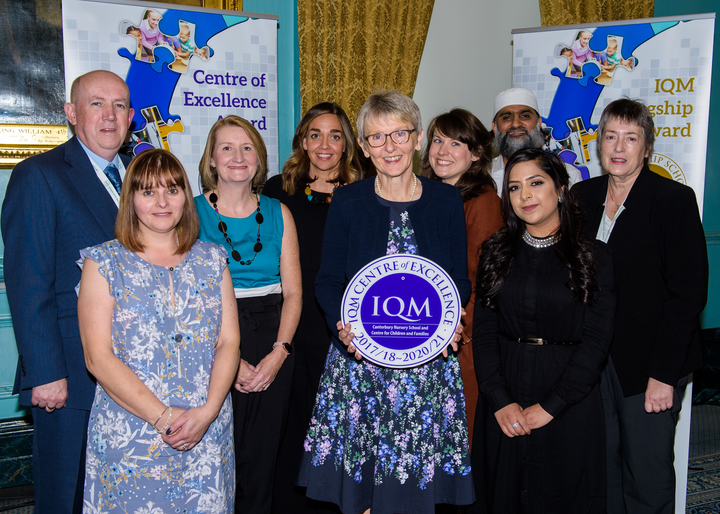 Achieving the Best Outcomes
The day at Canterbury Nursery in Bradford was so enjoyable. Everyone works tremendously hard to good effect, to enable children to achieve the best outcomes. It is understood that Canterbury Nursery School successfully serves its local community. As was pointed out, "The school is situated in the Little Horton ward of Bradford, an area characterised by very high levels of deprivation and social exclusion. The school is in one of the most deprived wards in one of the most deprived cities in the UK." You are quite rightly proud of the outcomes achieved for your pupils within a fully inclusive learning environment.
Expectations are High
Expectations are high; staff are expected to provide a stimulating learning experience and to show enthusiasm and interest in children in order to secure their positive engagement. All endeavour to enable children to become independent and to develop this, a wide range of choice is offered within the areas of learning. It was quite rightly indicated that this is essential due to the limited range of experiences that many of your children encounter outside school.
A Well Organised Learning Environment
From my visit, it is evident that you meet your expectations, children are happy and involved in activities. From the outset of the visit one can see a well organised learning environment and visually stimulating displays. Staff have worked hard to create a positive indoor learning environment that is stimulating and interesting for the children, much consideration had been given to both celebratory and informative displays. Equally much thought had been given to the outdoor environment and children benefited from opportunities to access the outdoor classroom.
Parents Actively Support the Setting
Parents clearly have an affinity with the approach taken by the setting, show trust in staff and actively support the setting. The school tries to engage with parents and constantly seeks to improve communication with them, engaging them in the learning process.
Enthusiasm of the Team
During this IQM assessment, I was particularly impressed by the enthusiasm of the team of practitioners. As the IQM assessor I received a consistently positive response from children, parents, governors and staff.
All Children are Welcomed
Children with a variety of needs are welcomed at Canterbury Nursery, parents appreciate the support their children have been given to enable them to progress. The children's progress is evidenced through learning journeys and activities are based on interests. There are clear detailed SEND records with a chronology of interventions in place.
Positive Behaviour is Encouraged
Positive behaviour is encouraged, and rewards are offered through stickers and sharing of special moments noted in the learning journeys. A positive behaviour policy is in place and positive attitudes are role modelled at all times including snack time and lunch time.
Positive Use of Learning Journeys
There is positive use of learning journeys detailing individual progress. There are a number of key strengths in the school as a result of the strategic approach to management. There is a clear focus on monitoring teaching and learning to ensure progress is made from the low baselines with which children enter the nursery school. Teachers and support staff are self-reflective and this is encouraged.
Enhancing the Learning Opportunities
The introduction of key approaches enhances the learning opportunities for the children. The nursery school has moved on in its thinking and practice and works cooperatively with other schools to share expertise.
The content of this document is based on only a sample of the evidence presented and observed.
Find out more about the IQM Inclusive School Award
If your school is interested in obtaining the IQM Inclusive School Award or you wish to talk to a member of the IQM team please telephone:
028 7127 7857 (9.00 am to 5.00 pm)
or email: info@iqmaward.com for further details.
Want more information on the IQM Award? Click here to request your free IQM information pack.